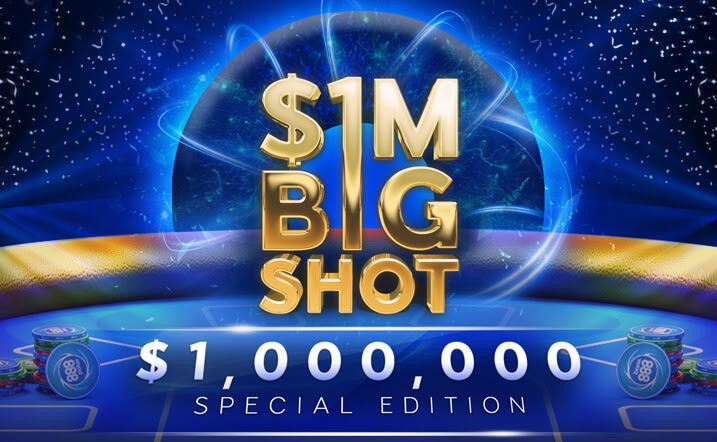 It is not every day that players get to play for a share of a $1 million prize pool, and such occasions are even less frequent when the entire buy-in fee is just $109.
Such an opportunity is now available for players at 888poker, who will have a chance to battle it out for a share of a million-dollar prize pool in the $109 Big Shot Special Edition, the operator's biggest poker tournament of 2021.
The regular Big Shot tournament is part of 888's usual daily schedule: a reentry tournament at various buy-in levels across various buy-ins promising the biggest guarantee of the day.
For this special edition, the Big Shot is a month-long event, with dozens of Day 1 flights culminating in a final Day 2 at the end of the month with a huge $1 million guaranteed prize pool. Players are given plenty of opportunity to fight for a deep run, with up to three re-entries available per flight.
All players who survive a Day 1 flight will make their way to Day 2 of the tournament, which is scheduled for September 27. Making Day 2 will also mean being in the money, with a guaranteed return of your investment and some profit.
To meet the prize pool, the operator will need to attract 10,000 entries, which may be a tough feat—888 is not immune to overlays, so those on the lookout for value should keep a keen eye on how this tournament fills out.
However, considering the massive guaranteed prize pool, and all the Day 1 phases, we can expect poker players from far and wide to join the Big Shot for their chance at big money.
The Big Shot Tournament Structure
The Big Shot brand was introduced earlier this year as part of 888's overhauled weekly tournament schedule.
It runs every day with various buy-ins, but is always a NLH re-entry tournament promising the biggest guarantee of the day at that price point. Monday to Saturday, there are four daily with buy-ins from $11 to $109 and guarantees up to $20,000.
On Sunday this is supersized, with the Big Shot 109 the flagship of the week with a $150,000 guarantee.
888 New Sunday Majors
Event
Stakes
Time (

GMT

)
Event
Guarantee
Big Shot 5.50
Low
14:45
$5.50
$5,000
Big Shot 33
Mid
16:00
$33
$15,000
Big Shot 525 (2-Day event)
High
17:00
$525
$100,000
Big Shot 109
High
19:00
$109
$150,000
However, this one-off special edition Big Shot is quite different. Day 1 flights started on September 2 and run throughout the month.
Players who pay the $109 fee will receive 10,000 chips and will start play at the 30/60 blind level, with a 7-chip ante. The blinds will progress every 12 minutes, and players will have a chance to re-enter for 160 minutes.
All players who manage to survive 18 levels in any of the flights will be fed into Day 2 of the tournament, and will be guaranteed a place in the money.
The final level of play on Day 1 will see the blinds at the 1000/2000 level with a 250-chip ante, which means plenty of play will be available for all who enter Day 1 of the Big Shot.
Satellite Your Way into the Big Shot
As is usually the case with massive tournaments like the Big Shot, 888poker is running a host of satellite tournaments and freeroll qualifiers to fill out the thousands of entries needed to make the guarantee.
Every day until Day 2, feeders into the Big Shot will be running on the platform, with $5 and $16.50 buyins offering everyone a chance to try and play this unique online poker event.
In addition to these satellites, freeroll satellite tournaments are also running every day at 888poker, giving players without a bankroll on the platform a chance to make it big.
Additional opportunities at Big Shot tickets will be available through 888poker's popular Gift Drops and Winner Spinner, with tickets given out to random players all the way up to September 27.
The operator is also promising more free ticket opportunities through various channels, including contests on social media, giveaways on 888pokerTV and through its new StreamTeam, its group of sponsored Twitch streamers.
It is not often that 888 runs such a large tournament: usually it focuses more casual player friendly buy-ins and modest guarantees. It has done something like this before—a 211144-888poker-unveils-first-big-promotion-year-millions:Millions Superstorm was structured similarly, with multiple Day 1s}, a $100 buy-in and $1 million guarantee—but that was back almost 18 months ago. So this is a rare opportunity for 888 players to try vie for their share of a seven figure prize pool.
Day 1 flights to Big Shot Special Edition are running now on the 888poker client through to September 27, which is when Day 2 will also run.