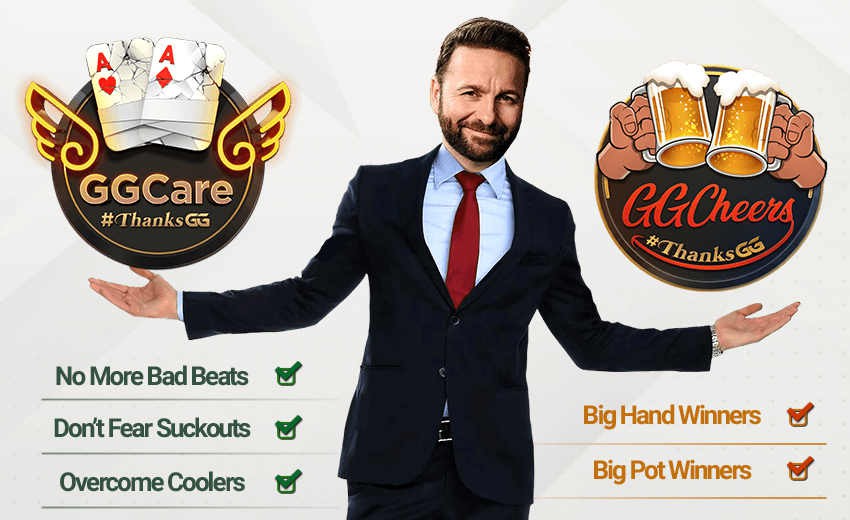 GGPoker has announced a new promotion, GGCheers, that recognizes big hands and big pots. The room will reward players with an entry into a $100,000 daily Flipout tournament whenever they score a lucky result at the tables.
This new promo accompanies their existing GGCare program, where players who suffer a particularly bad beat are rewarded with an entry to a daily Flipout.
This was definitely a nice touch by the site, and the GGCheers promotion is an extension to this system. Players dishing out the pain at the tables are now rewarded as well, and both join together in one super-sized daily flipout freeroll, with $3 million given out to all qualifying players over the course of the month.
GGCheers in a Nutshell
Some poker promotions are complicated and require players to complete different tasks and chase all sorts of achievements to get their rewards. The GGCheers promo is the exact opposite—all you need to do is sit down and play your favorite games.
Everyone is automatically entered into the promotion, so you don't have to worry about missing out, either.
To receive a ticket from this promotion, you basically need to make a big hand or scoop a big pot. Since GGPoker features all sorts of different games and formats, the exact parameters for what qualifies for a ticket are not disclosed.
It is quite similar to the GGCare program, where players are rewarded Flipout tickets after suffering particularly bad beats. These rules are also not set in stone, but if you have some poker playing experience you can probably tell what situations are likely to qualify.
If your hand is worthy of a GGCheers ticket, the notification will pop up on the table, letting you know you won. It is definitely a nice extra boost as you are dragging a massive pot that you won after flopping a set over set.
Heaps of Free Money Every Day
Special $100K ThanksGG Flipout tournaments take place once a day at GGPoker during early morning hours. Both GGCare and GGCheers qualifiers of the day win tickets to the same tournament.
When GGCare first launched, it gave out $30,000 a day—almost $1 million a month—through its freerolls. Recently, this was increased to $50,000.
So this new promotion, which combines both lucky and unlucky players, will give out tickets to more players but the total prize pool has been doubled. It means "more than $3 million over the course of a month" will be dished out to both GGCare and GGCheers qualifiers.
And the great thing is, if you do win an entry through either of these promotions, there is nothing else you need to do. Players are entered automatically and tournaments play out on their own, with everyone being all in every hand.
It is also possible to win a GGCheers hand more than once during the day. In that case, you will receive additional chips in your starting stack, improving your winning chances. The size of your starting stack will also vary depending on the pot size and the particular situation that qualified you for the tournament.
Like the name suggests, these Flipout freerolls are all about luck of the draw as players do not have any say in the action. Everyone in the tournament is all-in every hand until there is just one lucky player holding all the chips.
These events feature large player pools, but as they are free to enter and offer $100,000 in prizes every single day, they are definitely worth getting involved with. You do not have to worry too much about qualifying, either, as most players who spend a few hours grinding away at the tables will likely experience a situation that will earn them a ticket from either GGCheers or GGCare.