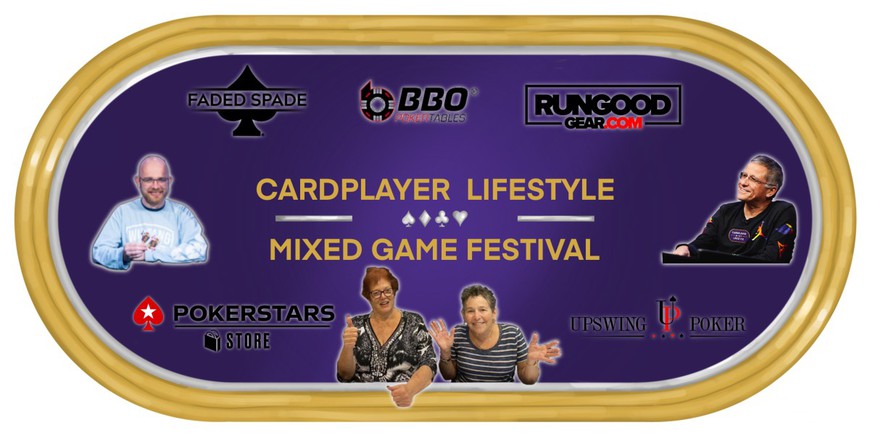 it's a genuine honor and privilege to be awarding the first Platinum Pass in over 1.5 years.For more than 18 months, live poker has pretty much been on hold. Save for the occasional smaller tournament here and there, big live events have either been canceled entirely or moved online.
One event affected was PokerStars' Players No Limit Hold'em Championship (PSPC). After the inaugural run in January 2019, the operator planned for its triumphant return in the summer of 2020 in Barcelona, Spain. Due to the pandemic, this was pushed back to 2021, then delayed indefinitely.
But in the first signs of its revival, a PokerStars Platinum Pass—a coveted package that grants the holder travel, accommodation, and entry to the $25,000 event—will be given away at next month's Mixed Game Festival in Las Vegas. It is the first sign that the operator is exploring the possibility of rescheduling the event.
The festival is organized by Robbie Strazynski, owner of long-standing Cardplayer Lifestyle site and a passionate mixed games player himself.
"The Cardplayer Lifestyle Mixed Game Festival has been in the works for a LONG time," Strazynski told pokerfuse. "It was originally supposed to have run last summer, and as a matter of fact I was just 24 hours away from announcing it to the world in March 2020. The pandemic obviously derailed those original plans."
"Quite frankly, I was pretty concerned that everything would fall apart," he added, "but thankfully Westgate and PokerStars maintained their belief in my concept and stood by me throughout this entire interim period until I finally announced the event back in mid-July."
"So, it's a genuine honor and privilege to be awarding the first Platinum Pass in over 1.5 years."
How to Win the First
PSPC

Ticket of 2021

The Mixed Games Festival will take place in Westgate Casino in Las Vegas, Nevada, October 4 to 7, coinciding with the WSOP 2021, held at the Rio.

The structure is a unique hybrid cash game/tournament structure. The plan is for cash games to run around the clock for the first three days. As the name would suggest, the festival will focus on less common game formats, and cash games will be dealt as Dealers Choice.

Action culminates in the $200 buy-in H.O.R.S.E tournament, taking place on October 7. In addition to prize money, the winner will also receive a PokerStars Players No Limit Hold'em Championship Platinum Pass, worth $30,000.

To encourage players to play cash games, for every five hours of Dealer's Choice cash game play logged during the first three days of the festival, players will earn extra starting chips for the main event; log a max 25 hours play to get a double starting stack.

"There's also a charity component to the Mixed Game Festival," Strazynski told pokerfuse. All proceeds of the sales of Dylan Linde's Mastering Mixed Games and Eli Elezra's Pulling the Trigger, both of whom will be doing book signings on site, "will be donated to the Westgate Resorts Foundation, with both Westgate and PokerStars matching the total sum raised," he added. There will be donation jars across the room too.
Is Live Tournament Poker Coming Back in Force?
Even though the WSOP is coming home in a couple of weeks' time and there have been some live tournaments featuring relatively big fields, the future of live poker remains uncertain. Things seem to change from one week to the next, making it very hard for players to plan schedules.
The return of the PokerStars-sponsored Campeonato España de Poker (CEP) later this month is a positive development. This live poker tour in Spain is scheduled to taking place at the Casino Barcelona later this month.
Notably, this is the same venue which was to host the PSPC before the pandemic.
If the CEP goes as planned and there are no major issues, perhaps PokerStars has plans to start rolling out more live events in the near future and could start considering a PSPC reschedule. This year might be a bit of a stretch, but we could definitely see a much richer live schedule of events sponsored by the operator in 2022, and potentially a summer 2022 PSPC.
Hopefully, this Platinum Pass will be the first of many to be awarded in coming months. If PokerStars is planning their Players Championship the next year, the room will likely bring out a variety of online and live promotions to give players a chance to win a seat.
If the past year has taught us anything, that is to be careful with optimistic predictions. But, as of right now, things are looking good for live poker in 2022, and the Las Vegas event could be the one to mark the start of the journey.
"I genuinely can't wait to see everyone gather together for this celebration of mixed game poker; it's going to be great!" Strazynski said.