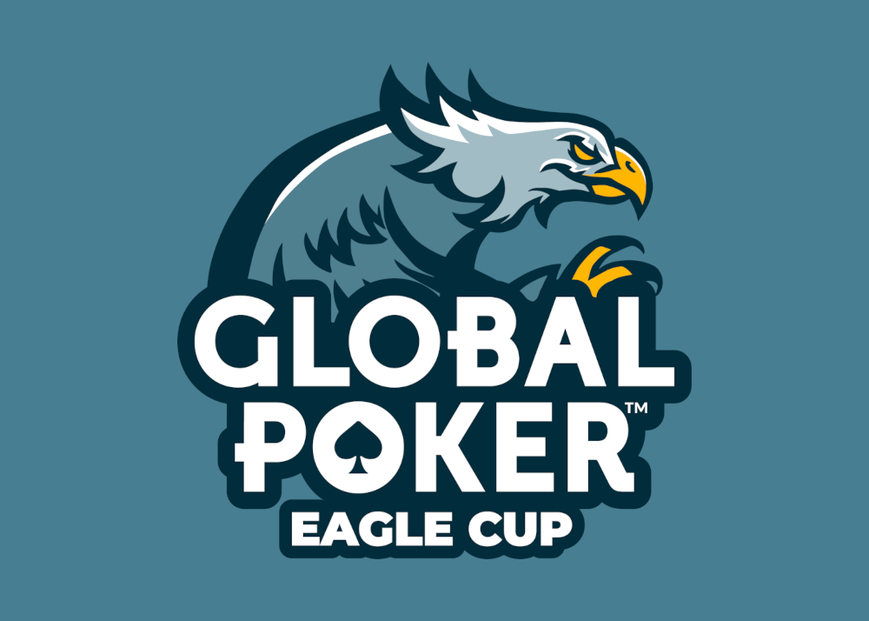 Global Poker is back with its flagship Eagle Cup tournament series for the fifth time since first launching back in 2017.
Eagle Cup V started on October 25 and offers a total of 102 Sweeps Coins trophy events, with SC 1,540,000 in guaranteed prize pools, breaking all the records that the popular operator has set to date.
Total series guarantees are up 25% on last year. A massive Main Event guaranteed prize pool of SC 200,000 is double what it was last year, despite the buy-in more than halved. The series will offer a variety of poker variants, with buy-ins never exceeding SC 99.
Players have an opportunity to compete over 21 days of exciting non-stop action, with several tournaments hosted each day, and special prizes reserved for the most successful players in the Cup through two leaderboard promotions—a first for the sweepstakes online poker site.
Global Poker
: The free social poker site catering to players in the
United States
.
Operating a sweepstakes model, Global Poker provides a legal social online poker site for US players
Verification bonus: 20 Sweeps Coins (SC) after verifying your account
Boost on the first purchase: get a total of 40 SC on the first $20 purchase
Global Poker operates under a sweepstakes online poker model, meaning all games are free to play. However, Sweeps Coins (SC) can be redeemed for cash prizes (see our full guide for more details).
The operator also has a Gold Coins currency (GC) which are just for fun. As always, Global Poker is running a tandem Gold Coins series, with 750 million in GC guaranteed and real swag up for grabs for top performers.
Eagle Cup Standout Events & Schedule
Three poker types are on offer over the 102 tournaments—NLHE, PLO, and PLO8. The Cup's standout event is the Main Event on November 14, which will feature a SC 99 buyin and a SC 200,000 guaranteed prize pool, which will be by far the biggest of the entire series.
Tournaments are separated into Low, Medium, and High orbits, which means players will get a chance to play three different versions of each event, with three separate buyins.
The Eagle Cup kicked off with a freeroll tournament with SC 5,000 in prize money to lucky winners and set the tone for the exciting action that is guaranteed for the rest of the series.
A number of other Eagle Cup events will offer guaranteed prize pool in the SC 20,000 to SC 75,000 range, with buyins for these ranging from SC 33 and SC 99 each.
Each day, lower events with buyins of SC 5.50 or SC 11 will also be offered for players looking to run up their Sweeps Coins bankrolls and build the momentum throughout the Cup.
Global Poker Eagle Cup V: Schedule Highlights
Date
Event
Variant
Guarantee
Format
Buyin
10/29
05-M

NLHE

15,000
Progressive Bounty, 6-Max
SC 33
10/29
05-H

NLHE

25,000
Progressive Bounty, 6-Max
SC 99
11/01
10-M

NLHE

15,000
Progressive Bounty, Deep Turbo
SC 33
11/01
10-H

NLHE

20,000
Progressive Bounty, Deep Turbo
SC 99
11/07
17-M

NLHE

30,000
Deep
SC 99
11/07
17-L

NLHE

12,500
Deep
SC 22
11/07
17-H

NLHE

75,000
1R1A, Deep
SC 99
11/14
26-M

NLHE

50,000
Deep
SC 99
11/14
26-L

NLHE

15,000
Deep
SC 22
11/14
26-H
Main Event

NLHE

200,000
1R1A, Deep
SC 99
Eagle Cup Leaderboard,
GPC

Swag, and More

There is more to Eagle Cup than just playing for the guaranteed prize pools. For the first time in its history, it offers two separate leaderboards, one reserved for the winners of Sweeps Coins events, and another for those playing in the 102 Gold Coin events.

Those who rank high on the Gold Coin leaderboard will receive up to GC 5,000,000, along with GPC hoodies, shirts, and caps for their success in the series.

The Sweeps Coin leaderboard offers somewhat more substantial rewards, with the top ranked player in this one receiving a live event package worth $5,000, with the player sent out to represent Global Poker at a live poker tournament.

The other top 10 finishers will all receive Global Poker swag, along with a variety of SC rewards, ranging from SC 100 for the 10th place finished to SC 1,000 for the runner-up.

On top of the leaderboard prizes, individual event winners will also receive Eagle Cup trophies, as well as hoodies, shirts, and caps with GPC logos. These rewards will be given out to both GC and SC event champions.
How Does Eagle Cup V Stack Up?
This year's Eagle Cup is the fifth edition of the popular series, which was first launched in October 2017. The inaugural series featured a SC 437,000 guaranteed prize pool, which has more than tripled since, demonstrating the massive success of the Eagle Cup over the years.
In total, Eagle Cup has seen 490 events held over its four previous editions, with close to SC 3,000,000 in guaranteed prize pools given out. This year, the Cup will pay out more than half of that cumulative amount over the course of 21 days.
The last edition of the Eagle Cup ran this time a year ago with SC 1.2 million guaranteed. This means guarantees are up 25% on this time around.
The Main Event this year also features a much lower buyin—SC 99 compared to SC 218—yet a double-sized prize pool. That means it will need to attract more than four times the number of entries to cover its Sweeps Coins guarantee.
The Eagle Cup comes right on the heels of Global Poker's Bounty Series III, which was held between October 11 and 17 and featured SC 680,000 in prize pools and a main event with a guaranteed prize pool of SC 150,000, the largest bounty event held at the site to date.
Global Poker Eagle Cup 5 started on October 24 and runs through to November 14.
Global Poker Eagle Cup V: Sweeps Coin Full Schedule
Date
Event
Variant
Guarantee
Format
Buyin
10/25
01-L

NLHE

10,000
SC 11
10/25
01-M

NLHE

20,000
SC 99
10/25
01-H

NLHE

30,000
SC 11
10/26
01-L

NLHE

6,000
SC 5.5
10/26
02-M

PLO

8,000
Rebuy, 6-Max
SC 11
10/26
02-H

PLO

12,000
Rebuy, 6-Max
SC 22
10/26
02-L

PLO

4,000
Rebuy, 6-Max
SC 5.5
10/27
03-L

NLHE

8,000
2R1A
SC 5.5
10/27
03-M

NLHE

20,000
2R1A
SC 22
10/27
03-H

NLHE

30,000
2R1A
SC 55
10/27
03-L

NLHE

5,000
2R1A
SC 5.5
10/28
04-L

NLHE

6,000
Bounty
SC 11
10/28
04-M

NLHE

15,000
Bounty
SC 33
10/28
04-H

NLHE

20,000
Bounty
SC 99
10/28
04-L

NLHE

5,000
Bounty
SC 11
10/29
05-L

NLHE

7,000
Progressive Bounty, 6-Max
SC 11
10/29
05-M

NLHE

15,000
Progressive Bounty, 6-Max
SC 33
10/29
05-H

NLHE

25,000
Progressive Bounty, 6-Max
SC 99
10/29
05-L

NLHE

5,000
Progressive Bounty, 6-Max
SC 11
10/30
06-L

NLHE

5,000
Deep
SC 11
10/30
06-M

NLHE

8,000
Deep
SC 22
10/30
06-H

NLHE

20,000
Deep
SC 99
10/30
07-L

NLHE

5,000
1R1A
SC 5.5
10/30
07-M

NLHE

15,000
1R1A
SC 22
10/30
07-H

NLHE

20,000
1R1A
SC 55
10/30
07-L

NLHE

5,000
1R1A
SC 5.5
10/31
08-M

NLHE

30,000
Deep
SC 99
10/31
08-L

NLHE

12,500
Deep
SC 22
10/31
08-H

NLHE

75,000
1R1A, Deep
SC 99
10/31
09-L

NLHE

7,000
Deep Turbo
SC 11
10/31
09-M

NLHE

12,500
Deep Turbo
SC 33
10/31
09-H

NLHE

20,000
Deep Turbo
SC 99
10/31
09-L

NLHE

5,000
Deep Turbo
SC 11
11/01
10-L

NLHE

6,000
Progressive Bounty, Deep Turbo
SC 11
11/01
10-M

NLHE

15,000
Progressive Bounty, Deep Turbo
SC 33
11/01
10-H

NLHE

20,000
Progressive Bounty, Deep Turbo
SC 99
11/01
10-L

NLHE

5,000
Progressive Bounty, Deep Turbo
SC 11
11/02
11-L

NLHE

6,000
Bounty, 6-Max
SC 11
11/02
11-M

NLHE

15,000
Bounty, 6-Max
SC 33
11/02
11-H

NLHE

20,000
Bounty, 6-Max
SC 99
11/02
11-L

NLHE

5,000
Bounty, 6-Max
SC 11
11/03
12-L

NLHE

5,000
Rebuy, 6-Max
SC 3.3
11/03
12-M

NLHE

12,500
Rebuy, 6-Max
SC 11
11/03
12-H

NLHE

25,000
Rebuy, 6-Max
SC 33
11/03
12-L

NLHE

3,000
Rebuy, 6-Max
SC 3.3
11/04
13-L

NLHE

6,000
Progressive Bounty
SC 11
11/04
13-M

NLHE

15,000
Progressive Bounty
SC 33
11/04
13-H

NLHE

25,000
Progressive Bounty
SC 99
11/04
13-L

NLHE

5,000
Progressive Bounty
SC 11
11/05
14-L

NLHE

6,000
6-Max
SC 11
11/05
14-M

NLHE

12,500
6-Max
SC 33
11/05
14-H

NLHE

20,000
6-Max
SC 99
11/05
14-L

NLHE

5,000
6-Max
SC 11
11/06
15-L

NLHE

5,000
Deep
SC 11
11/06
15-M

NLHE

8,000
Deep
SC 22
11/06
15-H

NLHE

20,000
Deep
SC 99
11/06
16-L
PLO8
3,500
6-Max
SC 11
11/06
16-M
PLO8
6,000
6-Max
SC 33
11/06
16-H
PLO8
7,500
6-Max
SC 55
11/06
16-L
PLO8
2,500
6-Max
SC 11
11/07
17-M

NLHE

30,000
Deep
SC 99
11/07
17-L

NLHE

12,500
Deep
SC 22
11/07
17-H

NLHE

75,000
1R1A, Deep
SC 99
11/07
18-L

NLHE

5,000
6-Max, Turbo
SC 11
11/07
18-M

NLHE

15,000
6-Max, Turbo
SC 33
11/07
18-H

NLHE

20,000
6-Max, Turbo
SC 99
11/07
18-L

NLHE

4,500
6-Max, Turbo
SC 11
11/08
19-L

NLHE

4,000
Rebuy
SC 3.3
11/08
19-M

NLHE

12,000
Rebuy
SC 11
11/08
19-H

NLHE

30,000
Rebuy
SC 33
11/08
19-L

NLHE

3,000
Rebuy
SC 3.3
11/09
20-L

NLHE

5,000
Ante Up
SC 11
11/09
20-M

NLHE

7,500
Ante Up
SC 33
11/09
20-H

NLHE

10,000
Ante Up
SC 55
11/09
20-L

NLHE

3,500
Ante Up
SC 11
11/10
21-L

NLHE

7,500
2x-Chance
SC 11
11/10
21-M

NLHE

15,000
2x-Chance
SC 33
11/10
21-H

NLHE

20,000
2x-Chance
SC 99
11/10
21-L

NLHE

6,000
2x-Chance
SC 11
11/11
22-L

NLHE

6,000
Super Bounty
SC 11
11/11
22-M

NLHE

15,000
Super Bounty
SC 33
11/11
22-H

NLHE

20,000
Super Bounty
SC 99
11/11
22-L

NLHE

5,000
Super Bounty
SC 11
11/12
23-L

PLO

5,000
2R1A, 6-Max
SC 11
11/12
23-M

PLO

10,000
2R1A, 6-Max
SC 33
11/12
23-H

PLO

14,000
2R1A, 6-Max
SC 55
11/12
23-L

PLO

5,000
2R1A, 6-Max
SC 11
11/13
24-L

NLHE

5,000
Deep
SC 11
11/13
24-M

NLHE

8,000
Deep
SC 22
11/13
24-H

NLHE

20,000
Deep
SC 99
11/13
25-L

NLHE

6,000
2x-Chance, 6-Max
SC 11
11/13
25-M

NLHE

15,000
2x-Chance, 6-Max
SC 33
11/13
25-H

NLHE

20,000
2x-Chance, 6-Max
SC 99
11/13
25-L

NLHE

5,000
2x-Chance, 6-Max
SC 11
11/14
26-M

NLHE

50,000
Deep
SC 99
11/14
26-L

NLHE

15,000
Deep
SC 22
11/14
26-H
Main Event

NLHE

200,000
1R1A, Deep
SC 99
11/14
27-L

NLHE

5,000
Progressive Bounty, 6-Max, Turbo
SC 11
11/14
27-M

NLHE

15,000
Progressive Bounty, 6-Max,Turbo
SC 33
11/14
27-H

NLHE

25,000
Progressive Bounty, 6-Max, Turbo
SC 99
11/14
27-L

NLHE

4,000
Progressive Bounty, 6-Max, Turbo
SC 11
Global Poker Eagle Cup V: Gold Coin Full Schedule
DAY/

DATE

TIME

ET

EVENT

NAME

GTD

BUY-IN

Sun October 24
2:00 PM

GPC

Eagle: Opening GC 2,000,000 Freeroll [Turbo]
2,000,000
Mon October 25
7:30 PM

GPC

Eagle 01-L:

NLHE

GC 3,000,000

GTD

3,000,000
11,000
Mon October 25
8:30 PM

GPC

Eagle 01-M:

NLHE

GC 7,500,000

GTD

7,500,000
33,000
Mon October 25
9:30 PM

GPC

Eagle 01-H:

NLHE

GC 15,000,000

GTD

15,000,000
110,000
Mon October 25
10:30 PM

GPC

Eagle 01-L:

NLHE

GC 3,500,000

GTD

3,500,000
11,000
Tue October 26
7:30 PM

GPC

Eagle 02-L:

PLO

GC 3,500,000

GTD

[Rebuy, 6-Max]
3,500,000
5,500
Tue October 26
8:30 PM

GPC

Eagle 02-M:

PLO

GC 7,000,000

GTD

[Rebuy, 6-Max]
7,000,000
11,000
Tue October 26
9:30 PM

GPC

Eagle 02-H:

PLO

GC 10,000,000

GTD

[Rebuy, 6-Max]
10,000,000
22,000
Tue October 26
10:30 PM

GPC

Eagle 02-L:

PLO

GC 3,000,000

GTD

[Rebuy, 6-Max]
3,000,000
5,500
Wed October 27
7:30 PM

GPC

Eagle 03-L:

NLHE

GC 3,000,000

GTD

[2R1A]
3,000,000
5,500
Wed October 27
8:30 PM

GPC

Eagle 03-M:

NLHE

GC 8,000,000

GTD

[2R1A]
8,000,000
22,000
Wed October 27
9:30 PM

GPC

Eagle 03-H:

NLHE

GC 15,000,000

GTD

[2R1A]
15,000,000
55,000
Wed October 27
10:30 PM

GPC

Eagle 03-L:

NLHE

GC 2,500,000

GTD

[2R1A]
2,500,000
5,500
Thu October 28
7:30 PM

GPC

Eagle 04-L:

NLHE

GC 2,500,000

GTD

[Bounty]
2,500,000
11,000
Thu October 28
8:30 PM

GPC

Eagle 04-M:

NLHE

GC 6,000,000

GTD

[Bounty]
6,000,000
33,000
Thu October 28
9:30 PM

GPC

Eagle 04-H:

NLHE

GC 15,000,000

GTD

[Bounty]
15,000,000
110,000
Thu October 28
10:30 PM

GPC

Eagle 04-L:

NLHE

GC 2,500,000

GTD

[Bounty]
2,500,000
11,000
Fri October 29
7:30 PM

GPC

Eagle 05-L:

NLHE

GC 2,500,000

GTD

[Progressive Bounty, 6-Max]
2,500,000
11,000
Fri October 29
8:30 PM

GPC

Eagle 05-M:

NLHE

GC 6,000,000

GTD

[Progressive Bounty, 6-Max]
6,000,000
33,000
Fri October 29
9:30 PM

GPC

Eagle 05-H:

NLHE

GC 15,000,000

GTD

[Progressive Bounty, 6-Max]
15,000,000
110,000
Fri October 29
10:30 PM

GPC

Eagle 05-L:

NLHE

GC 2,500,000

GTD

[Progressive Bounty, 6-Max]
2,500,000
11,000
Sat October 30
3:00 PM

GPC

Eagle 06-L:

NLHE

GC 2,000,000

GTD

[Deep]
2,000,000
11,000
Sat October 30
4:15 PM

GPC

Eagle 06-M:

NLHE

GC 3,000,000

GTD

[Deep]
3,000,000
22,000
Sat October 30
5:30 PM

GPC

Eagle 06-H:

NLHE

GC 12,000,000

GTD

[Deep]
12,000,000
110,000
Sat October 30
7:30 PM

GPC

Eagle 07-L:

NLHE

GC 2,000,000

GTD

[1R1A]
2,000,000
5,500
Sat October 30
8:30 PM

GPC

Eagle 07-M:

NLHE

GC 6,000,000

GTD

[1R1A]
6,000,000
22,000
Sat October 30
9:30 PM

GPC

Eagle 07-H:

NLHE

GC 12,000,000

GTD

[1R1A]
12,000,000
55,000
Sat October 30
10:30 PM

GPC

Eagle 07-L:

NLHE

GC 2,000,000

GTD

[1R1A]
2,000,000
5,500
Sun October 31
3:00 PM

GPC

Eagle 08-M:

NLHE

GC 12,500,000

GTD

[Deep]
12,500,000
110,000
Sun October 31
4:15 PM

GPC

Eagle 08-L:

NLHE

GC 3,500,000

GTD

[Deep]
3,500,000
22,000
Sun October 31
5:30 PM

GPC

Eagle 08-H:

NLHE

GC 27,500,000

GTD

[Deep]
27,500,000
220,000
Sun October 31
7:30 PM

GPC

Eagle 09-L:

NLHE

GC 2,000,000

GTD

[Deep Turbo]
2,000,000
11,000
Sun October 31
8:30 PM

GPC

Eagle 09-M:

NLHE

GC 4,000,000

GTD

[Deep Turbo]
4,000,000
33,000
Sun October 31
9:30 PM

GPC

Eagle 09-H:

NLHE

GC 15,000,000

GTD

[Deep Turbo]
15,000,000
110,000
Sun October 31
10:30 PM

GPC

Eagle 09-L:

NLHE

GC 2,000,000

GTD

[Deep Turbo]
2,000,000
11,000
Mon November 1
7:30 PM

GPC

Eagle 10-L:

NLHE

GC 2,500,000

GTD

[Progressive Bounty, Deep Turbo]
2,500,000
11,000
Mon November 1
8:30 PM

GPC

Eagle 10-M:

NLHE

GC 5,000,000

GTD

[Progressive Bounty, Deep Turbo]
5,000,000
33,000
Mon November 1
9:30 PM

GPC

Eagle 10-H:

NLHE

GC 15,000,000

GTD

[Progressive Bounty, Deep Turbo]
15,000,000
110,000
Mon November 1
10:30 PM

GPC

Eagle 10-L:

NLHE

GC 2,000,000

GTD

[Progressive Bounty, Deep Turbo]
2,000,000
11,000
Tue November 2
7:30 PM

GPC

Eagle 11-L:

NLHE

GC 2,500,000

GTD

[Bounty, 6-Max]
2,500,000
11,000
Tue November 2
8:30 PM

GPC

Eagle 11-M:

NLHE

GC 6,000,000

GTD

[Bounty, 6-Max]
6,000,000
33,000
Tue November 2
9:30 PM

GPC

Eagle 11-H:

NLHE

GC 15,000,000

GTD

[Bounty, 6-Max]
15,000,000
110,000
Tue November 2
10:30 PM

GPC

Eagle 11-L:

NLHE

GC 2,000,000

GTD

[Bounty, 6-Max]
2,000,000
11,000
Wed November 3
7:30 PM

GPC

Eagle 12-L:

NLHE

GC 2,500,000

GTD

[Rebuy, 6-Max]
2,500,000
3,300
Wed November 3
8:30 PM

GPC

Eagle 12-M:

NLHE

GC 7,000,000

GTD

[Rebuy, 6-Max]
7,000,000
11,000
Wed November 3
9:30 PM

GPC

Eagle 12-H:

NLHE

GC 20,000,000

GTD

[Rebuy, 6-Max]
20,000,000
33,000
Wed November 3
10:30 PM

GPC

Eagle 12-L:

NLHE

GC 2,000,000

GTD

[Rebuy, 6-Max]
2,000,000
3,300
Thu November 4
7:30 PM

GPC

Eagle 13-L:

NLHE

GC 2,500,000

GTD

[Progressive Bounty]
2,500,000
11,000
Thu November 4
8:30 PM

GPC

Eagle 13-M:

NLHE

GC 6,000,000

GTD

[Progressive Bounty]
6,000,000
33,000
Thu November 4
9:30 PM

GPC

Eagle 13-H:

NLHE

GC 15,000,000

GTD

[Progressive Bounty]
15,000,000
110,000
Thu November 4
10:30 PM

GPC

Eagle 13-L:

NLHE

GC 2,000,000

GTD

[Progressive Bounty]
2,000,000
11,000
Fri November 5
7:30 PM

GPC

Eagle 14-L:

NLHE

GC 2,500,000

GTD

[6-Max]
2,500,000
11,000
Fri November 5
8:30 PM

GPC

Eagle 14-M:

NLHE

GC 5,000,000

GTD

[6-Max]
5,000,000
33,000
Fri November 5
9:30 PM

GPC

Eagle 14-H:

NLHE

GC 12,500,000

GTD

[6-Max]
12,500,000
110,000
Fri November 5
10:30 PM

GPC

Eagle 14-L:

NLHE

GC 2,000,000

GTD

[6-Max]
2,000,000
11,000
Sat November 6
3:00 PM

GPC

Eagle 15-L:

NLHE

GC 2,000,000

GTD

[Deep]
2,000,000
11,000
Sat November 6
4:15 PM

GPC

Eagle 15-M:

NLHE

GC 3,000,000

GTD

[Deep]
3,000,000
22,000
Sat November 6
5:30 PM

GPC

Eagle 15-H:

NLHE

GC 12,500,000

GTD

[Deep]
12,500,000
110,000
Sat November 6
7:30 PM

GPC

Eagle 16-L: PLO8 GC 1,500,000

GTD

[6-Max]
1,500,000
11,000
Sat November 6
8:30 PM

GPC

Eagle 16-M: PLO8 GC 4,000,000

GTD

[6-Max]
4,000,000
33,000
Sat November 6
9:30 PM

GPC

Eagle 16-H: PLO8 GC 5,500,000

GTD

[6-Max]
5,500,000
55,000
Sat November 6
10:30 PM

GPC

Eagle 16-L: PLO8 GC 1,500,000

GTD

[6-Max]
1,500,000
11,000
Sun November 7
3:00 PM

GPC

Eagle 17-M:

NLHE

GC 12,500,000

GTD

[Deep]
12,500,000
110,000
Sun November 7
4:15 PM

GPC

Eagle 17-L:

NLHE

GC 3,500,000

GTD

[Deep]
3,500,000
22,000
Sun November 7
5:30 PM

GPC

Eagle 17-H:

NLHE

GC 27,500,000

GTD

[Deep]
27,500,000
220,000
Sun November 7
7:30 PM

GPC

Eagle 18-L:

NLHE

GC 2,500,000

GTD

[6-Max, Turbo]
2,500,000
11,000
Sun November 7
8:30 PM

GPC

Eagle 18-M:

NLHE

GC 5,000,000

GTD

[6-Max, Turbo]
5,000,000
33,000
Sun November 7
9:30 PM

GPC

Eagle 18-H:

NLHE

GC 15,000,000

GTD

[6-Max, Turbo]
15,000,000
110,000
Sun November 7
10:30 PM

GPC

Eagle 18-L:

NLHE

GC 2,500,000

GTD

[6-Max, Turbo]
2,500,000
11,000
Mon November 8
7:30 PM

GPC

Eagle 19-L:

NLHE

GC 3,000,000

GTD

[Rebuy]
3,000,000
3,300
Mon November 8
8:30 PM

GPC

Eagle 19-M:

NLHE

GC 7,000,000

GTD

[Rebuy]
7,000,000
11,000
Mon November 8
9:30 PM

GPC

Eagle 19-H:

NLHE

GC 20,000,000

GTD

[Rebuy]
20,000,000
33,000
Mon November 8
10:30 PM

GPC

Eagle 19-L:

NLHE

GC 2,000,000

GTD

[Rebuy]
2,000,000
3,300
Tue November 9
7:30 PM

GPC

Eagle 20-L:

NLHE

GC 2,500,000

GTD

[Ante Up]
2,500,000
11,000
Tue November 9
8:30 PM

GPC

Eagle 20-M:

NLHE

GC 5,500,000

GTD

[Ante Up]
5,500,000
33,000
Tue November 9
9:30 PM

GPC

Eagle 20-H:

NLHE

GC 7,500,000

GTD

[Ante Up]
7,500,000
55,000
Tue November 9
10:30 PM

GPC

Eagle 20-L:

NLHE

GC 2,000,000

GTD

[Ante Up]
2,000,000
11,000
Wed November 10
7:30 PM

GPC

Eagle 21-L:

NLHE

GC 3,500,000

GTD

[2x-Chance]
3,500,000
11,000
Wed November 10
8:30 PM

GPC

Eagle 21-M:

NLHE

GC 8,500,000

GTD

[2x-Chance]
8,500,000
33,000
Wed November 10
9:30 PM

GPC

Eagle 21-H:

NLHE

GC 25,000,000

GTD

[2x-Chance]
25,000,000
110,000
Wed November 10
10:30 PM

GPC

Eagle 21-L:

NLHE

GC 2,500,000

GTD

[2x-Chance]
2,500,000
11,000
Thu November 11
7:30 PM

GPC

Eagle 22-L:

NLHE

GC 2,500,000

GTD

[Super Bounty]
2,500,000
11,000
Thu November 11
8:30 PM

GPC

Eagle 22-M:

NLHE

GC 5,000,000

GTD

[Super Bounty]
5,000,000
33,000
Thu November 11
9:30 PM

GPC

Eagle 22-H:

NLHE

GC 15,000,000

GTD

[Super Bounty]
15,000,000
110,000
Thu November 11
10:30 PM

GPC

Eagle 22-L:

NLHE

GC 2,500,000

GTD

[Super Bounty]
2,500,000
11,000
Fri November 12
7:30 PM

GPC

Eagle 23-L:

PLO

GC 3,500,000

GTD

[2R1A, 6-Max]
3,500,000
11,000
Fri November 12
8:30 PM

GPC

Eagle 23-M:

PLO

GC 10,000,000

GTD

[2R1A, 6-Max]
10,000,000
33,000
Fri November 12
9:30 PM

GPC

Eagle 23-H:

PLO

GC 15,000,000

GTD

[2R1A, 6-Max]
15,000,000
55,000
Fri November 12
10:30 PM

GPC

Eagle 23-L:

PLO

GC 3,000,000

GTD

[2R1A, 6-Max]
3,000,000
11,000
Sat November 13
3:00 PM

GPC

Eagle 24-L:

NLHE

GC 2,000,000

GTD

[Deep]
2,000,000
11,000
Sat November 13
4:15 PM

GPC

Eagle 24-M:

NLHE

GC 3,000,000

GTD

[Deep]
3,000,000
22,000
Sat November 13
5:30 PM

GPC

Eagle 24-H:

NLHE

GC 12,500,000

GTD

[Deep]
12,500,000
110,000
Sat November 13
7:30 PM

GPC

Eagle 25-L:

NLHE

GC 3,000,000

GTD

[2x-Chance, 6-Max]
3,000,000
11,000
Sat November 13
8:30 PM

GPC

Eagle 25-M:

NLHE

GC 7,500,000

GTD

[2x-Chance, 6-Max]
7,500,000
33,000
Sat November 13
9:30 PM

GPC

Eagle 25-H:

NLHE

GC 25,000,000

GTD

[2x-Chance, 6-Max]
25,000,000
110,000
Sat November 13
10:30 PM

GPC

Eagle 25-L:

NLHE

GC 3,000,000

GTD

[2x-Chance, 6-Max]
3,000,000
11,000
Sun November 14
3:00 PM

GPC

Eagle 26-M:

NLHE

GC 15,000,000

GTD

[Deep]
15,000,000
110,000
Sun November 14
4:15 PM

GPC

Eagle 26-L:

NLHE

GC 3,500,000

GTD

[Deep]
3,500,000
22,000
Sun November 14
5:30 PM

GPC

Eagle 26-H: Main Event

NLHE

GC 40,000,000

GTD

[Deep]
40,000,000
220,000
Sun November 14
7:30 PM

GPC

Eagle 27-L:

NLHE

GC 2,500,000

GTD

[Progressive Bounty, 6-Max, Turbo]
2,500,000
11,000
Sun November 14
8:30 PM

GPC

Eagle 27-M:

NLHE

GC 5,000,000

GTD

[Progressive Bounty, 6- Max,Turbo]
5,000,000
33,000
Sun November 14
9:30 PM

GPC

Eagle 27-H:

NLHE

GC 15,000,000

GTD

[Progressive Bounty, 6-Max, Turbo]
15,000,000
110,000
Sun November 14
10:30 PM

GPC

Eagle 27-L:

NLHE

GC 2,000,000

GTD

[Progressive Bounty, 6-Max, Turbo]
2,000,000
11,000