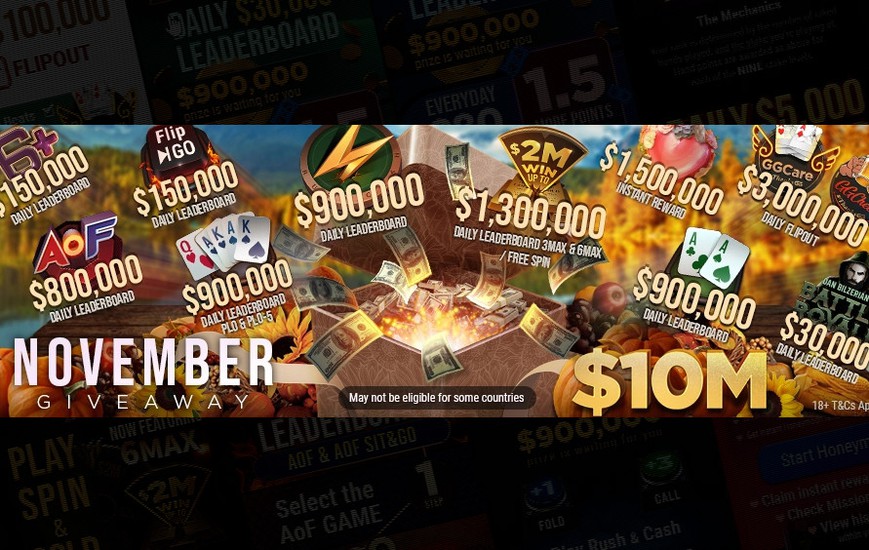 The weather is getting cold and gloomy, which means online poker is starting to get into its busy season.
Operators usually bring out the big guns for major promotions, and GGPoker is certainly not taking their foot off the gas: Throughout November, the operator is throwing a series of valuable promotions worth a total of $10,000,000.
Among the promotions given away this month, the operator has a daily $100,000 flip freeroll, "prize booster" leaderboards across Hold'em and PLO cash games and every major tournament type the operator offers, daily freebies open to all, and its generous Honeymoon welcome promotion for newcomers.
GGPoker has done a great job of appealing to players through various marketing efforts, from bringing on the likes of Daniel Negreanu as their brand ambassador to dishing out cash to unlucky losers and lucky winners in their Daily Flipout tournaments, which has made a comeback this November.
Another exciting promo at GGPoker is the Honeymoon promotion, awarding new players with up to $350 worth of cash, tournament tickets, and other rewards throughout the month for completing simple missions at the tables.
On top of the Flipouts and the Honeymoon promo, GGPoker is awarding tens of thousands of dollars daily through boosted NLH and PLO leaderboards, a unique 6+ Hold'em leaderboard, separate leaderboards for the AOF and Rush & Cash players, daily freebies, and more.
GGPoker gave away $10,000,000 to players in October as well, so this tradition continues into another month. The overall value of promotions given away by the site has doubled since November last year.
Upgraded 30-Day Honeymoon Challenge for New Players
New players just joining GGPoker in November have a lot to look forward to, as the operator is throwing its Honeymoon promotion once again—and it has been upgraded in value.
It now offers total rewards of up to $350 to each player, making it a valuable one for anyone looking for a new place to play poker. This is on top of the standard welcome bonus, which offers either a deposit match up to $600 or freeplay dollars on a smaller deposit (read our full guide for more).
To participate in the promotion, players need only click the Start Honeymoon button in the promotions tab, which opts them in for the promo. Once this is done, the Honeymoon phase starts.
During the 30 days of the Honeymoon, each player receives one daily mission, like playing 50 hands of PLO or showing down a winning hand in Texas Hold'em.
As you complete missions you receive rewards: there are ten in total, unlocked as you hit mission milestones. They range from two $0.50 AOF tickets (once three missions complete) to $50 tournament dollars (at mission 25). The final reward is $150 in cash.
The overall value of this promotion is very high and adds significant value to a first month playing at GGPoker.
Sign up to GGPoker and enjoy a generous Welcome Bonus! »
$100k Daily Flipouts in November
The biggest GGPoker promotion this month in terms of overall value is the $100k Daily Flipout tournaments, which will award $3,000,000 to players playing across all games and stakes at the site this month.
To enter the Daily Flipout, players need to hit the cash game tables and either scoop a massive pot (for the stake they are playing), make a big poker hand, or suffer a bad beat at the hands of one of their opponents.
GGPoker has two separate programs: GGCheers for lucky winners, and GGCare for those who suffer bad beats.
Both now feed into the one big $100k flipout: operator gives away tickets to both the lucky winners and the unlucky losers at the tables. Depending on the severity of the situation and the size of the pot they were involved in, players receive different stack sizes in the Daily Flipout.
Leaderboards Galore at GGPoker
A big chunk of the overall $10MM prize pool that GGPoker is giving away throughout November comes from the daily leaderboard, available at almost every game at the site. Whether you play NLH, PLO, Six+ Hold'em, All-In or Fold, Rush & Cash, Spin & Gold, or Flip&Go tournaments, there is a leaderboard to take part in.
For each game, the operator has prepared a separate leaderboard, with players at different buyin levels competing against others on their level.
Overall, the daily leaderboards awards cash as follows:
No Limit Hold'em: $33,000 Daily
Pot Limit Omaha: $33,000 Daily
Rush & Cash: $30,000 Daily
Spin & Gold: $25,000 Daily
All-In or Fold: $25,000 Daily
Six+ Hold'em: $5,000 Daily
Flip & Go: $5,000 Daily
Battle Royale: $1,000 Daily
Overall, GGPoker is giving away more than $4,500,000 in leaderboard money in November, with players across all levels and games awarded generously. To participate in the GGPoker leaderboards all you need to do is set up a GGPoker account, play at the tables, and accumulate points for every hand you play and every chip you drag in.
GGPoker Daily Freebies Are Back
Not everyone out there has the bankroll to play at the cash game tables or tournaments at GGPoker, and the operator is happy to help such players as well. Every day in November, GGPoker is giving away Daily Freebies to any player who logs into their account and simply claims the reward.
Daily Freebies give access to popular game formats at GGPoker such as Spin & Gold and Battle Royale. Every day of the week, a $0.25 ticket to one of the two is made available to every player on the site, with Saturdays awarding a special $1
Spin & Gold ticket.
This promotion has been a remarkable success at GGPoker in the past and continues to run in November, with more similar promos sure to come in the upcoming months.