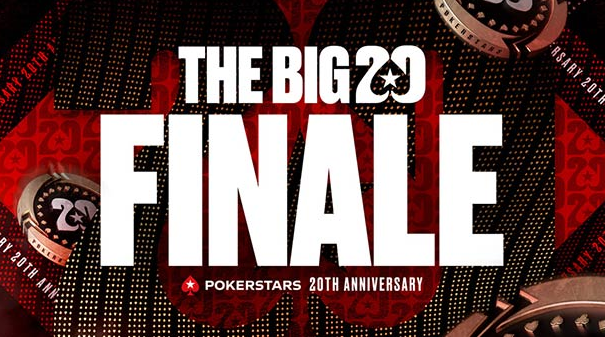 The PokerStars 20th birthday celebrations are in full swing, with the Big 20 Rewind tournaments attracting thousands of players to compete in various poker formats for valuable prizes, the cash game and SNG leaderboards giving away more than ever before, and a variety of Big 20 Rewind tickets being given away on a daily basis.
The culmination of the entire Big 20 anniversary promotion is expected on December 5, when PokerStars is hosting the Big 20 Finale, a massive $55 buyin tournaments with a $5,000,000 guaranteed prize pool, the largest tournament of this kind ever held.
It is not easy to come by a poker tournament with a $5,000,000 prize pool even in the live poker arena, but when it's happening online and all it takes to enter is $55, then we know something special is about to happen.
Not only is PokerStars hosting the tournament at such a low buyin, but thousands of players will also have an opportunity to play it for free or by qualifying through one of the numerous satellite tournaments that are being held on the site in the days leading up to the Big 20 Finale.
PokerStars.com
is celebrating its 20th birthday and everyone is invited to join The Big 20 party!
Super-charged daily leaderboards starting with November 1 and running through the month, offering boosted prizes
20 thematic tournaments celebrating the biggest moments from the PokerStars two-decade history
$5MM Guaranteed The Big 20 Finale with the buy-in of just $55 and ample opportunity to qualify for free
How to Qualify for the Big 20 Finale?
Paying the $55 entry fee for the Big 20 Finale may seem like an attractive option to some players, while others will want to reduce the buyin even further and try to qualify for as cheap as possible.
Fortunately, PokerStars has opened up many different paths to the Big 20 Finale, with a variety of satellite tournament running and tickets being given away through other channels as well.
Phased satellites for the Big 20 Finale start at just $0.55 buyins and are running every hour, with Phase 2 tournaments running every Tuesday, Thursday, and Saturday for players who win their seats in Phase 2.
Regular daily $2.20, $5.50, and $11 satellites with regular, turbo, and hyper turbo blinds structures are also available, while free entries into the daily $5.50 Mega Sat can be won through freeroll tournaments.
PokerStars is also hosting unique Road to $5M tournaments with buyin levels from $2.20 to $11, with a progressive knockout format and dozens of seats given away in each tournament.
To top it all off, the operator is also giving away completely free tickets through the Ticket Machine promotion, which has made a comeback for the Big 20 anniversary, and Spin & Go players will have their shot at the tickets by playing in exclusive $0.50 buyin Spin & Goes specifically designed for this occasion.
Women looking for their seat in the Big 20 Finale will have a chance to win a completely free ticket by playing in the PokerStars Women's Sunday on November 28, where top 20 finishers will receive added tickets worth a total of $1.100.
Just How Big is the Big 20 Finale?
In case you are wondering if the Big 20 Finale will be the tournament with the biggest player pool ever, the answer is no, it probably will not be. Just recently, PokerStars hosted an $11 New Year's Bash tournament, which saw almost 220,000 entries.
However, the buying for that tournament was five times lower, making the overall prize pool less than what we are guaranteed to see in the Big 20 Finale.
When it comes to tournaments in the $50 range at PokerStars, the biggest ever was the 2021 WCOOP Main Event Low, which accumulated a prize pool of $2.014 million. The operator has also hosted 40 Half Price Sunday Million events, which had a $1 million guaranteed prize pool each.
The Big 20 Finale stands to not only break the record for the biggest $55 tournament ever held, but smash it by a huge margin. Whether the tournament will in fact attract the 100,000 entries it needs to exceed its guarantee remains to be seen, as this is a feat that no one else has tried thus far.