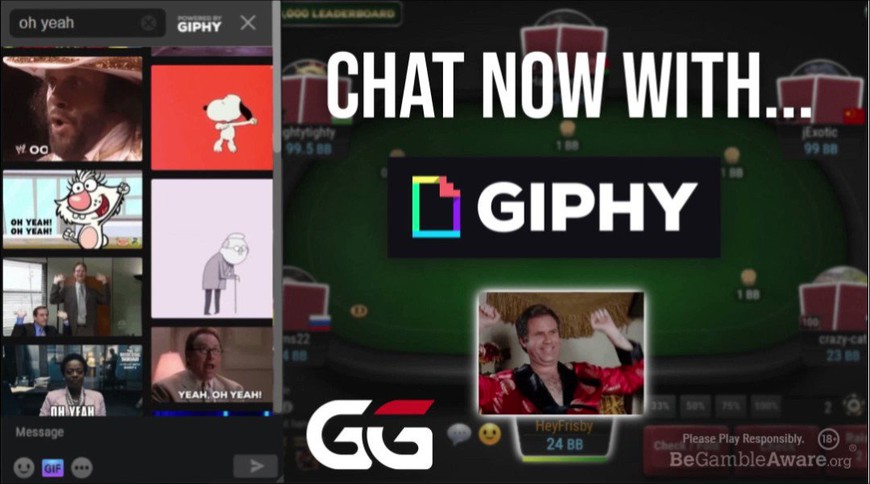 One of the leading international online poker sites, GGPoker has partnered with GIPHY, a leader in the field of short animated videos (GIFs) to provide players with some of the most interactive content available at any online poker site today.
GIPHY is a massive library of GIFs — one that reportedly contains over a billion GIFs, all of which can be searched by keyword and used in a number of social media and other apps around the world.

Last verified: July 2022
Special Signup Offer
100% deposit bonus up to $600!
Or get up to $100 worth of rewards
Available in many regulated markets
Great

MTT

schedule including

WSOP

events
Now, poker players at GGPoker will have the unique opportunity to use GIPHY while playing poker, by browsing the library in real-time and sharing GIFs that best portray their emotions and reactions to the other competitors.
This integration comes as part of the operator's push to make the game more interactive, an objective which also led to the addition of SnapCam videos and dance emojis which have been around for a while.
While other sites have seen various improvements in recent months and years as well, few can boast the kind of interactive approach, combined with high traffic and a quality poker platform that GGPoker currently offers.
Regarding the integration, GGPoker posted the following Tweet, with a fitting reply coming right back from the team at GIPHY:
How to Use
GIPHY

at GGPoker

GIPHY is a GIF database that is used in a variety of apps that you may have used in the past, including the likes of Facebook, Instagram, and Viber.

The platform was founded in 2013 and in 2020, it was acquired in full by Facebook for a reported $400 million. Facebook was later ordered to divest the ownership of GIPHY due to concerns regarding monopoly practices, and the platform remained available through a massive variety of apps.

The integration into the GGPoker platform makes for an exciting addition for poker players who will now have yet another way to express their emotions and communicate with other players at their table.

Since the GIPHY library is so massive, there is nearly no end to the kind of GIFs one can find and display at the table in just seconds.

To use GIPHY, you will simply need to type in a keyword into the chatbox and pick one of the many GIFs from the options that appear below. Once selected, the GIF will appear on top of your name box for everyone at the table to see. It will also remain in the chatbox for future reference.

While this feature may not actually improve the gameplay itself, it gives players a chance to enjoy the overall experience even more and adds a fun spark to the competitive nature of the game.
What Else to Look for at GGPoker
For a long time now, GGPoker has been one of the leaders in the online poker industry, having become a serious competitor to the likes of PokerStars and partypoker.
The operator not only offers some of the biggest online poker tournaments in the world, but also a variety of valuable promotions and some of the best features found on any online poker platform.
In August 2020, GGPoker introduced its players to SnapCam videos, allowing players to record short 15 second videos of themselves, which could then be used to react to situations happening in the game. The operator soon after introduced dance emojis and animated GIFs as well. That earlier, more limited GIF library has now been upgraded to GIPHY for even more interactivity.
With all these amazing features and the kind of traffic GGPoker currently has, it is not hard to see why the site remains one of the top-rated online poker operators in iGaming today, with licenses in a number of valuable regions and markets.