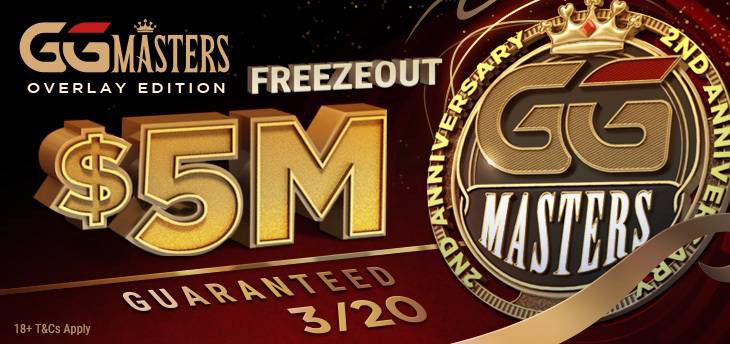 $5,000,000 guaranteed. No rebuys. There's no way this tournament is not going to have an overlay.Global online poker operator GGPoker is going to celebrate two years of its flagship Sunday GGMasters with a truly staggering guarantee.
On March 20, 2022, the operator is going to increase the guarantee by 10 times its usual amount. For the same $150 buy-in, players will vie for a prize pool of $5 million, pokerfuse can reveal.
With its buy-in of $138+$12, it will need to attract 36,231 participants to cover, or 33,333 not including the operator fee. While there have been tournaments of this stature before, what makes this unique is that the tournament is a freezeout. It has three flights, but you can only enter once.
GGMasters Overlay Edition: Key Numbers and Facts
Runs on March 20
Buy-in of $150
Freezeout: No re-entry, no re-buy
$5 million guarantee
Would need over 36,000 players to cover
Day 2 runs on March 21
GG Poker is not even pretending that it will hit this target. Indeed, the name itself — the GGMasters Overlay Edition — puts front-and-center that it expects there to be a substantial overlay, meaning major value for everyone who plays.
Day 1 flights run on March 20, with Day 2 on March 21. It is also certainly no coincidence that this is the same weekend as PokerStars' Sunday Million Anniversary — offering a $10 million guarantee on the $215 tournament.
All players should put this weekend in the calendar: It will be one of the largest of the year.

Last verified: December 2023
Special Signup Offer
100% deposit bonus up to $600!
Or get up to $100 worth of rewards
Available in many regulated markets
Great

MTT

schedule including

WSOP

events
"$150 buy-in. $5,000,000 guaranteed. No rebuys. There's no way this tournament is not going to have an overlay!" said Daniel Negreanu, GGPoker Global Ambassador. "This is GGPoker's flagship freezeout tournament and you won't want to miss out on the value this March 20."
Indeed, it seems very unlikely the operator will come close to its target. It is hard to think of a comparable tournament. PokerStars' regular Sunday Million is a $109 tournament with a $1 million guarantee and regularly skirts with overlays. The regular GGMasters has a $500,000 guarantee and can also struggle to cover.
With all that said, GG will naturally roll out all the stops to give away as many tickets as possible, through a variant of satellites and likely promotional giveaways. The tournament does not have a cap, so an overlay is not guaranteed. But getting even close seems almost impossible.
Perhaps the closest tournament was PokerStars' recent Big 20 Finale, which guaranteed the same $5 million but with a buy-in of $55. This needed 100,000 players, and fell just shy, attracting 96,000. However, that tournament allowed re-entries and re-buys.
There were 58,047 unique players in that tournament. GG will need to attract two-thirds of this number, paying more than three times the buy-in.
Date
Time
Flight
Sunday, March 20
Midday

UTC

Asia Flight
Sunday, March 20
17:00

UTC

Europe Flight
Sunday, March 20
22:00

UTC

Americas Flight
Monday, March 21
17:00

UTC

Day 2
GGMasters launched back in January 2020 — its take on the Big Sunday tournament, promising to bring back the classic freezeout format with an affordable buy-in.
It started off with a $250,000 guarantee and, even at this level, it would often suffer small overlays. GGPoker was undeterred. It quickly grew this guarantee, first to $300,000 then to $400,000, finally settling on its $500,000 figure, where it remains today.
Its tenacity paid off. After six months, the operator enjoyed consistently high turnouts, attracting enough entries to cover its half-million guarantee week in, week out.
A year ago, GGPoker expanded the concept to a week-long schedule that guaranteed a total of $2.5 million across tournaments that ran every day of the week. It included a GGMasters High Rollers on Sunday, with a $1000 buy-in and a $1 million guarantee.
New players can claim a GGPoker welcome bonus of up to $600 plus get an additional up to $350 in value through GGPoker's new-player Honeymoon promotion. They can also take advantage of daily freebies, which give away no-strings-attached tickets every day simply for logging in.
Players can expect qualifiers to the GGMasters Overlay Edition in the client soon, starting at $2.
Day 1s for the GGMasters Overlay Edition run on March 20, with Day 2 on March 21.