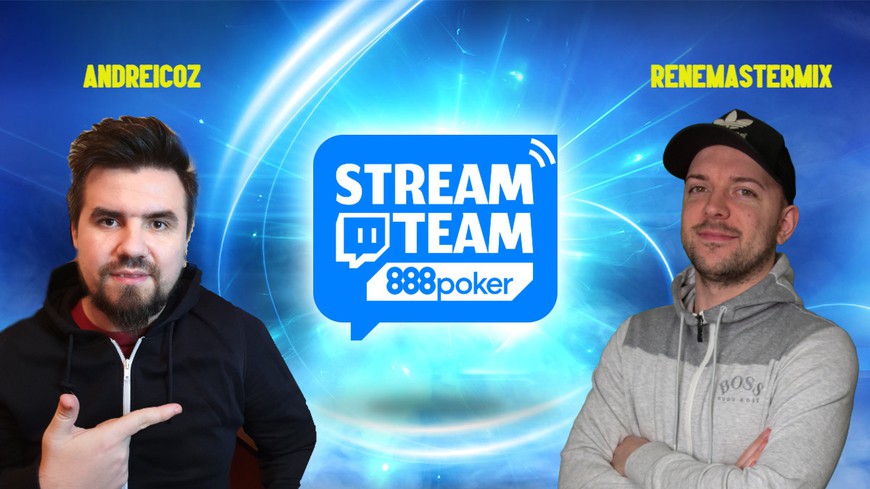 The 888poker Stream Team is growing again with the addition of two new streamers to the group. Hailing from Germany and Romania, the two new Stream Team members join the existing team, which already included six members.
888poker is expanding its Twitch presence with an expanding Stream Team. This week, the operator added Rene "renemastermix" Majed from Germany and Romania's Andrei "andreicoz" Cosmin to a mix that already included streamers from the United Kingdom, Canada, and Portugal.
The new members join an 888poker team in flux. The brand has recently lost a few long-time ambassadors like 2014 WSOP Main Event champion Martin Jacobson and Sophia Lovgren, but the team also acquired US pro Samantha Abernathy who joined the roster in September of 2021.
Abernathy joined the remaining ambassadors Dominik Nitsche, PLO master Vivian Saliba, and the legendary anchor Kara Scott. The latest additions to the Stream Team, as well as 888's announcement in early 2022 that Chris Eubank Jr had signed on as its new cultural ambassador — both clear indications that 888poker is actively looking to expand its team and its presence online.
888 New Stream Team Members
888poker announced the formation of its new Stream Team in July of 2021 and, since then, it has looked to expand its presence on Twitch. In Sept of 2021, the operator added Canadian Jordan Banfield to the team but, since then, the roster has stayed pretty stable until the latest announcements.
Germany's Rene "renemastermix" Majed has been playing poker as a hobby for about 14 years, but only started streaming poker on Twitch in 2020. While he has treated poker as a hobby for much of his 14 years playing, he has been taking the game more seriously since he began streaming.
"I worked very hard for all this, and I still do it every day of my life," Majed was quoted as saying in 888poker's press release. "I am very happy to have a strong partner like 888poker at my side for the first time."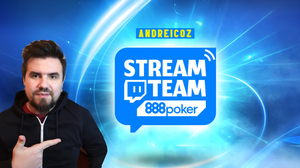 Andrei "andreicoz" Cosmin hails from Romania and says he started poker "almost by accident". According to his bio in the 888poker eMagazine he found himself alone at the office over Christmas in 2017 and stumbled onto a YouTube video about poker. That started Cosmin on a bankroll challenge that saw him turn $100 into $10,000 during 2019 playing cash games.
"I am really happy to be part of the 888poker StreamTeam, [as I] already know and follow my great new team members," Cosmin told 888poker. "I'm sure we are going to make a great team together and promise to bring my best to the team."
Cosmin and Majed joined a team that is already headlined by ambassador Vivian Saliba, who can be found streaming high-stakes PLO and other games on her Twitch channel. Also on the team are Nick Eastwood, Ricardo Mateus, David Gibson, Josh Manley, Adam Tocholke and Banfield.
While most of the stream team members are dedicated poker players, Ontarian Adam Tocholke is a bit different. He is, first and foremost, a musician, producer, and artist who started streaming his music in 2014 and saw a lot of traction before leaving the streaming world to pursue music professionally, recently surpassing 50 million streams on Spotify for his music. He's also started streaming online poker as part of the 888poker Stream Team.
While the ambassador and streaming teams for many other operators have been shrinking lately, 888poker joins GGPoker as one of the operators actively growing its ambassador and Twitch presence. While Unibet and partypoker have recently lost key members of their teams, 888poker is adding new blood to their Twitch presence.