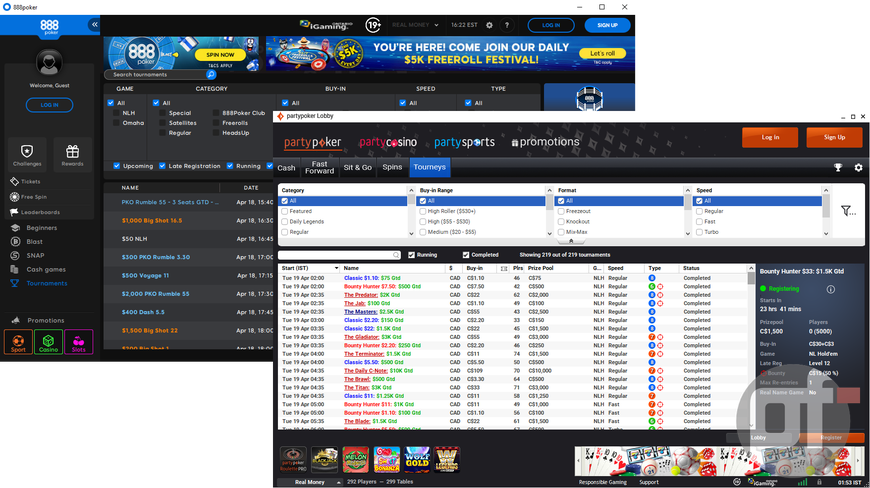 Much like 888poker in Ontario, players on the BetMGM Poker Ontario Network — are enjoying huge overlays in tournaments, making it absolutely worth playing on these newly launched ring-fenced sites.
Almost every tournament that has been deployed on the BetMGM Ontario Network — consisting of BetMGM, bwin, & partypoker — is falling short of its guarantee and by a big margin. The same overlay trend can be seen on 888poker Ontario — though the latter is now able to hit some of its guarantees.
Last week, partypoker, along with its sister brand bwin launched in Ontario joining the already-up-and-running BetMGM Poker Ontario — to form a three-skin BetMGM online poker network. It marks the province's first shared player pool and the largest network in the newly regulated market.
While BetMGM Ontario Poker was already live in the market, the addition of two more skins allowed the network to spread an aggressive MTT schedule. For example, it has added Daily C-Note, a CAD $109 buy-in tournament that guarantees CAD $10k every day. This would need to attract 100 entries to cover — an ambitious target given the player pool is confined to just a single province.
It also deployed a strong line-up of Sunday major tournaments with guarantees touching close to CAD $100k. Unfortunately for the operator, almost every tournament fell short of its target, providing massive value for its new customers.
The Sunday Masters, for instance, boasting a CAD $5k guarantee for a buy-in of CAD $55, managed to attract just 58 entries, creating an overlay of CAD $2100. Another tournament with the same guarantee but for a cheaper buy-in of CAD $22 drew 125 entries falling short by 50%.
The Super Sunday 100 with an ambitious guarantee of CAD $15k and $109 buy-in also missed its mark by close to 50% while the CAD $530 High Roller created an overlay of CAD $11,000 on its CAD $25,000 guarantee.
Overlays on BetMGM Ontario Poker Network on April 17
Tournament
Buy-In (

CAD

)
Guarantee (

CAD

)
Entries
Overlay (

CAD

)
The Sunday Grind
$33
$1500
44
$180
The Sunday Stack
$11
$1000
41
$590
The Sunday Masters
$55
$5000
58
$2100
The Super Sunday 100
$109
$15,000
78
$7200
The Sunday High Roller
$530
$25,000
28
$11,000
The Sunday Blade
$22
$3000
74
$1520
Get in on the BetMGM Poker Ontario real money action and take advantage of these deals! Learn more in our Ontario Online Poker Reviews.
For those that are unfamiliar with what an overlay in a poker tournament is, it is simply the amount of money that the operator must add out of its own pocket to the prize pool in order to fulfill the guaranteed amount of the tournament.
Almost every tournament has a guarantee attached to it. Without enticing guarantees, tournaments would struggle to attract a decent turnout as guarantees are an assurance of what the prize pool will look like no matter what kind of turnout a tournament gets.
Every tournament player likes to see overlays as they provide extra value to players. In a way, they are good for the poker ecosystem. Not only are they good for players, but for operators, overlays act as an indirect marketing expense, especially for a newly launched site.
It appears that these operators are quite happy with the shortfalls and, in fact, leveraging them to compete in the market.
888poker was the first online poker room to go live in the Ontario online poker market on April 4, the day the market opened, while BetMGM launched a day later. Though both the sites had deployed MTTs, the tournament options at BetMGM Ontario were quite limited and guarantees were less ambitious.
888poker Ontario, on the other hand, had a much wider option and a proper Sunday MTT schedule with over CAD $50,000 in combined guarantees. As the new site tried to build on the pool, it was hit with huge overlays on the opening week with some falling short by even 60%.
While reducing the guarantees would have been the safe choice, instead, the operator retained the guarantees and the overlays continued. However, the shortfalls are reducing in size but still enough to provide extra value to players.
BetMGM Ontario Poker Network has adopted the same tactic except that it has even a wider option of tournaments, compared to 888poker.
Buy-ins start as low as CAD $1.10 and go up to $530 though a majority of them range in two digits. Guarantees go up to CAD $25,000. Expect overlays to continue to come on these two ring-fenced sites.