Following the legalization of privatized online gambling in the Canadian province of Ontario, 888 Holdings was one of the first gaming operators to receive an Ontario internet gaming license from the Alcohol and Gaming Commission of Ontario (AGCO), setting everything in motion to launch 888poker Ontario.
888poker Ontario went live on April 4, 2022, the first day of the newly regulated market. 888sport Ontario and 888casino Ontario also launched the same day, making 888 the only operator to launch all three verticals on the day the market opened. 888 was also the very first regulated online poker room in Ontario, enjoying about a day and a half of a de facto monopoly before BetMGM Poker Ontario went live on the afternoon of April 5, giving 888 its first competition in the regulated market.
888poker celebrated its 20th anniversary in March 2022 and, with its two decades of experience, it stands as one of the most reliable and trustworthy online poker brands worldwide. It's no wonder that 888 offers one of the best online poker rooms in Ontario — it's been keeping online poker players all over the world happy for 20 years!
The 888poker site launched with all the bells and whistles of the operator's brand new Poker 8 software, which also powers WSOP PA and the newly launched WSOP MI and is one of the finest in the industry from every perspective.
The Ontario regulations require players to be physically within the province to sign up and play on the new 888poker Ontario platform, but with nearly 15 million Ontarians having access to it, traffic shouldn't be a problem once it builds up its market share.
As one of the first official poker rooms to offer real money poker in Ontario, 888 had the privilege of claiming early sign-ups and wasted no time offering MTTs with big guarantees and freerolls to attract players while waiting for the rest of its competitors to launch. It had a bit of a slow start with the first couple of days full of massive overlays, meaning great value for the players, but once the word of the overlays spread, the turnout improved, suggesting that the impossible guarantees may, in fact, have been its strategy for filling seats all along.
Players of all skill levels and budgets should have no problem finding some great action at 888. Players at 888poker Ontario are treated to a full range of poker tournaments and cash games of varying stakes, ranging from micro to high stakes, with NLH and PLO being the two dominant games on the site.
While the options might be limited at the moment, with a pretty extensive list of poker rooms gearing up to launch in Ontario in the weeks and months ahead, it can be difficult to choose which one to play at. Luckily, we're here to help by giving you all the info you need to know about 888poker Ontario before signing up, including all the details on MTTs, that sparkly Poker 8 platform, banking options, and much more.
888poker Ontario: Key Facts
Games on Offer
MTTs, Cash Games,

BLAST

, SNAP
Apps
Windows, Mac, iOS, and Android
Main Highlight
Great range of cash game stakes
888poker Tournaments
Poker tournaments have been a specialty of 888poker ever since it launched its international site as Pacific Poker back in 2002.
At 888poker, players can access a whole range of exciting poker tournaments on a daily basis, ranging from small sit & go tournaments that start up whenever enough players sign up, to huge daily multi-table tournaments (MTTs) with hundreds of runners.
888poker offers a great variety of tournament formats, including heads up tournaments, double or nothing, freezeout, progressive knockout (PKO), and more.
Whatever type of tournament you are looking for, 888poker probably has it and offers a bigger and better version of it than most of its competitors.
Sit & Go Tournaments
Sit & Go tournaments aka SNGs are a format of poker that's extremely appealing to players who don't want to stay stuck to their chairs for too long waiting for the action to begin.
At 888poker Ontario, players can play heads-up, 6max, or full ring SNGs, with No-Limit Hold'em and Pot-Limit Omaha being the two games of choice.
The SNG tournaments can be played at many different buy-in levels, with everything from a few cents to hundreds of dollars available in the lobby.
Each SNG format offers a different approach to the game of poker and the hottest action is most commonly found at heads-up and six-max tables, which are extremely popular these days.
Multi-Table Tournaments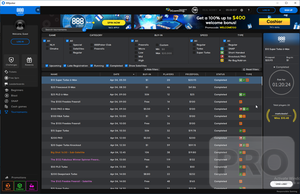 888poker has always been famous for its extensive daily MTT schedule, and it sure isn't changing that any time soon, coming right out of the gates offering MTTs with ambitious guarantees to Canadian players.
The daily schedule has a little something for everyone, with freeroll tournaments available on a daily basis for those without a bankroll, and tournaments at every buy-in level also available throughout the day.
The action gets truly fast and furious on the weekends when the biggest guarantees and the biggest player pools come together to offer players a chance to win huge first-place prizes for their efforts.
The MTT scene at 888poker is energetic and the average quality of players is low enough that a player with decent tournament skills can surely break a hefty profit.
Tournament Series
888poker Ontario is just launching, but we can expect the operator to offer a new poker tournament series at least a few times a year, as it does in all its regulated markets.
888 online poker series tend to offer mid-range buy-ins and huge prize pools, attracting hundreds of tournament players and amateurs to compete for prizes much bigger than what's offered on the daily schedule.
The types of major online poker tournament series you can expect from 888poker Canada are not yet clear, but the likes of the XL Series which have had a great success in other markets — the most recent XL Winter Series awarded over $2 million in prizes — will likely be available as early as 2022.
Cash Games
While tournament poker may be the main focus of 888poker, like any good poker operator, they offer plenty of cash game tables as well.
At 888poker Ontario, No-Limit Hold'em and Pot-Limit Omaha are the two games you will find running on a regular basis when it comes to cash games, with stakes varying quite a bit.
The lowest stakes tables on the site run at the CAD $0.01/0.02 level, which means you can play cash games for as little as CAD $1 on the table. On the other hand, higher stakes run semi-regularly as well, with blinds going as high as CAD $10/20.
Plenty of action can be found at the medium stakes, with CAD $0.5/1 and CAD $1/2 games running very regularly and six-max being the favorite format for players on the site.
Apart from the regular cash game tables, the SNAP tables are also available. This 888poker version of fast-fold poker is every bit as cool and smooth as Rush Poker or other variants, but the limited player pool on the Canadian site makes running such games somewhat difficult.
888poker Ontario's App & Poker 8 Software
We already pointed out that 888poker Ontario uses the Poker 8 platform, which was created quite recently and which offers one of the very best online poker experiences out there.
From the sharp-looking lobby to the modern and sleep poker tables, the new and improved 888poker software does not disappoint.
Both desktop and mobile versions of the software are available, allowing players to play on any device they prefer. The quality does not diminish whichever version you choose and 888poker continues to provide a high-quality poker experience at all times.
Reliability
888poker is one of the true institutions in the online poker world. Having been around for 20 years, the operator is licensed in 17 different jurisdictions and there is absolutely no doubt about its dedication to reliable and safe online poker gaming.
The Poker 8 platform is its best one yet and it provides for safe and secure gaming at all times. To this day, no security leaks or issues have been reported and the platform continues to run smoothly across all devices. Disconnects or software crashes are extremely rare and you can be sure that you won't be wasting money due to software glitches at 888poker.
Functionality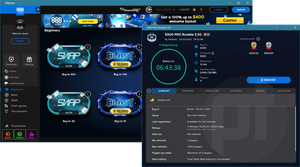 When it comes to the actual usability of the 888poker software, we definitely say that there are few online poker platforms out there that perform better. The software is highly functional with a number of features that make it easy to find the tables you want and even easier to play poker just the way you want.
Multi-tabling options make it easy to play many tables at once and the customization options give you a chance to make the software your own and optimize it for many hours of great poker entertainment.
Appearance
While appearances aren't everything, they can be quite important when playing online poker. Thankfully, this is another area where 888poker Ontario does amazingly well, with the software looking like something from the future and way better than the majority of competing platforms.
Every little detail was given plenty of attention at 888poker, with the lobby and the tables looking equally sharp and cool. Various customization options are available to make the tables look the way you want them to, with a four-color deck, different avatars, and various table themes all available at 888poker.
Banking
When playing real money poker at 888poker, you will have several different options to claim your winnings. Although the list of available cashout methods is limited, most players should not have a problem retrieving their balances.
You can use the following payment methods to cash out from 888poker Ontario:
Wire Transfer
Credit Cards
PayPal
Interac Online
Skrill
FAQ
Is 888poker available in Ontario?
888poker was one of the first online poker operators to receive a gaming license from the Alcohol and Gaming Commission of Ontario (AGCO). It then continued that trend by being one of the first operators to launch. On the first day of the regulated market — April 4, 2022 — 888poker was the first real money online poker site to go live in the regulated market of Ontario. It is up and running and ready for you to download the 888poker Ontario app and get in on the action.
Who can play at 888poker Canada?
Any Canadian resident aged 19 or older can play at 888poker Ontario as long as they comply with all the registration requirements and are physically located within Ontario while playing real money poker at 888.
Is 888poker Ontario legal and safe to play?
Yes! 888poker Ontario is licensed by the AGCO, making it one of the entities that can legally provide gaming services in the province of Ontario. The operator's reliability has been proven many times over the last two decades of operation internationally, making 888poker one of the safest places to play poker today. Furthermore, all licensed operators have to go through extensive checks, including making sure the games are totally random and fair, ensuring that the platform is fully secure with the latest technology, and meeting responsible gaming requirements, as mandated by the regulators.
Do I have to be in Ontario to play at 888poker Canada?
Yes! The poker room only accepts players who are playing from within Ontario borders, in compliance with provincial law. This means you will have to be physically located within Ontario in order to play real money online poker or you will be blocked out of playing. Geolocation software on your device will tell the operator if you are complying with this rule and there is no way around it.
Can I play cash games at 888poker Ontario?
Yes! Along with the variety of poker tournaments that 888poker is famous for, cash game tables are also available across the stakes, ranging from extra-small tables where CAD $1 will give you access to the high-stakes tables where thousands of Canadian dollars change hands every minute. NLH and PLO are the two games that run at 888poker cash game tables.
Latest 888poker Ontario News
---
---
---
---
---
---
---
---
---
---