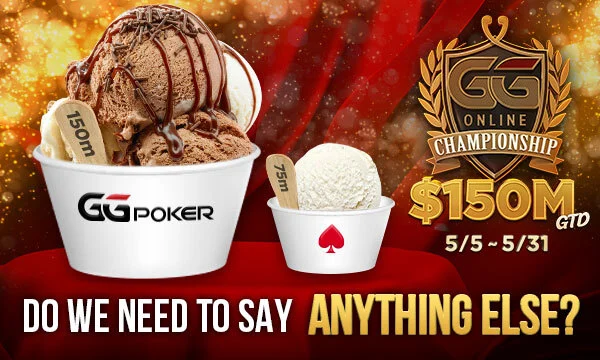 With the live World Series of Poker (WSOP) just around the corner, May is a big month on the online streets. GGPoker is leading the way with a massive $150 million guaranteed GG Online Championships.
GGPoker is going head-to-head with rival PokerStars' Spring Championship of Online Poker (SCOOP) and the upstart operator has been poking some fun at its competitor recently. With $78.5 million in guarantees, the long-running SCOOP series is about half the size of the GG Online Championships and a recent tweet from GG brought that home in a humorous way.
The series has 131 tournaments in each of three categories — High, Medium, and Low — plus another 20 games in the Super-High category. Most of the prize guarantees are reserved for the High games, with a bit more than 40% of the $150+ million in guarantees on those games.
Medium and Low players will not be left out though as they have more than $37 million and $14 million guaranteed respectively. Even with just 20 games, the Super-High games will also see some serious guarantees with more than $16 million guaranteed.

Special Signup Offer
100% deposit bonus up to $600!
Or get up to $100 worth of rewards
Available in many regulated markets
Great

MTT

schedule including

WSOP

events
GG Online Championship at a Glance
Dates: May 5, 2022 – May 31, 2022
Total Guarantees: More Than $160 million
Four Buy-In Levels

Super-High: Buy-Ins Between $5,250 and $10,300

Median/Average Buy-In $7,775
Total Guarantees: $16,175,000

High: Buy-Ins From $500 to $25,500

Median Buy-In: $1,050
Average Buy-In: $3,680
Total Guarantees: $68,300,000

Medium: Buy-Ins From $50 to $2,625

Median Buy-In: $150
Average Buy-In: $401.38
Total Guarantees: $36,805,000

Low: Buy-Ins From $5 to $250

Median Buy-In: $25
Average Buy-In: $43.44
Total Guarantees: $14,850,000

131 Games Each at Low, Medium, and High
20 Games at Super-High
GGOC

Versus

SCOOP

While the GG Online Championships got underway a little earlier than PokerStars' SCOOP, the two tournaments are essentially running side by side this May and GGPoker is clearly looking to make its series bigger than SCOOP. The overall guarantees for GGOC are twice as big as those for SCOOP, despite only running about 33% more tournaments over the series.

The average guarantee for the GGOC is also about 33% higher than the same average on SCOOP, with the biggest guarantee double that of SCOOP. There are more than 45 tournaments in the GGOC that guarantee more than $1 million, and that compares to just 10 $1+ million games in SCOOP.

It will cost players significantly more to play every event in GGOC. While players can play every game in the PokerStars' SCOOP schedule for $231,009, they'll need more than 3x that much, or $710,267, to get into all the GGOC games.
GGOC

vs SCOOP
GGOC

SCOOP

Total Gtd
$160M
$78.5M
Tournaments
421
318
Series Duration
27 days
25 days
Avg Gtd
$381,948
$246,855
Avg Gtd Per Day
$5,955,556
$3,140,000
Gtd Range
$15,000 to $10M
$3000 to $5M
MTTs with >1M+ Gtd
46 (10.93%)
10 (3.14%)
Buy-Ins Range
$5 to $25,500
$2.20 to $25,000
Total Buy-Ins
$710,267
$231,009
Avg Buy-In
$1,687
$726.44
Buy-Ins With at Least $1K
133 (31.59%)
78 (24.53%)

NLHE

Main Events Gtd
$19M
$11.5M
How Have the Two Series Fared So Far?
The GGOC completed its fourth day last Sunday and has generated almost $20 million in prize money already (excluding the prize pools and turnouts on MTTs with Day 1s). The Bounty Hunters HR Main Event with a buy-in of $525 has, thus far, produced the biggest prize pool generating $1.61 million.
PokerStars' SCOOP on the other hand had its first day last Sunday and it is off to a flying start. The first day produced $6.4 million in prize money and close to 100,000 entries. The Sunday Million returning to its $215 buy-in amassed the biggest prize pool thanks to a turnout of almost 8000 entries and final outcome of $1.59 million.
GG's Online Championship, however, has taken a big jolt as already more than $150,000 must be covered by the operator after five out of 63 tournaments fell short of their guarantees. On the other hand, only two tournaments at PokerStars' SCOOP series have fallen short of their guarantees and the overlay is negligible compared to GG's series.
GGOC

vs

SCOOP

— How Have They Fared?
GGPoker (

GGOC

)
PokerStars (

SCOOP

)
Total Gtd
$150M+
$75M+
Series Duration
May 5 – 31
May 8 – June 1
Tournaments Completed/Closed
63 (14.96%)
18 (5.66%)
First Sunday Prize Pool
$12,362,302
$6,445,875
First Sunday Entries
57,138
97,854
Total Prize Pool*
$19,449,136
$6,445,875
Avg Prize Pool
$308,716
$358,104
Total Entries Collected*
136,353
97,854
No. of Overlays
5 of 63 (7.94%)
2 of 18 (11.11%)
Total Overlay
$159,143
$15,972
Biggest Prize Pool So Far
Bounty Hunters HR ($1.61M)
Sunday Million – $1.59M
* MTTs with Day 1s have been excluded for the comparison.

Special Signup Offer
100% deposit bonus up to $600!
Or get up to $100 worth of rewards
Available in many regulated markets
Great

MTT

schedule including

WSOP

events
Big Games at GGPoker
This series marks the seventh series on GGPoker with more than $100 million in guarantees. Last month the operator held the WSOP Circuit Online Series, which ended up with $132 million in prizes, more than 30% above the $100 million guarantee.
That Circuit event had nearly 1,000 tournaments to make the guarantee, while the GGOC is running about half that many, with somewhat larger buy-ins. Perhaps a better comparison is to last year's $150 million guaranteed GG Spring Festival which ran Apr 4 to 25, 2021.
That series saw just 335 games across 21 days, with a slightly higher average guarantee. On the other side of the coin though, this year's GGOC has seven more $1+ million guaranteed events.
GG Online Championship vs GG Spring Festival
| | GG Online Championship | GG Spring Festival |
| --- | --- | --- |
| Time Period | May 5 to 31, 2022 | Apr 4 to 25, 2021 |
| Total Gtd | $160M | $150M |
| Tournaments | 421 | 335 |
| Avg Gtd | $381,948 | $447,761 |
| MTTs with >1M+ Gtd | 46 (10.93%) | 39 (11.64%) |
| Series Duration | 27 days | 22 days |
Biggest Value is the Mystery Bounty
A new addition to the schedule for this year is the Mystery Bounty games. There are two Mystery Bounties at each of the Low, Medium, and High buy-in levels, with $500k, $1 million, and $2 million guaranteed respectively. The Low games are especially juicy — with a buy-in of just $25 and guarantees of $500,000, the two Low Mystery games are the best value across the entire series.
GGPoker is certainly shooting for the stars with this series, but, given the past performance of similar series, it looks like the operator will likely reach its lofty goals. Games are running now on GGPoker (find the full schedule here) and will continue through the end of May, while PokerStars' SCOOP festival kicks off Sunday, May 8th.