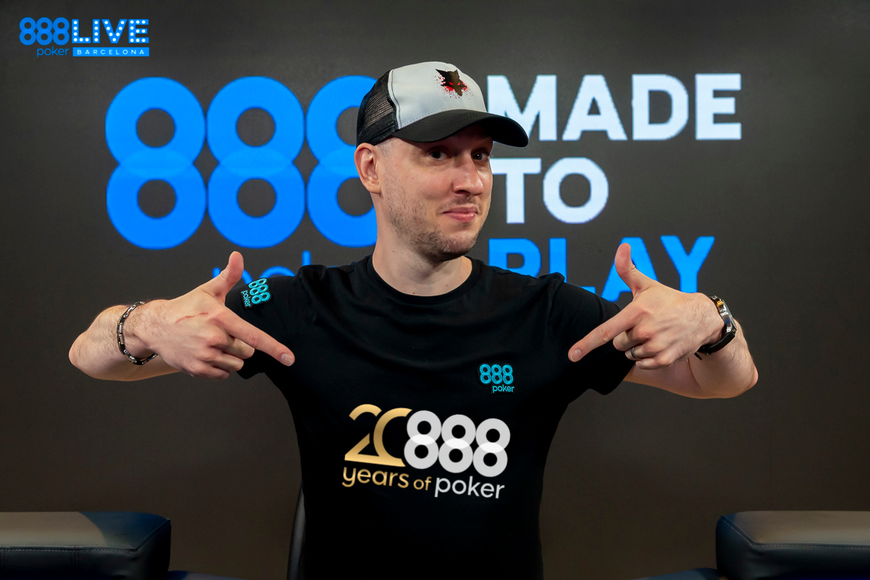 Industry watchers got a bit of a surprise earlier this year when Ian Simpson announced he was leaving Unibet Poker after five years as their main face on Twitch. Now, just a few months later, Simpson announced on his Twitter that he is joining 888poker as an ambassador and streamer.
We've got some exciting ideas for collaboration with their growing stream team, so keep an eye out for the content we'll be making.
Simpson was the main force on Twitch for Unibet Poker for years before he left the company in February of this year, streaming on a regular schedule of at least four streams a week. During big festival times, he was known to run the stream for two or three weeks straight with daily streams chasing the leaderboards.
No doubt Simpson will bring his high-energy, positive attitude along to 888poker and become the face of itsTwitch team along with Vivian Saliba and others.
Simpson Adds to a Growing Stream Team
888poker has been beefing up its online presence in the past year with major additions to its stream team and the launch of 888pokerTV in April of 2021. Since then, the operator has added members to the team and begun streaming big events with cards-up coverage and commentary from Nick Wealthal and David Tuchman on Mondays on the main 888poker channel.
Aside from ambassador Vivian Saliba, a Brazilian pro and ambassador for the site, who streams much of her play on her own Twitch channel, Simpson will quickly become one of the highest-profile ambassadors on the team. With the exits of Martin Jacobson and Sofia Lovgren last year, and Dominik Nitsche this year, Simpson will make a nice addition to the team.
He joins other new ambassadors announced recently, such as Alexandre "Cavalito" Mantovani and Samantha Abernathy, and will be a big part of the growing team of streamers attached to the brand. He'll be joining streamers like Josh Manley and Jordan Banfield to showcase the online games from 888poker. While there is no firm date yet for Simpson's return to the Twitch streets, his enthusiasm will certainly help boost the spirits of the rest of the team.
"I'll be getting back to streaming on twitch.tv/iansimpsonpoker," he recently told pokerfuse writer Christian Zetzsche. "We've got some exciting ideas for collaboration with their growing stream team, so keep an eye out for the content we'll be making."
"I was thrilled when 888 showed an interest in me," Simpson added. "I'm gradually getting to know their poker team and it's invigorating to get to work with people who are simultaneously kind and hard working.
"I've had the privilege of attending a number of their tremendous live events now, which I will continue to do in my partnership with them."
Just in Time for XL Spring
Simpson's addition to the team was announced in the run-up to 888poker's spring festival, the XL Spring Series. Starting on May 22, the series runs for 17 days and features lower buy-ins than other series running in May. While the biggest game in the series is $525, players will find games as low as $11.
Most of the buy-ins for the XL Spring Series fall within the $16.50 to $55 range, so it will be very affordable for mid-stakes players, and there will even be some games that low- and micro-stakes players might feel they can take a shot at. There are also some healthy guarantees for this series, with the $250 Main Event guaranteeing $500k, as well as a couple of events with $120k guaranteed.
While it's not clear if Simpson's return to Twitch will be in time for any XL Spring Series action, it seems almost certain he'll be playing them. In a recent conversation with Simpson, he indicated that he's itching to get back to Twitch, and he's only waiting for some of the technical and design details for his new-look channel to be sorted out, so look for the return of Simpson and #TeamFilth on the Twitch poker streets very soon.