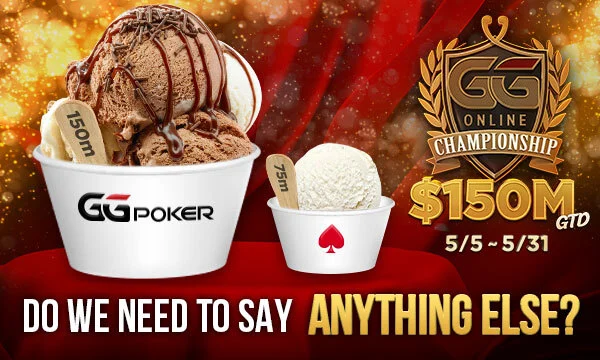 May was a huge month for online poker with a couple of massive festivals. The GG Online Championship on GGPoker swung for the fences with a big PR campaign that targeted the rival SCOOP series and ended up with almost $180 million in prizes.
The GGPoker Online Championship was a huge festival with more than 400 tournaments and nearly a million entries across most of the month of May. Beginning on May 5, the series ran until the beginning of June with dozens of tournaments that blew past $1 million in prizes.

Special Signup Offer
100% deposit bonus up to $600!
Or get up to $100 worth of rewards
Available in many regulated markets
Great

MTT

schedule including

WSOP

events
The biggest game on the GGOC schedule was the $8 million guaranteed Main Event. There were more than 6,100 entries for this $1,500 event, putting the prize pool at $8,702,475.
The Main Event was just the biggest of the $1 million+ prize pool games. There were more than 30 events that collected more than $1 million in prizes, including the nearly $3 million GGOC Spring Classic. There were almost 7,800 entries for the $400 game, putting the prize pool at $2,925,280.
GGpoker Online Championship Wrap Up Stats:
Prize Pool Awarded: $178,148,382
No. of Tournaments Held: 426
Total Entries: 977,493
Largest Tournament Field: 43,443 / 113-L: $25 Mystery Bounty, $1M

GTD

Main Event Prize Pool: $8,702,475 / $1,500

GGOC

Main Event, $8M

GTD
The Biggest Games
GGOC

2022 Big Events
Outside of the Main Event, there were three games that had more than $2 million in prizes. Two of those games were the new Mystery Bounty format. Both priced at $2,100, the two games each collected around $2.3 million from a few more than 1,150 entries each.
The Sunday Million SHR also came in at nearly $2 million in total prizes, though the nosebleed $25,550 buy-in certainly helped it hit that goal. At $400, the GGOC Spring Classic came closest to $3 million with more than $2.9 million.
Event
Buy-In
Entries
Prize Pool

GGOC

Main Event
$1,500
6107
$8,702,475

GGOC

Spring Classic
$400
7,780
$2,925,280
113-H Mystery Bounty
$2,100
1160
$2,320,000
46-H Mystery Bounty
$2,100
1153
$2,306,000
120-H Sunday Million

SHR

$25,500
77
$1,925,000
Some other honorable mentions from this recent series:
14-M: $525 Bounty Hunters HR Main Event — Prize Pool: $1,628,000
115-M: $525 Bounty Hunters HR Main Event — Prize Pool: $1,626,000
27-S: $10,300 Super Tuesday — Prize Pool: $1,620,000
Omaholic Main Event — Prize Pool: $1,590,300
Bigger than 2021
When GGPoker ran the Online Championship last year, it topped out well above the $150 million series guarantee, ending up with more than $176 million in total prizes.
The 2022 series surpassed that 2021 total, but it took about 100 more tournaments to do it. While last year's series reached its $176 million prize pool with 335 tournaments, the 2022 edition took 426.
The higher number of tournaments also meant a huge number of entries for the 2022 GGPoker Online Championship. In the end, there were 977,493, just barely missing the one million mark.
The biggest single tournament in this series might well point to a new trend in poker, both live and online — Mystery Bounty games. Not only did two of the $2,100 Mystery Bounty games make the top five prize pools, but the highest number of entries for any tournament was also a Mystery Bounty.
The $25 113-L Mystery Bounty drew a huge field of 43,443 entries, perhaps in part because of the promised $1 million. The game just barely beat that guarantee with $1,033,943 in prizes.
It was a huge May for GGPoker with the Online Championship. The $178,148,382 in prizes and 977,493 total entries came from 426 tournaments, so it certainly seemed to deliver on its promises across the board.
Looking for the latest GGPoker bonus code? We got you.