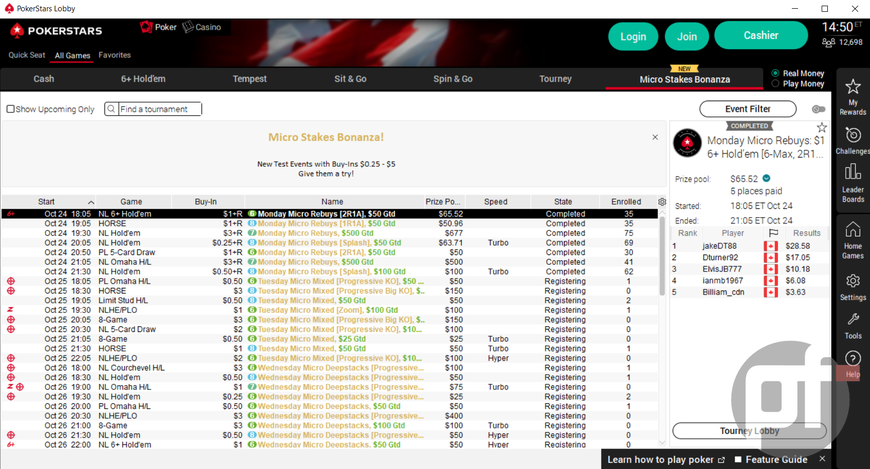 Just days after PokerStars debuted the Online Championship series for Ontario players, the room has deployed a new series of affordable tournaments under the moniker Micro Stakes Bonanza.
The series is already live and underway in the PokerStars Ontario app: The series kicked off on Monday, October 24 and runs for the week. It features a total of 67 tournaments with very affordable buy-ins ranging from CAD $0.25 to $5.
Micro Stakes Bonanza is not a typical tournament series but a collection of micro-stakes tournaments with unique structures and formats, giving players an opportunity to try out some new formats.
Each day is themed differently. For instance, Monday featured rebuys, Tuesday was peppered with mixed tournaments, and Wednesday was Deepstacks. Events on Thursday are Shortstacks; Fridays & Saturdays encompass fast-paced structure and Sunday is dedicated to Knockouts.
Seven to twelve tournaments are running every day. Each sports a guarantee ranging from CAD $25 to $750, totaling nearly $9000.
PokerStars Ontario Micro Stakes Bonanza Series
Day
Theme/Format
No. of Tournaments
Guarantees (

CAD

)
Monday
Rebuys
7
$1,300
Tuesday
Mixed
9
$775
Wednesday
Deepstacks
9
$900
Thursday
Shortstacks
9
$1,250
Friday
Hypers
9
$1,275
Saturday
Turbos
12
$1,450
Sunday
Knockouts
12
$1,850
total
67
$8,800
There is no shortage poker format variety, from mixed games to Stud, from novelty variants such as 6+ Hold'em to 5-card games, Draw Games to Hi/Los, the series is sprinkled with nearly every variant that can be found for those with the PokerStars Ontario download.
A lot of the schedule is filled with formats unique to PokerStars, with the likes of Win the Button, Bubble Rush, Total Knockouts (100% of the buy-in going towards bounty pool), Big Knockouts (75% of the buy-in going to the bounty pool), Shortstacks, and more. Many of these formats are not part of the usual weekly tournament schedule, so provide a rare chance for Ontario online poker players to try some different formats and game types.
All in all, non-hold'em tournaments make up the bulk of the schedule comprising 44 in total and 23 are No Limit Hold'em events. Those non-hold'em tournaments comprise 15 different variants.
At the time of writing, 16 tournaments have concluded each attracting dozens of entrants. However, not all of them met their guarantees. The events on Tuesday saw plenty of overlays, providing some value for players, though most of them were by small margins only.
The $3 buy-in NLHE rebuy tournament on Monday has thus far produced the biggest prize pool, pulling in 75 runners who rebought 148 times and 25 of them opted for an add-on, amassing $677 in prize money.
Over 50 tournaments still remain on the schedule including the big ones still to play out. It remains to be seen whether any of these events become a permanent fixture of PokerStars Ontario's weekly tournament schedule but it is certainly an interesting attempt by the room to keep its tournament players engaged.
The series comes hot on the heels of the ONCOOP series that paid out nearly CAD $2 million over 122 completed tournaments.
In terms of cash game activity, PokerStars Ontario is doing no wrong: it recently peaked at an all-time high despite a newcomer entering the market. The site is currently reporting an average of 226 concurrent cash game seats based on a 7-day moving average, tracked by GameIntel and available on the Poker Industry PRO platform. Since WSOP Ontario's launch, PokerStars Ontario is up by 7% sitting comfortably in the second position.
One thing is for sure: the battle among the best online poker rooms in Ontario shows no signs of slowing down.