Welcome to the premier destination for poker enthusiasts in Ontario — PokerStars Ontario! As a seasoned player in the world of online poker, PokerStars continues to stand as a beacon of excellence, offering a fully licensed and regulated platform for real money poker for players exclusively in Canada's largest province.
While PokerStars made its entrance into the market in June 2022, slightly later than some, it immediately became the leading online poker platform in the province. Today, it proudly stands as one of the foremost choices for players in Ontario, a testament to its unrivaled appeal and prominence in the industry.
Whether you prefer desktop or mobile, PokerStars Ontario has top-notch software that keeps you entertained for hours.
PokerStars' tournaments are iconic and famous around the globe, so Ontario players should expect plenty of hot MTT action. And while the player pool is currently segregated to Ontario players only, there's always the potential for future expansion. Want to know more about what PokerStars Ontario has to offer?
Check out our comprehensive unbiased review for details on available games, banking options, and more. It's time to raise the stakes and join PokerStars Ontario!
PokerStars Ontario: Key Facts
✨ Main Highlight
Best Desktop Platform & Mobile App
🚀 Date Launched
June 28, 2022
🏆 PokerStars Ontario Tournaments
Ontario Championship of Online Poker (

ONCOOP

), Ontario Spring Championship of Online Poker (

ONSCOOP

), Dailies, Weeklies
🏦 Banking
PayPal, MasterCard, Visa, Skrill, Interac, MuchBetter, Instadebit, Instant eCheck, Paysafecard, Apple Pay, Direct Bank Transfers
🕹️ Games on Offer
MTTs, Cash Games, Spin & Go
📱 Apps
Windows, Mac, iOS, and Android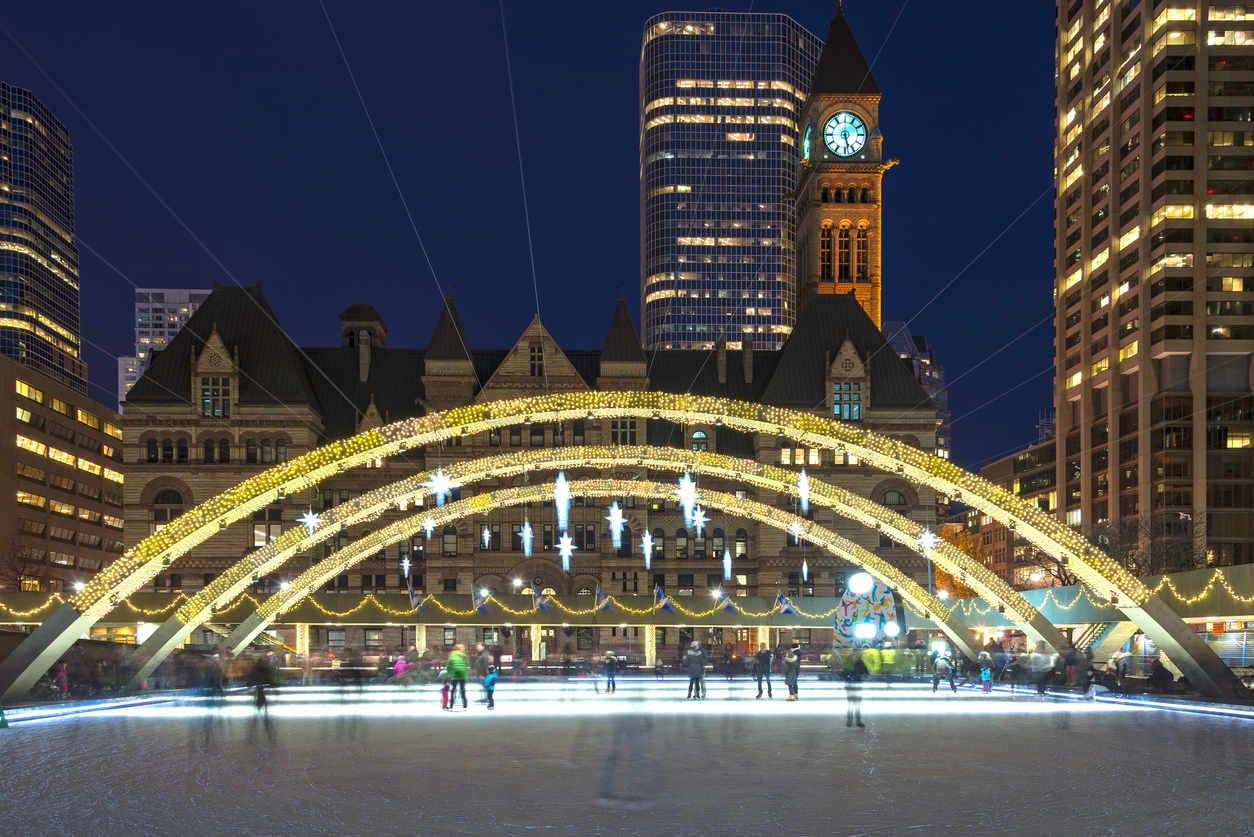 What Is PokerStars Ontario?
PokerStars Ontario is one of the several fully regulated and licensed online poker sites operating in the province of Ontario. The site offers tournaments, cash games, and several different types of sit and goes, including popular jackpot sit and go games, known as Spins. PokerStars Ontario only allows players physically present within the province to play poker for real money.
PokerStars Ontario: Overview
On June 28, 2022, the esteemed online poker titan, PokerStars, marked its grand entry into Ontario, becoming the third online poker operator to establish its presence in Canada's largest province.
As the third operator to legally set foot in Canada's largest province, PokerStars Ontario brought with it an extensive legacy of expertise accumulated over more than two decades.
PokerStars boasts a rich history of excellence, and this legacy shines brightly in Ontario, where it has taken the mantle of hosting some of the most iconic poker tournaments. As a fully licensed and regulated online poker room, PokerStars Ontario ensures player security, responsible gaming practices, and adherence to strict industry standards.
Globally, PokerStars holds licenses in over 20 jurisdictions, standing as a leader with the most licenses among all online poker rooms. Within this vast network, it operates eight segregated poker networks, four of which thrive in the North American market, including Ontario. Apart from Ontario, the operator has also established its presence in prominent US markets such as New Jersey, Pennsylvania, and Michigan.
With a reputation that spans the globe, PokerStars Ontario offers a world-class gaming experience that combines cutting-edge software, an extensive game selection, and a commitment to safety and fairness.
Similar to the global player pool, Ontario's poker enthusiasts enjoy access to a diverse array of games and formats, encompassing even distinctive variations like 6+ Hold'em and Tempest. Moreover, players can also partake in the prestigious Ontario Championship of Online Poker (ONCOOP) series just like WCOOP in the dot-com market.
All real money games on PokerStars Ontario are conducted in the local currency, the Canadian Dollar. This approach simplifies transactions, enabling more straightforward deposits and withdrawals, and granting players better control over their bankrolls.
PokerStars Ontario Tournaments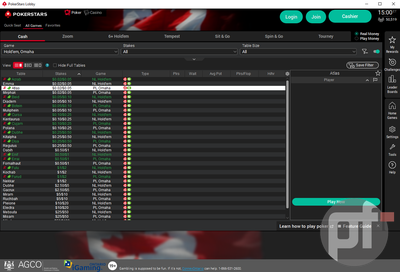 If there is one thing that PokerStars is known for, it is their impressive daily and weekly tournament schedule, and this is true in every market in which they operate.
One of the most significant upsides of PokerStars is that they offer tournaments in poker games other than No-Limit Hold 'em, with a variety of Omaha, Stud, 8-Game, and other tournaments on the schedule.
The player pool in Ontario is somewhat limited right now, so we may not see as many mixed-game tournaments. Still, the operator offers a variety of freezeout, rebuy, knockout, progressive knockout, Zoom, and other games throughout the day.
With stakes ranging from freerolls all the way up to CAD $525 and higher, players of all calibers have something to look forward to in the PokerStars Ontario tournament lobby.
Ontario Championship of Online Poker (

ONCOOP

)
Right out of the gate, PokerStars has announced plans for the Ontario Championship of Online Poker (ONCOOP), continuing the tradition of hosting online championship events in every market it operates in.
The 'COOP series has become a staple of the operator and these events represent some of the biggest and most attractive ones for online tournament players, in the international and local markets alike. They always come with a big number of tournaments, generous guarantees, and a nice variety of game types and formats.
Daily Bigs and Hots
The daily tournament schedule at PokerStars has always been impressive, and the various Big and Hot tournaments have been staples on it for a long time.
Big tournaments feature a deep and slow tournament structure with various buy-ins ranging from just CAD $2.20 and up to CAD $109.
On the other hand, Hot tournaments are turbo games that end pretty quickly but still reward generous prize pools with a similar variety of buy-ins.
These games may not get as many players on the Ontario site as they do at international PokerStars, but they represent an essential part of the daily tournament schedule.
The Sunday Schedule
Each Sunday, PokerStars Ontario offers an extensive list of special tournaments with big guaranteed prize pools and impressive blind structures that players can truly enjoy.
Ontario players participate in an event named New Sunday Majors. This is the operator's flagship event in the province with a respectable guarantee of CAD $100,000.
SNG

and Spin & Gos

Back in the day, SNG tournaments were the staple of PokerStars, with countless players competing at all levels and in all formats of these famous tournaments.

Today, the popularity of SNGs has diminished. However, players at PokerStars Ontario can still quickly jump into an SNG of their choice and get the game started as soon as enough players have registered.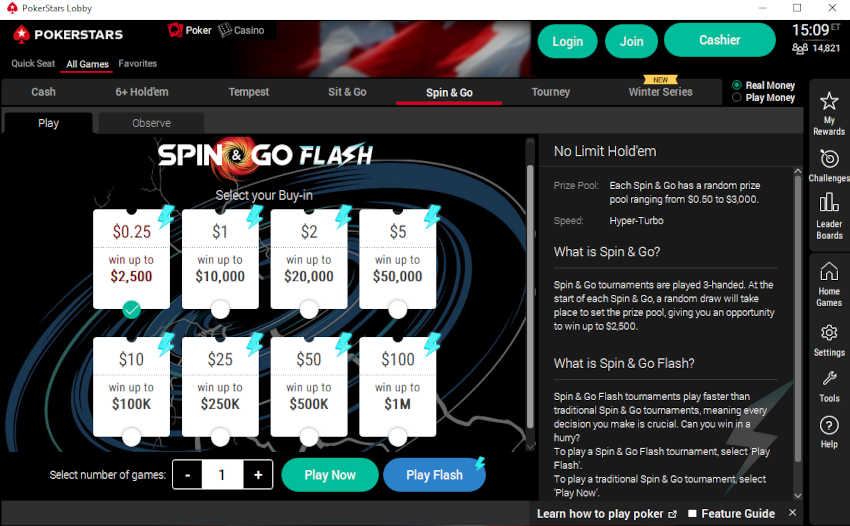 A particularly popular form of SNGs these days is Spin & Go tournaments, which offer rewards up to 10,000x your buy-in while competing against just two other players.
These jackpot SNGs may not be the most convenient form of poker to grind regularly but are certainly an enjoyable and exciting type of poker game to jump into for some quick fun and potentially a nice bankroll boost.
PokerStars Ontario Spin & Go buy-ins & prizes
| Buy-in | Min Prize | Jackpot |
| --- | --- | --- |
| $0.25 | $0.50 | $2500 |
| $1 | $2 | $10000 |
| $2 | $4 | $20,000 |
| $5 | $10 | $50,000 |
| $10 | $20 | $100,000 |
| $25 | $50 | $250,000 |
| $50 | $100 | $500,000 |
PokerStars Ontario Tournament Series:
Much like its counterpart in the dot-com market, PokerStars Ontario showcases an array of online tournament series that span nearly every other month, offering players a riveting schedule of competitive action. Among the prominent tournament series that frequently grace the platform are:
Winter Series (Dec-Jan): Kicking off the year, PokerStars Ontario presents the Winter Series, an exhilarating event that often boasts guarantees exceeding

CAD

$1 million.
Bounty Builder Series (Feb-Mar): In February and March, the spotlight shifts to the Bounty Builder Series. With guarantees that raise the stakes, this series caters to fans of the knockout format.

ONSCOOP

(April and September): April heralds the arrival of the first of two Championship series, the

ONSCOOP

. This flagship event dazzles with guarantees of around $1.5 million. September marks another exciting edition of

ONSCOOP

.
50/50 Series (July-August): Amidst the summer glow, the platform offers the 50/50 Series. This engaging series features 50 tournaments with a $50 buy-in, complemented by respectable guarantees.
Fall Fest (November): As the year winds down, PokerStars Ontario concludes with the Fall Fest series. This captivating event adds a vibrant touch to the closing months, captivating players with its allure.
In the intricate tapestry of these major series, PokerStars Ontario weaves in smaller-scale tournament series, including the likes of Micro Stakes, KO-Weekend specials, Half-Price versions, and Turbo series, creating diverse options to cater to various player preferences.
Throughout the year, PokerStars Ontario orchestrates a remarkable total of eight to nine tournament series, each characterized by guarantees that range from CAD $500,000 to an impressive $2 million.
Cash Games at PokerStars Ontario
While tournaments may be the place to turn a small buy-in into a big first-place prize, it is the cash game tables that keep bringing players to PokerStars daily where they can duke it out for hours on end.
The range of PokerStars Ontario real money cash game tables is quite impressive, although not as extensive as what is available on the international site. You can play No-Limit Hold 'em, Pot-Limit Omaha, 6+ Hold 'em, and the unique Tempest format. Other poker variations are offered on occasion, but only in tournaments.
Heads-up, six-max, and full ring tables are available, with stakes ranging from just CAD $0.02/0.05 up to CAD $50/100, although the highest stakes games are not too likely to run regularly.
Still, you can expect to find plenty of action at the CAD $1/2 tables and lower, which means plenty of fun real money cash game action is guaranteed.
The Zoom tables are also available at PokerStars Ontario, but it remains to be seen if enough active players will be available to make these games run on the regular.
Cash games & stakes at PokerStars Ontario
| Game Type | Min Stakes | Max Stakes |
| --- | --- | --- |
| No Limit Hold'em | $0.01/$0.02 | $50/$100 |
| Pot Limit Omaha | $0.01/$0.02 | $50/$100 |
| 6+ Hold'em | $0.02/$0.02 | $5/$5 |
| Tempest | $0.02/$0.05/$0.10 | $1/$2.50/$5 |
Ontario Traffic History
| Month | PokerStars Ontario | GGPoker Ontario | BetMGM Ontario | 888poker Ontario | Total |
| --- | --- | --- | --- | --- | --- |
| Sep 22 | 195 | 340 | 185 | 40 | 759 |
| Oct 22 | 215 | 365 | 135 | 40 | 757 |
| Nov 22 | 240 | 315 | 190 | 35 | 779 |
| Dec 22 | 265 | 190 | 195 | 25 | 673 |
| Jan 23 | 300 | 210 | 165 | 40 | 715 |
| Feb 23 | 305 | 220 | 195 | 40 | 758 |
| Mar 23 | 285 | 220 | 170 | 35 | 710 |
| Apr 23 | 235 | 210 | 180 | 40 | 664 |
| May 23 | 215 | 195 | 165 | 30 | 602 |
| Jun 23 | 215 | 210 | 115 | 35 | 572 |
| Jul 23 | 185 | 235 | 130 | 35 | 586 |
| Aug 23 | 190 | 265 | 70 | 25 | 553 |
PokerStars Ontario Home Games
Ontario players on PokerStars have the exclusive privilege of accessing Home Games — a feature that lets them create their own poker club for playing with friends and family in private games.
This personalized space allows hosts to tailor their games to suit their preferences, whether it's for casual play money fun or the excitement of real money wagers. The process is seamless — simply set up a club, customize game formats, invite participants, and let the virtual cards fly.
To get started, players need to take the following steps:
Club Creation: In the PokerStars Ontario client, head to the Home Games tab on the main lobby to initiate your poker club. Users can either create a new club or join an existing one.
Invite-Only Access: To start a new club, users will need to click "Create a Poker Club" and name their club while creating an invitation code — both needed to involve others.
Create Poker Games: Users can tailor games according to their preferences, from formats to stakes, and even tournament structures.
Invite: Invite friends and family by sharing your club name and invitation code. Club administrators will need to approve and accept new members.
With Home Games, PokerStars Ontario acknowledges that the heart of poker is not just the game, but the connections and interactions it fosters. It is the only network in the province that supports this feature.
PokerStars' Home Game product supports an array of poker formats, including the highly sought-after Progressive Knockout (PKO) tournaments. Moreover, it also supports the room's distinctive formats like 6+ Hold'em, Tempest, Fusion, and many more.
And that's not all — it also comes with optional webcam tables, enabling players to showcase themselves through live video feeds, and live voice chat through connected microphones, replicating the feel of an authentic poker table shared among friends.
How to Sign Up With PokerStars ON
To join the action on PokerStars ON you need to create an account. Fortunately, signing up is quick and easy with these simple steps:
Begin by visiting the official PokerStars ON website
Select Ontario from the state list
Download and install the PokerStars ON client on your device
Open the PokerStars app, and click on the green "Join" button located in the upper right corner of the screen.
Fill in your email, password, and a screenname to use at the tables
Provide your personal information and ensure that all details are accurate, as you will need to verify them later
Check your email inbox for a verification link from PokerStars ON
Click on the verification link to activate your account
Once your account has been verified, you can log in, deposit funds, claim your bonus, and start playing the games.
Once you have completed these simple steps and your account has been verified, you will be able to access the full range of games and services available on PokerStars ON.
However, it is important to note that in order to participate in real money games on PokerStars ON, players must be located in Ontario, where online poker is legally permitted and must be of legal age.
Additionally, before creating an account, ensure that you meet all the eligibility requirements and that you have provided accurate personal information as part of the account verification process. This will ensure that you can fully enjoy the experience on the platform with no interruptions. This includes providing proof of identity and address and confirming your email or phone number.
PokerStars Ontario Banking
At PokerStars Ontario, players can enjoy the convenience and safety of online banking. The operator offers a wide range of safe and secure payment options, protected by high-tech encryption measures to ensure that your personal information and funds are fully protected.
In addition, PokerStars Ontario provides players with access to various responsible gaming tools, allowing you to set deposit and loss limits, giving you full control over your gaming habits.
The operator offers some of the most popular banking options on the site, making it easy for players to find a convenient and secure option, with PayPal usually being the fan favorite for its extra security, ease, and speed.
| Payment Method | Deposits | Withdrawals |
| --- | --- | --- |
| PayPal | Yes | Yes |
| MuchBetter | Yes | Yes |
| Instadebit | Yes | Yes |
| Interac | Yes | Yes |
| Instant eCheck | Yes | Yes |
| Paysafecard | Yes | No |
| Apple Pay | Yes | No |
| MasterCard | Yes | No |
| Visa | Yes | No |
| Direct bank transfers | No | Yes |
It's important to note that you must comply with all applicable laws and regulations regarding online gambling in your jurisdiction. By using these payment options on PokerStars Ontario, you confirm that you are aware of and will comply with all applicable laws and regulations.
PokerStars Ontario Safety & Fairness

As a licensed operator in the province of Ontario, PokerStars is committed to providing a safe and fair online poker experience for its players. As a regulated platform, PokerStars is overseen by iGaming Ontario and must adhere to strict rules and regulations designed to protect players, ensuring the games on the platform are not rigged and that the site operates in an honest and transparent manner.
PokerStars uses advanced technology, including an independently-tested random number generator based on quantum theory, to ensure every hand dealt on the platform is completely random and fair.
The operator has no ability to manipulate the results of games, and players can trust that the games are not rigged. The random number generator has been thoroughly tested and certified by Gaming Labs International (GLI) to meet the standards for highly-regulated jurisdictions.
In addition to ensuring the fairness of its games, PokerStars also takes steps to protect players' funds and personal information. The platform uses advanced encryption protocols to secure all communication between players and servers, making it impossible for this information to be intercepted or misused.
PokerStars also uses geolocation technology to ensure that all players are physically located within the province of Ontario. Players must be physically present within the province whenever joining real money games (cash tables and tournaments). Any attempt to play from outside the province could result in account closure and potential legal issues.
Overall, players at PokerStars can expect a safe and fair online poker experience thanks to the platform's adherence to strict regulations and the use of advanced technology to ensure fair play and protect players' personal information.
PokerStars Ontario App & Software
The PokerStars online poker platform has been one of the very best in the world for many years now, and it continues to be so with the operator constantly updating and upgrading the platform to stay on par with the evolving technologies.
Today, players at PokerStars Ontario can be sure that they will experience online poker for all it can be with one of the most complete and most attractive poker platforms available.
Functionality
From a strictly technical point of view, the PokerStars platform is sensational. Players can download the online poker platform on their desktop computers and iOS and Android-powered mobile devices and experience the same quality level they have grown accustomed to on each device.
The PokerStars Ontario platform is very well-designed and offers many different functionalities. Players can use lobby filters to quickly and effectively find the game types they are looking for or even locate the particular game they want to find by name.
With so many different game types available, the operator categorizes them and arranges them by different game types, buy-in levels, and other criteria, making the PokerStars Ontario lobby a true joy to browse.
Reliability
PokerStars has been granted an operating license by the Alcohol and Gaming Commission of Ontario (AGCO), and iGaming Ontario (iGO), which means the operator is in full compliance with the standards imposed by the regulator and offers a fair and safe gaming environment.
Not only is PokerStars Ontario legal and safe to play on, but the actual platform is one of the most stable ones in the world, with problems like disconnects or system crashes rare and far between.
On top of that, PokerStars has always been known as an operator that takes care of its players, which means that any technical difficulties caused by the operator are always compensated for and taken care of.
Appearance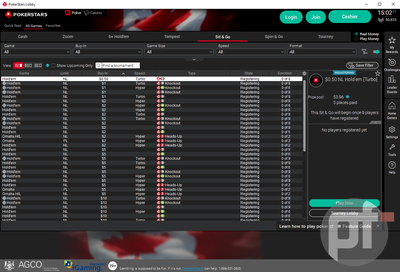 We finally reach one of the aspects of operation in which PokerStars truly excels, and that's appearance. Both the lobby and the actual tables at PokerStars look spectacular, all powered by the operator's Aurora graphics engine.
Players get to pick from various table themes, card and chip designs, and many other elements. Four-color decks, unique avatars, interchangeable seating positions, and much more make PokerStars one of the most graphically appealing pieces of online gambling software in the poker industry and beyond.
PokerStars Ontario Mobile App
PokerStars features arguably the best software solution for online poker, and this applies to their desktop client and mobile app alike. The PokerStars Ontario mobile app is available for Android and iOS devices and brings a full-scale solution for all players who like to take their sessions on the go.
The app features a modern and player-friendly interface, with a variety of menus, filters, and customization options to help you set things up just the way you like them. The app supports multi-tabling as well and features a rather elegant solution for switching between up to four tables.
The number of tables you can run simultaneously is limited to four at this time, but you will have full access to all the games featured on the platform, including MTTs, cash games, Spin & Go tournaments, and more. You can also manage your account info and cashier via the app, so it covers all your online poker playing needs.
PokerStars Ontario: Timeline of Key Events
PokerStars Ontario embarked on a transformative journey marked by milestones that continue to shape its impact on the province's poker scene.
It all started in February 2022, shortly after Ontario's imminent entry into the iGaming market was unveiled. PokerStars joined forces with the Ontario regulator, laying the groundwork for an engaging player experience that would resonate in the days to come.
As April arrived, Ontario's regulated online poker market sprang to life. However, PokerStars continued to serve Ontario players through its offshore license. But that changed in June after PokerStars received AGCO's approval and later that month, PokerStars Ontario launched, marking a secure, regulated and segregated platform exclusively for Ontario players within the province.
July saw the debut of the Platinum Series — PokerStars Ontario's inaugural tournament series and three months later, PokerStars Ontario hosted its maiden ONCOOP series.
As 2023 dawned, PokerStars Ontario maintained its lead in a fiercely competitive market, underscoring its commitment to delivering exceptional experiences. March introduced a new chapter with PokerStars Ontario scheduling its inaugural SCOOP Series, adding another layer of excitement for Ontario players.
With each event, PokerStars Ontario's influence deepened its journey a testament to unwavering commitment and a continued legacy of excellence.
FAQ
Is PokerStars legal in Ontario?
Yes! PokerStars was one of the first online poker operators to be granted an operating license in Ontario. This means PokerStars can legally offer online poker games to those in the province, receive deposits from local players, and pay out winnings entirely within the confines of the law.
Who can play at PokerStars Ontario?
To play real money poker at PokerStars Ontario, you must be an adult (21 years old). You will need to create a PokerStars account, providing all personal information you are asked for and being able to verify them with copies of real-world documents.
Do I have to be in Ontario to play?
Yes! Like the various poker rooms in the regulated poker markets in the US, PokerStars Ontario only allows players who are physically within the province of Ontario to play real money games.
Does PokerStars Ontario share liquidity with any other areas?
No! At this time, players at PokerStars Ontario can only play within their player pool, which is fully discrete from all other jurisdictions. This means every player at the tables will be a Canadian player playing from within Ontario for the time being.
Is PokerStars Ontario safe?
Yes! The provincial regulators ensure that every operator meets the strictest requirements for safety and security so that you — and all your information — are kept safe.
All operators are also required to provide a suite of responsible gambling tools to help players mitigate potentially harmful gambling behaviors.
Is PokerStars rigged?
No! PokerStars — and every other online gambling operator in Ontario — is subject to regular audits to ensure that their gambling platforms are fully random and completely fair.
What tournaments does PokerStars Ontario offer?
PokerStars Ontario offers various types and formats of tournaments, with buy-ins starting at just $1. The platform also runs freeroll tournaments as well from time to time. On Sundays, the operator runs signature events with guarantees topping at around $25,000. Tournaments spread by the network are available in various forms such as the uber-popular Progressive Knockouts (PKOs), fast-fold variant Zoom, heads-up, rebuys & add-ons and more. The site also offers niche variants such as 6+ Hold'em, Mixed games, Draw games as well as Stud.
Some of the formats available to tournament players include:
Regular MTTs supporting both

NLHE

and

PLO

Sit & Go's
Spin & Go
Mixed Games such as 8-Game, Horse
Draw Games like 2-7 Triple Draw
Stud Games like Razz & Stud Hi
What cash game offerings does PokerStars Ontario offer?
Players on PokerStars Ontario can play a wide variety of cash game offerings. Besides the standard cash game stakes which range from $0.01/$0.02 to $50/$100 supporting both Hold'em and Omaha variants, the platform also spreads 6+ Hold'em cash games as well as the operator's unique variant Tempest Hold'em. These cash game tables are available in 6-handed form only.
Is there a PokerStars Ontario mobile app?
Yes! PokerStars Ontario also has mobile apps, supporting both Android and iOS devices, offering players the chance to play their favorite games on the go without any restrictions.
Latest PokerStars Ontario News