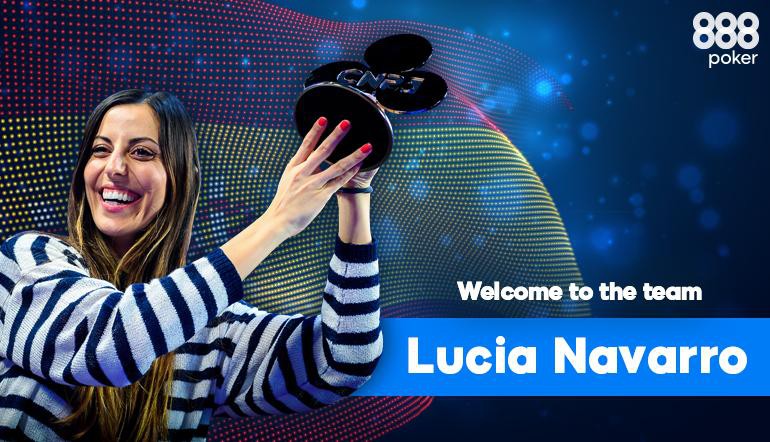 888poker continues to expand its team of poker ambassadors with the addition of Lucia Navarro, an up-and-coming professional poker player from Spain.
Originally from Alicante, Spain, Lucia has been interested in card games since a very young age, and this passion for cards has developed into a career in poker.
Navarro can show off her skills under the spotlight and use her influence and growing popularity to bring the game closer to young people in Europe and beyond.
The Spanish pro joins a team of some of the most successful women in poker, including Kara Scott and Vivian Saliba, two widely recognizable names in the poker community.
Who Is Lucia Navarro?
If you have not heard of Lucia Navarro before, one could not blame you, as the Spanish pro has been primarily focused on cash games over her career, keeping her out of the spotlight and away from TV cameras mostly.
Navarro started her poker career in 2013, playing online and live cash games in her native Spain. Despite mainly playing in cash games, Lucia won $22,000 at the CNP Valencia Main Event in 2014, just one year into her professional poker career.
Another tournament win at the 2019 CNP Alicante Main Event ensured her name would go down in the history books of Spanish tournament poker, but these wins were always just a side hustle for the cash game pro.
Lucia made her career grinding out both online and live cash games, moving to London in 2015 to play live poker at the world-renowned Victoria Casino, where she has done extraordinarily well for herself.
Today, Navarro lives in Portugal and continues playing live and online cash games. With her addition to the 888poker ambassador team, we can expect to see her at the tournament felt more often as well, as she is likely to represent the brand at several 888poker-sponsored events.
888poker Welcomes Navarro
Over the years, Lucia Navarro faced many obstacles, ranging from the stigma generally associated with professional poker players to the fact she was a woman in a male-dominated world.
With great patience and tenacity, Navarro has overcome those obstacles and make a career she could be proud of, traveling the entire world.
Now, Navarro has become a part of something bigger than herself, joining one of the biggest poker teams in the world and representing a highly regarded poker brand.
Speaking of her new role, Lucia said:
"I am super excited and grateful to be part of a strong and diverse team of ambassadors at 888poker. The brand is dedicated to player enjoyment and satisfaction, which are some of the reasons I decided to wear the 888poker patch."
"With so much love for the game and an eye to making it even more player-focused, I look forward to representing 888poker with pride. Thank you for the opportunity."
The same sentiments were shared by the 888poker representatives, who welcomed Lucia on board and showed great excitement in signing one of the hottest upcoming poker stars.
Lucia will start in her new role immediately, and we can expect to see her on some TV poker tables before long.