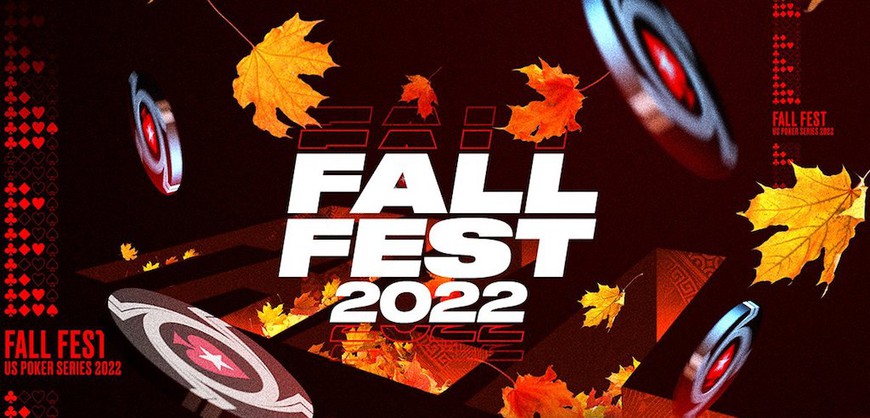 The aptly named Fall Fest series has made its way up north, with its next iteration running in the real money Ontario online poker market.
From November 19 to 28, the Fall Fest on PokerStars Ontario guarantees CAD $550,000 in prize money. It is the operator's fifth major online tournament series in the province since its launch in late June.
Unlike the ONCOOP series that concluded last month, the schedule for the Fall Fest concentrates more on the mid-buy-in level. The lowest on offer is CAD $10, with the majority in the CAD $20-$50 range.
The most expensive tournament is a CAD $1000 buy-in High Roller on the final Sunday, with the Main Event guaranteeing CAD $50,000. The themed Main Event, The Feast, comes with CAD $75,000 guaranteed prize money for a buy-in of $200. There is also a $50 buy-in PLO Main Event for which the operator has reserved $5000 in guaranteed prize money.
Aside from these headline events, there are a lot of other special fall-themed events for PokerStars players in Ontario to look forward to:
The Harvest — Played out in the ever-popular Progressive KO format (

PKO

). The Harvest takes place on November 20 and guarantees

CAD

$32,000 for a buy-in of $100. Up to five re-entries are allowed, and the blinds go up every 15 minutes.
The Grind — Another

PKO

tournament running on November 23, promising $18,000 for a buy-in of $200. Players receive 50,000 starting stacks, and blind levels range from 6 to 10 minutes.
The Furnace — Copycat of The Grind offering the same guarantees and the same buy-in. The difference is the blind structure, with levels increasing every 15 minutes initially and slowing down further to 20 minutes at the later stage. It runs on November 25.
The Brawl — Yet another

PKO

tournament, guaranteeing $10,000 and costing $100. Blind levels range from 8 to 10 minutes, and players can re-enter up to five times.
The Feast — The Main Event of the series. Boasting $75,000 in guaranteed prize money for a buy-in of $200. It is structured as a 2-day event, with blinds remaining at 15 minutes. The level increases to 20 minutes once nine players remain.
There are just 57 tournaments in the schedule — 27 of which are PKOs. The PKOs come in many forms: Total Knockouts, in which the entire buy-in goes to the bounty pool; Big Knockouts, in which 75% of the buy-in goes to the bounty pool; and Short 40 BB, in which players start the tournament with just 40 big blinds.
The schedule includes various novelties, including Bubble Rush, 3-handed Zoom, 4-handed tournaments, and more. Besides No-Limit Hold'em and Pot-Limit Omaha, the schedule also comprises less popular variants such as No-Limit and Pot-Limit Omaha Hi/Lo, 6+ Hold'em, 5 Card Omaha, and PL Courchevel.
Compared to the previous tournament series that have run in the province, the Fall Fest is the smallest in terms of total guarantees. However, in terms of the average guarantee per event, it is the third largest, averaging $9682.
PokerStars Ontario Tournament Series History
Series
Dates
Total Gtd (

CAD

)
Tournaments
Avg Gtd (

CAD

)
Platinum Series
July 10 — 18
$1,000,000
90
$11,111
Summer Stacks
Aug 7 — 14
$750,000
108
$6,944
Bounty Builder Series
Sep 4 — 19
$1,000,000
133
$7,519

ONCOOP

Oct 1 — 17
$2,000,000
132
$14,925
Fall Fest
Nov 19 – 28
$550,000
57
$9,682
The series is already underway in PokerStars' US markets, taking place in Pennsylvania, Michigan, and New Jersey, with combined guarantees of $2 million. Pennsylvania takes the largest share, boasting $1 million, the Michigan series has put up $500,000, and New Jersey has $400,000 in guaranteed prize money.
The US schedules are much broader and more comprehensive, featuring 120 tournaments over 18 days.
Fall Fest in North American Markets 2022
Dates
Total Gtd
Tournaments
Avg Gtd
Main Event Gtd
Ontario
Nov 19 – 28

CAD

$550,000
57

CAD

$9682

CAD

$75,000
Pennsylvania
Nov 11 – 28
$1,000,000
120
$8,333
$150,000
Michigan
Nov 11 – 28
$500,000
120
$4,167
$100,000
New Jersey
Nov 11 – 28
$400,000
120
$3,333
$50,000
PokerStars' Ontario's Fall Fest runs from November 19 to 28. It remains to be seen whether any additional promotions will accompany the series. The operator offered Platinum Passes in its most recent tournament as a leaderboard prize.
Check out our in-depth PokerStars Ontario Review and learn why it's rated one of our best online poker rooms in Ontario.