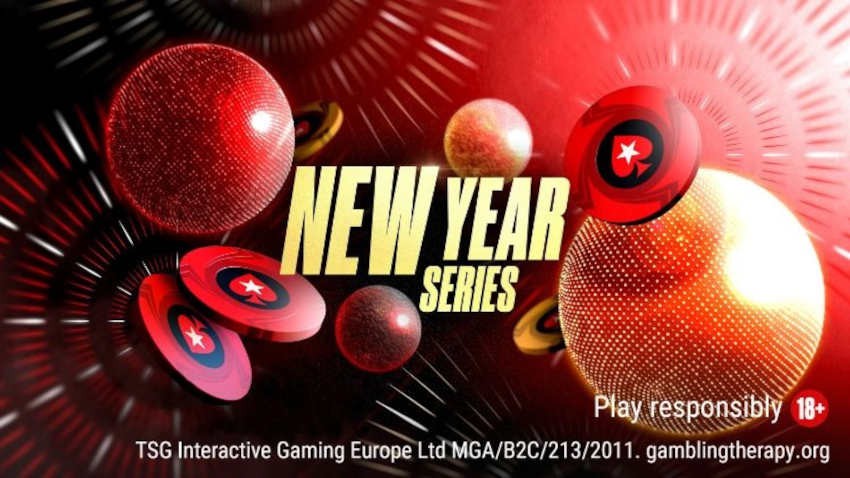 While much time over the holidays is reserved for friends and family, PokerStars is giving online grinders in Ontario and Southern Europe some quality time at the virtual felt. Beginning on Christmas Day, the New Year Series will have $40 million in total guarantees across 334 tournaments that span two calendar years.
While much of the world is celebrating Christmas Day, online poker grinders in Southern Europe and Ontario will be eyeing their computer screens as the first games in the New Year Series from PokerStars start to play out. While the turkey from the big day is still warm, players will play for nearly $2 million in guarantees in eight unique events on the 25th.
The New Year Series runs through the last week of 2022 and into the first few weeks of 2023, with a primarily traditional PokerStars series structure. Most events have three versions at varying buy-in levels to cater to different bankroll sizes.
Christmas Day games start at $5.50 and go as high as $1,050, so there really is something for every budget. On later days of the series, there are tournaments as cheap as $2.20, so even the most frugal players will find events within their bankroll levels.

Last verified: December 2023
Special Signup Offer
100% deposit bonus up to $600!
Deposit $20 and get $30 worth of free play
One of the best mobile apps
Biggest

MTT

guarantees
New Year Series at a Glance
Dates: December 25, 2022 – January 17, 2023
Main Events:

$109 buy-in — $1 million guaranteed
$1050 buy-in — $1.25 million guaranteed
$5200 buy-in — $1.5 million guaranteed

2023-Themed Events:

20,23 buy-in — $400K guaranteed
$202,30 buy-in -$1 million guaranteed
$2023 buy-in — $400K guaranteed

Other Key Events:

$109 buy-in Big Christmas Edition — December 25 — $125,000 guaranteed
$109 buy-in Big New Year Edition — Jan 1 — $125,000 guaranteed
High Roller Week — Starting January 8 with events including $5,500 buy-in Titans, $10,300 buy-in Super Tuesday, and $5,200 buy-in Thursday Thrill
$55 buy-in Women's event — January 15 — $10,000 guaranteed
$215 buy-in

PLO

Main Event — January 15 — $200,000 guaranteed
'Tis the Season for Huge Guarantees
PokerStars is looking to help players celebrate the holiday season and ring in 2023 with a vast new tournament series. With over four weeks of sizzling poker action, the New Year Series is so big it has to span two calendar years, running from December 25 through January 17 next year.
There will be $40 million guaranteed over the 23-day festival, with more than $1.9 million guaranteed as Christmas presents on the opening day of December 25 alone. While most games follow the traditional PokerStars series structure with three buy-in levels, there are a few events, like Event #2: $109 NLHE [Big $109 Christmas Edition], with $125K Gtd, that feature only one tier.
Those individual games are sprinkled throughout the schedule, but most of the 100+ games come in Low, Medium, and High buy-ins. Games start at $2.20, but deeper pockets can get into a $10k High Roller.
With its red spade and green poker felt, PokerStars is already well-themed for the Christmas season, but adding gifts never hurts the holiday spirit. In modern times, much of the world is celebrating Christmas and the new year, but with over 300 games and $40 million in guarantees, the New Year Series has prizes and fun fit for an ancient winter bacchanal.
The New Years Series runs from December 25 to January 17 on PokerStars Ontario and PokerStars in Italy, France, Spain, & Portugal.