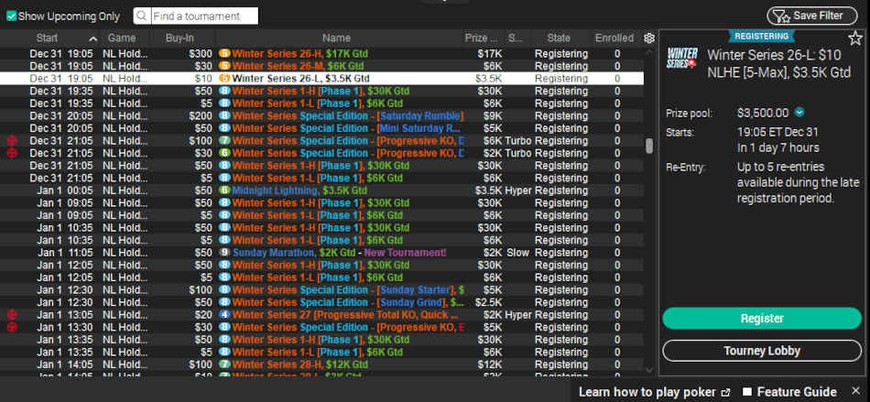 Not much time is left in 2022, as the New Year is just around the corner. Many will take this opportunity to unwind and step away from their electronic devices. However, a fair few will still look for opportunities to put in a final online poker session or two. For those in the latter group, PokerStars Ontario offers a nice tournament schedule over the next few days.
The Winter Series is in full swing at PokerStars Ontario, and there are several tournaments taking place over the New Year holidays that are worth getting involved with. Plus, with many people taking some time away from the virtual felt, some overlays might be in the cards for a bit of extra value.
Besides the Winter Series tournaments, the operator will run its standard spread of weekend events, and there is something in there for every bankroll. We are bringing you our top picks of PokerStars Ontario tournaments this weekend for the most dedicated grinders in the province.
New Year's Eve Events
Provided you have the bankroll, the $200 Winter Series Special Edition PKO event is the first good-value tournament to check out on New Year's Eve. With the guaranteed prize pool of CAD $3500 and all the bounty action, it is a good one to kick-start your session. Plus, since it kicks off at 15:05 (local time), you can play it out and still have plenty of time to go out and celebrate in the evening.
The Winter Series Event #24 brings great value across all three orbits (high, medium, and low), with excellent guarantees and a taste of knockout action on the side:
High Tier: $500 buy-in and $20k guaranteed
Medium Tier: $100 buy-in and 15k guaranteed
Low Tier: $20 buy-in and $6k guaranteed
Keep in mind that this tournament has a slow-blind structure, so you should not make any plans for the evening, as this one will take a few hours to complete.
There is Winter Series Event #26 for those who prefer faster-paced action. All three tiers have excellent guarantees, but the event features five-handed tables, making it perfect for those who dislike to sit on their hands, waiting for premiums.
PokerStars Ontario New Year's Day Action
For the very first day of 2023, the operator also prepared a decent MTT schedule. After all, January 1, 2023, is Sunday, and Sundays are traditionally the most important days for all tournament players.
The Winter Series Special Edition of the $30 Bounty Builder comes with a guarantee of $5000 and kicks off at 13:05, which should give you plenty of time to recover from the previous night's festivities and kick off the New Year with a bang.
Those with big bankrolls and willing to take the risk can look forward to the $1000 High Roller Event, which comes with a hefty guarantee of $60,000. This one will probably attract some of the best players in the province, so we do not expect it to be very soft, but given the date, it could feature a bit of an overlay.
The Winter Series Event #30 offers a good range of options for all bankrolls, as all three tiers offer good value for money:
High Tier: $200 buy-in and $30k guaranteed
Medium Tier: $50 buy-in and 10k guaranteed
Low Tier: $10 buy-in and $4k guaranteed
In terms of the buy-in/value ratio, perhaps the most valuable event over the next few days will be the $100 Sunday Special. Offering an impressive guarantee of $45,000 and needing a solid number of players to break that guarantee, this is the one not to miss.
Plenty more action is taking place over the weekend, but these are the standout picks. If you do not have big celebration plans, head on over to PokerStars Ontario and carve out your festive grinding schedule!
Want to learn more? Head to our complete unbiased PokerStars Ontario Review.