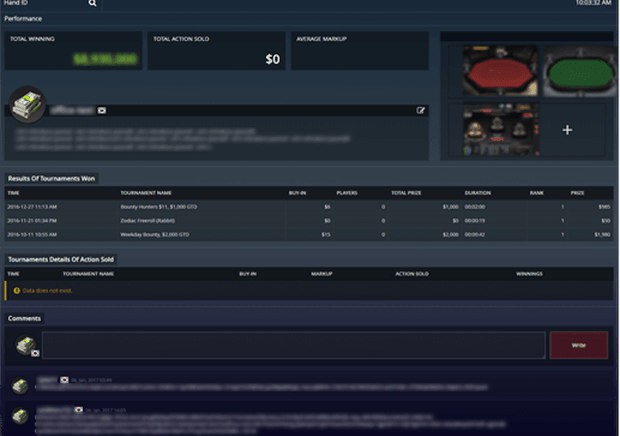 Staking has been a big part of the poker industry for many years, but has typically been handled privately by the players and backers involved in the deal, away from the tables or online poker platforms. Now, WSOP Ontario is the first online poker site in the province to offer an integrated staking platform, allowing players to sell their own and buy the action of other players in the poker client itself.
The robust staking platform offers several features that will allow you to choose which tournaments you want to sell action in, what markup you wish to set, and how much of your action you will sell.
The WSOP Ontario staking platform allows all registered users with a balance in their account to buy shares of other players. This means you can be in action all the time without spending the actual time playing in the events.
For the first time, Ontario online poker players and backers can use an online poker platform to handle their staking directly, eliminating the possibility of getting scammed or defrauded, which is one of the gigantic risks of getting involved in staking deals.
How Staking Works at
WSOP

Ontario

WSOP Ontario is one of the best online poker rooms in Ontario. It was the first (and often only) poker room to launch many exciting features, including the recently-introduced exclusive PLO-5 games, Four-Hand All-In or Fold, and, now, the staking platform.

The WSOP staking platform is pretty simple to use, whether buying or selling. Once you access the staking platform, you will choose between the two options.

If you are looking to buy some action, choose the tournament in question, and you will be shown a list of all the players who have action for sale in that event, along with the markup they are charging and the percentage of the buy-in they are looking to sell.

You can quickly buy out a percentage of the package or the whole thing, and you will immediately pay for your cut. This action cannot be reversed unless the player decides to unregister from the tournament, the tournament is canceled, or the player cancels the sale on their part.

If you are looking to sell your action, you will need to:
Visit your staking profile
Choose the tournament you are playing in
Select the % of action you are looking to sell
Decide what markup you want to charge
Activate the sale
By selling pieces of your action in major tournaments or even your daily schedule, you can ease some of the financial strain and the variance that comes with tournament poker and give yourself more breathing room for the events you buy into.
WSOP

Staking Profile and Markup

The operator keeps a detailed tournament record for each player registered with WSOP Ontario. If you opt-in to sell action, your staking profile will become public, and others can look into your tournament performances on the platform. Likewise, you can see the records of any player whose action you may be interested in buying.

The staking profile will show past tournaments you have played, your results, and the calculated statistics to help potential backers decide if you are a solid investment.

The better your results are, the higher "markup" you can charge. Markup is a margin or fee you put on your action on top of the buy-in.

For instance, you want to sell 50% of your action in a $20 tournament. The value of 50% would typically be $10. However, you will also give away 50% of any profits, so you are probably looking to earn something for your troubles.

By setting a markup, you do just that. For example, you could set a modest markup of 1.2x, meaning 50% of the action is now worth $12. Any backer buying that 50% would get 50% of your action for 60% of the buy-in.

Suppose you are excellent at poker and have solid, consistent results. In that case, you could theoretically even set a markup of 2x and sell 50% of your action for the price of the entire buy-in. Still, markups typically range between 1.2x and 1.5x on similar online staking platforms.
Buy and Sell Action at
WSOP

Ontario Today

WSOP Ontario is the first online poker platform in Ontario to offer the ability to buy and sell action within the client, eliminating the need for any external staking deals and potential risks that come with it.

You can now buy pieces of your friends or well-known poker pros on the staking platforms or sell your action at a markup to reduce variance and allow you to play more events with the same financial exposure.

Sign up with WSOP Ontario to start your tournament poker journey, or invest in some of the best players around and make a good return on every dollar you put into action.