A few years ago, GGPoker might not have been on many people's radar. However, through its swift expansion and remarkable progress, it has emerged as an undeniable force in the realm of poker, solidifying its position as the premier global online poker brand.
While the network initially centered its efforts on Asian markets, its influence now extends across various regions. In September 2022, a significant milestone was achieved as GGPoker made its debut in the regulated North American online poker market. This feat was made possible through a partnership with the iconic World Series of Poker (WSOP) brand.
Yep, that's right. Two of the biggest names in the poker world teamed up to launch GGPoker Ontario. That means big tournaments with big prizes — including coveted WSOP Gold Bracelets and WSOPC Gold Rings! — on some of the best online poker software in the world.
With two poker powerhouses behind it, it's no surprise that GGPoker immediately shot up to the top of the real money Ontario online poker market. Now, you can see for yourself what all the buzz is about and why this is our #1 pick for Best Online Poker Room in Ontario.
Read on to learn about GGPoker's iconic tournaments, a comprehensive software review, a banking overview, information on how to sign up, and much more.
GGPoker Ontario: Key Facts
✨ Main Highlight
Win

WSOP

Online Bracelets From Home
🚀 Date Launched
September 30, 2022
🏆 GGPoker Ontario Tournaments

WSOP

Online Circuit Series,

WSOP

Online Bracelet Series
🏦 Banking
PayPal, MasterCard, Visa, Skrill, Neteller, Interac, LuxonPay, MuchBetter, Trust Payments
🕹️ Games on Offer
MTTs, Cash Games, AoF, Spin & Gold
📱 Apps
Windows, Mac, iOS, and Android
What is GGPoker Ontario?
GGPoker Ontario is an acclaimed online poker platform available in Ontario, Canada. Operating in partnership with WSOP, it grants players a chance to win authentic WSOP gold bracelets through its tournaments. With a diverse range of poker games, GGPoker Ontario provides an exciting platform for players to compete, showcasing their skills and potentially claiming prestigious WSOP honors.
GGPoker Ontario: Overview
GGPoker Ontario went live on September 30, 2022, under a gaming license issued to GGPoker's parent company, NSUS Ltd. The license allows the operator to run one online poker brand in the province of Ontario, and this brand is WSOP.
One of the most established online poker brands in the US, WSOP has been running poker rooms in Nevada, New Jersey, and Pennsylvania for quite some time. The operator certainly has plans to expand and grow its poker empire. It recently launched WSOP MI in March and WSOP Ontario powered by GGPoker is the newest addition to the WSOP family.
With this move, Ontario online poker players are separated from the global player pool, which Canadians have been accustomed to being a part of for many years. However, they are now given an opportunity to play with fellow Ontarians in what is likely to be a significantly softer player pool with fewer professional players.
GGPoker.ca is a site borne of the partnership between WSOP and international poker giant GGPoker, which provides its industry-leading software to power the platform. The GGPoker Ontario app and desktop software include almost all the features of the popular poker client, including Smart HUD, All-In Insurance, Smart Betting, and even Staking.
This is the first time the WSOP brand is available outside of the US, and Ontario online poker players can finally win some of the iconic and very much coveted WSOP gold bracelets and WSOPC rings in the same fashion as their US counterparts.
Most importantly, players in Ontario can now play in a safe, regulated, and licensed gambling environment, which means there will be more oversight from the local authorities, and players will be able to feel 100% secure while playing online poker.
All real money GGPoker Ontario games take place in the local currency, i.e. Canadian Dollars, making deposits and withdrawals much simpler, and giving players better control over their bankrolls.
Are
WSOP

Ontario and GGPoker Ontario the Same Thing?

When the regulated Ontario market went live, WSOP and GGPoker partnered up to launch a licensed poker site in the province. WSOP provided its powerful branding for the new site, while GGPoker brought its world-class software to the table.

During the first year of the operation, the site was mostly known as WSOP Ontario, and it hosted the first WSOP ring and bracelet events in the province.

During the second quarter of 2023, there was an internal change in strategy, which saw a shift in the approach. It was decided that the GGPoker brand should have more visibility, which is when the name GGPoker Ontario started to gain prominence.

Nothing has changed for the players, though. The site is still a partnership between the World Series of Poker and GGPoker, and it offers all the features it has been offering since the launch (including online bracelet and WSOP ring events).
GGPoker/
WSOP

Cash Game Traffic vs. Rest of Ontario Market

A look at GGPoker Ontario's traffic by monthly average number of cash game seats and overall market share (rounded to the nearest tenth of a percent).
| Month | Market Share | Cash Game Seats: GGPoker | Cash Game Traffic: Rest of Ontario |
| --- | --- | --- | --- |
| January 2023 | 23.4% | 209 | 683 |
| February 2023 | 23.9% | 222 | 708 |
| March 2023 | 25.3% | 221 | 653 |
| April 2023 | 25.5% | 209 | 612 |
| May 2023 | 26.1% | 193 | 546 |
| June 2023 | 29.4% | 209 | 501 |
| July 2023 | 32.1% | 235 | 497 |
Check out GGPoker Ontario in action
GGPoker Ontario lobby makes it easy to find the games you want to play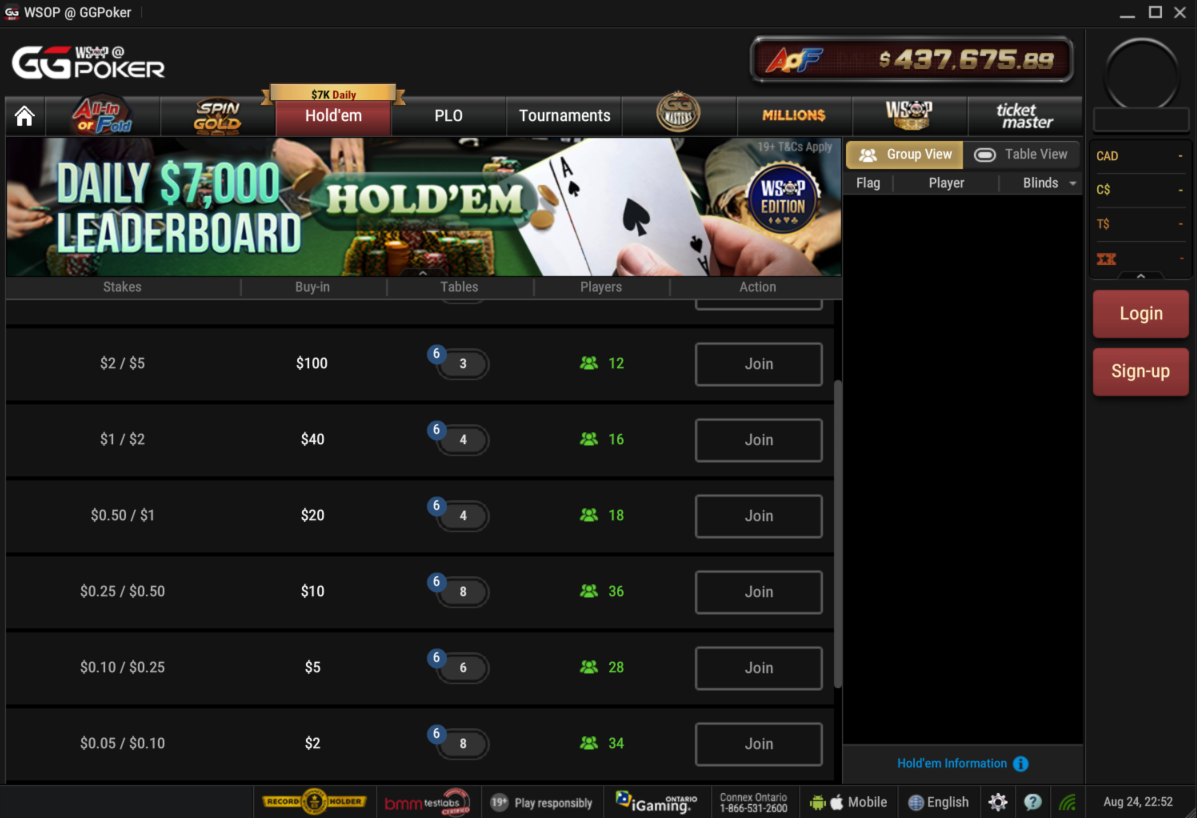 GGPoker Ontario cash game lobby with games running almost at all times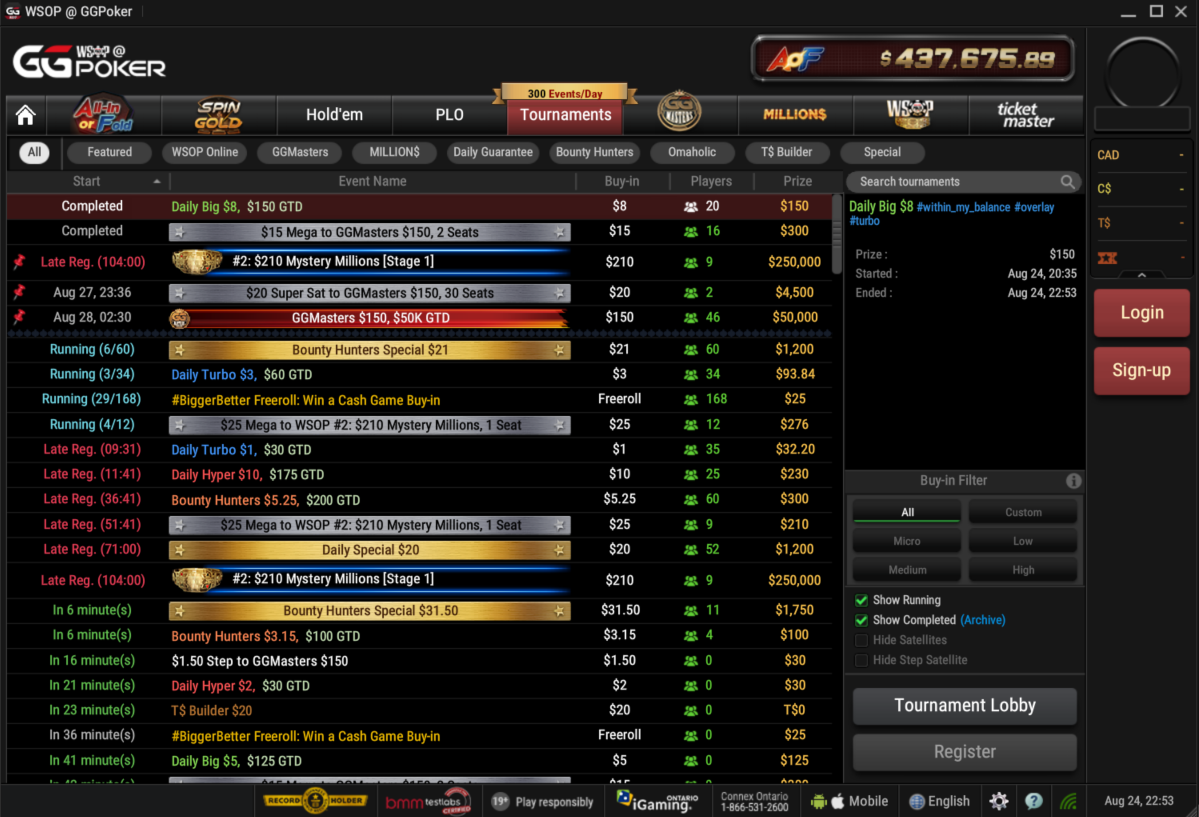 GGPoker Ontario tournament lobby is always filled with tournaments running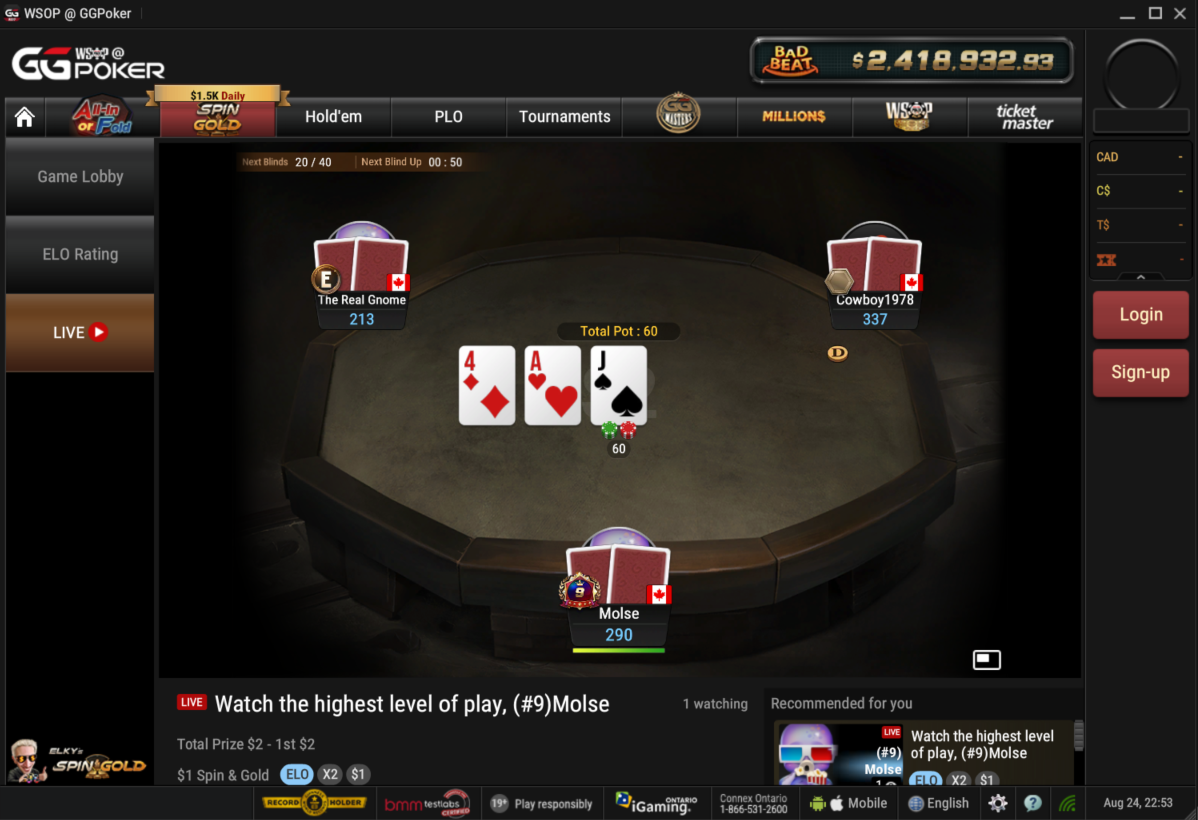 Check out Spin and Gold in action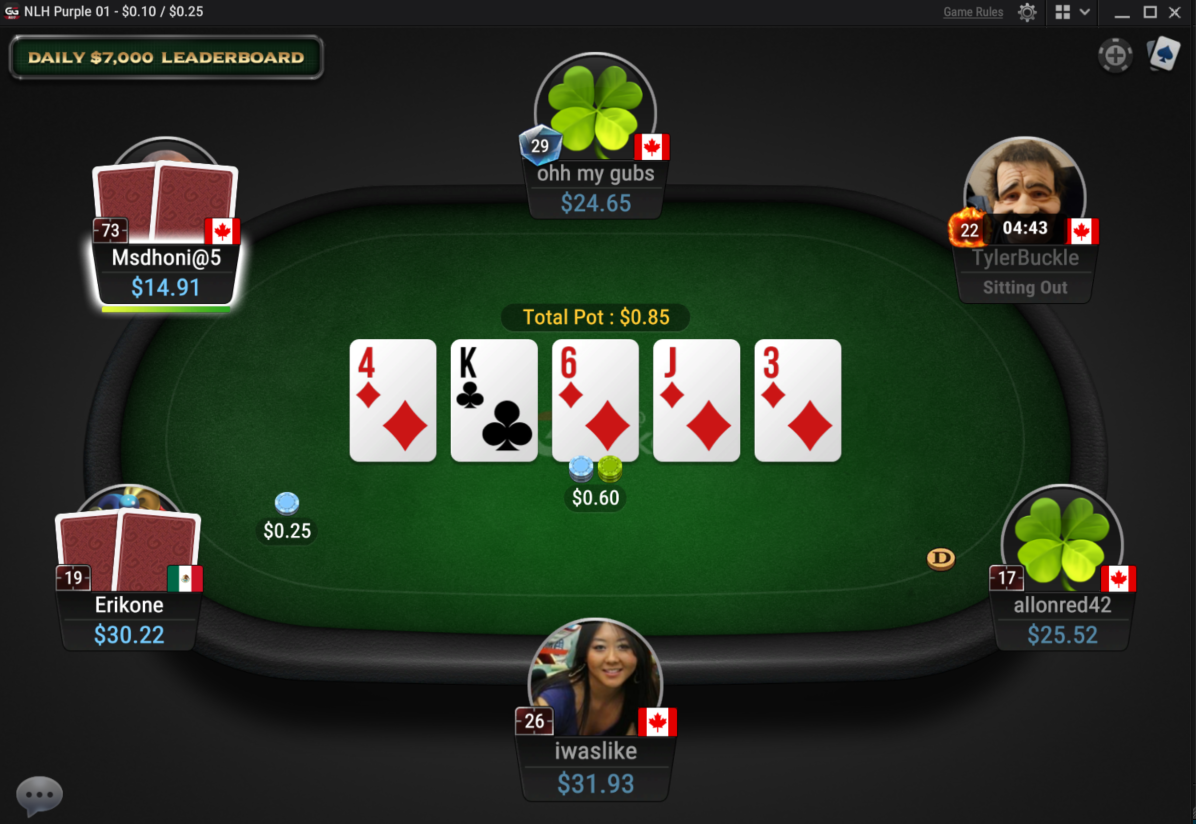 GGPoker Ontario cash game table in action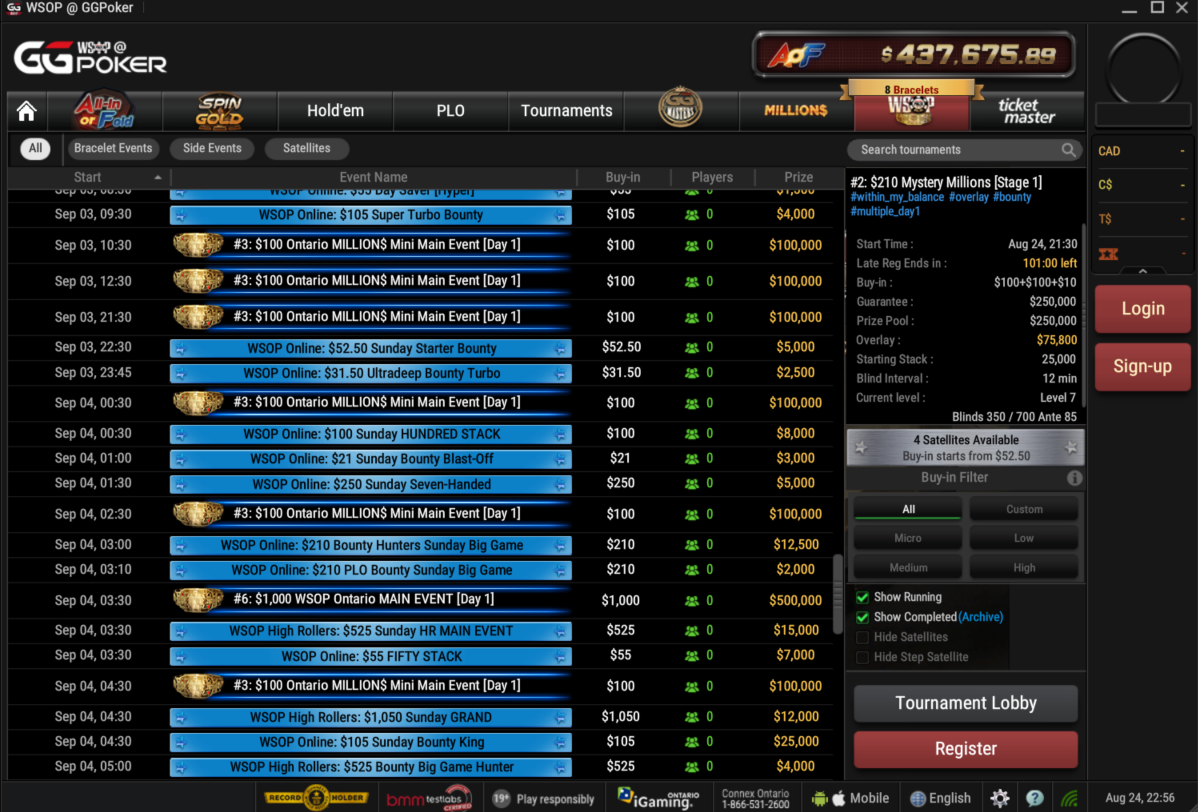 Compete for
WSOP

gold bracelets and prestigious

WSOP

Circuit rings on GGPoker Ontario
WSOP

Tournaments

As expected, WSOP Ontario is most recognizable for its impressive selection of tournament options, with many daily and weekly events running on the site and special tournament festivals with the WSOP brand name running several times a year.

On a daily basis, players can enter tournaments with buy-in fees starting at just $1 and going up all the way to $109 and $215.

The WSOP Ontario's player pool is unlike that of international poker sites, which limit the number of players entered into each tournament and the guaranteed prize pools. It also gives players more opportunities to make it to the final tables and get the winner's experience.
Win
WSOP

Bracelets and Rings at GGPoker Ontario

The best thing about playing on WSOP online poker skins is the fact players can compete in online bracelet and ring events and win their poker bling without leaving the comfort of their homes.

GGPoker Ontario wasted no time bringing bracelet action to the Canadian market, and Ontarians can look forward to regular events and series awarding WSOP bling. You can compete for prestigious bracelets as well as circuit rings in a variety of tournaments spanning across a wide range of buy-ins.

If buying in directly is outside your bankroll, the operator offers many satellites to help you move things along and win your seats in main tournaments. If you have your mind set on it, GGPoker Ontario gives you plenty of opportunity to take shots at winning a bracelet without ever having to leave your home.
Seasonal Tournaments
Over the last couple of years, WSOP has been spreading its influence across its regulated markets and providing players with plenty of tournament action around the year.
GGpoker Ontario is no different, featuring a variety of seasonal tournaments hosted in different parts of the year, including WSOP and WSOPC events, along with the likes of March Mayhem and more tournament festivals.
Biggest Tournaments at GGPoker Ontario
These online poker tournaments feature the highest guarantees and the largest number of individual events to run on GGPoker Ontario in partnership with WSOP.
Tournament
Dates
Total Advertised Guarantee
No. of Events
Main Event Guarantee

WSOP

Circuit Series
October 1 – October 16, 2022
C$2,500,000 + 12

WSOP

Circuit Rings
12
C$250,000 + Circuit Ring

WSOP

Winter Circuit Series
December 4, 2022-January 9, 2023
C$5,000,000 + 18

WSOP

Circuit Rings
18
C$300,000 + Circuit Ring
mini MILLION$
January 15-February 6, 2023
C$185,000
10
C$100.000

WSOP

Spring Circuit Series
March 5-28, 2023
C$2,000,000 + 18

WSOP

Circuit Rings
18
C$300,000 + Circuit Ring
GGPoker Ontario Festival
May 7-June 4, 2023
C$3,000,000
151
C$200,000

WSOP

Summer Circuit Series
July 2-31, 2023
C$3,000,000 + 18

WSOP

Circuit Rings
18
C$250,000 + Circuit Ring

WSOP

2023 Online
August 21-October 2, 2023
C$1,300,000 + 7 Gold Bracelets + Chance to compete in C$6,720,000

MILLIONAIRE

Maker in Paradise
8
$500,000 + Gold Bracelet
Sit & Gos
Players at GGPoker Ontario can enjoy a nice variety of sit & go options. The action is available across many different buy-in levels and formats to cater to players with different preferences and bankrolls.
All-in or Fold (
AOF

) Games

The All-in or Fold format is a special game variation where players only have two options when it is their turn to act. They can fold their cards or risk all of their chips – there is nothing in between.

These are sit and go games with a twist. At a start of a tournament, players are given three separate stacks, and they can strategize around them, risking just one at a time, using two on one hand, or going full throttle and putting all three stacks on the line.

There is also a more traditional single-stack 'shootout' format that starts with 16 players in total and four players at each table. Table winners progress to the final round.
Spin & Gold
Different jackpot sit & go variations have been very popular among players, so it is no surprise WSOP Ontario offers its own variation of these, called Spin & Gold.
The prize pool in these six-handed tournaments is determined only at the start of play, completely at random, and it can go as high as 200,000 times the buy-in. Games are available as low as C$0.25, giving lucky players an opportunity to seriously boost their bankrolls.
GGPoker Ontario Spin & Gold buy-ins & prizes
| Buy-in | Min Prize | Jackpot |
| --- | --- | --- |
| $0.25 | $0.50 | $5000 |
| $5 | $10 | $100,000 |
| $20 | $40 | $400,000 |
| $50 | $100 | $1,000,000 |
Cash Games at GGPoker Ontario
Tournaments are definitely the specialty of the WSOP brand, but that does not mean that players at GGPoker.ca cannot participate in plenty of cash game action as well.
In fact, a big variety of cash game tables are offered, with stakes starting as low as $0.01/0.02 and going up all the way to $20/40.
However, most action is offered at lower stakes, with low and mid-stakes NLH and PLO action plentiful and the higher stakes tables only getting a few players at a time.
The two popular poker variants are also the only ones really running, with games other than NLH and PLO not offered on the platform and hardly sought after by the players.
The best action is found during evening hours and the weekends when most players are free from work and other obligations and able to dedicate themselves to playing online poker at GGPoker Ontario without distractions.
Cash game games & stakes at GGPoker Ontario
| Game Type | Min Stakes | Max Stakes |
| --- | --- | --- |
| No Limit Hold'em | $0.01/$0.02 | $5/$10 |
| Pot Limit Omaha | $0.01/$0.02 | $5/$10 |
| All In or Fold | $0.05/$0.10 | $50/$100 |
GGPoker Ontario Traffic History
| Month | GGPoker Ontario | Other sites | Market share |
| --- | --- | --- | --- |
| Nov 22 | 315 | 465 | 40% |
| Dec 22 | 190 | 480 | 28% |
| Jan 23 | 210 | 505 | 29% |
| Feb 23 | 220 | 535 | 29% |
| Mar 23 | 220 | 490 | 31% |
| Apr 23 | 210 | 455 | 32% |
| May 23 | 195 | 410 | 32% |
| Jun 23 | 210 | 365 | 37% |
| Jul 23 | 235 | 350 | 40% |
| Aug 23 | 265 | 290 | 48% |
| Sep 23 | 255 | 330 | 44% |
| Oct 23 | 270 | 335 | 45% |
Rush & Cash
For the players looking for fast-paced action, WSOP Ontario offers Rush & Cash. On these tables, players can fold their hands at any point and are immediately moved to a new table and dealt into a new hand.
In all segregated markets, these fast-fold games suffer from the lack of players, so it is not easy to find action at higher stakes, but there is a fair number of players in the mix at the lower limits.
In sync with its global player pool, GGPoker Ontario presents an array of promotions, featuring leaderboards and daily prizes on a monthly basis. The platform's appeal is further magnified by its occasional limited-time promotions, such as Ticket Masters, where players unlock the chance to win gift cards to music concerts and other exclusive events, in addition to WSOP-related promotions and more.
Welcome Bonuses
Newcomers to GGPoker are greeted with a choice of enticing welcome bonuses. Players can opt for $100 in tournament tickets or a 100% deposit match up to $777. Furthermore, players can amplify their rewards by earning an additional C$50 through challenges in the operator's engaging All-In or Fold game. This comprehensive package adds up to an impressive $927 in welcome bonus prizes — a testament to GGPoker Ontario's generous rewards within the industry.
Maple Rewards
Each month, GGPoker orchestrates the Maple Rewards program, presenting a multitude of prizes worth millions through diverse promotions. These rewards are allocated via daily leaderboards across various buy-in levels in games including Hold'em, Omaha, Short Deck, and the innovative fast-fold offering, Rush & Cash.
Earning points is linked to raked hands and the stake level of play, with the addition of 50% extra points during Happy Hours. The allure extends to the All-In or Fold variant, where pocket Aces deal players a free buy-in. Spin & Gold challenges and the thrilling lottery-style sit and go game, Spin & Gold, also offer chances to seize a portion of the prize pool.
Honeymoon Promo for Newcomers
GGPoker Ontario extends a distinctive and rewarding welcome to newcomers through its Honeymoon Promo. Valued at up to $350, this promotion provides new players with special advantages as they acquaint themselves with the platform.
Opting into the promo is straightforward, and accessible directly from a player's GGPoker Ontario account. A dedicated floating icon offers a friendly reminder to engage. Upon selecting "Start Honeymoon" on the homepage, players are primed for exploration.
Once part of the promotion, players unlock daily missions that unveil a variety of rewards, ranging from Spin & Gold tickets to tournament dollars and direct cash. With 30 missions and escalating rewards, progression is both rewarding and engaging. Tasks can range from revealing a winning hand without a showdown to playing a specified number of hands at PLO tables, ensuring a captivating journey for every participant.
How to Sign Up for GGPoker Ontario
Signing up with GGPoker Ontario is a very straightforward process that will only take you a couple of minutes:
Visit the GGPoker/

WSOP

Ontario site from your phone or computer
Click the 'Sign Up' button
Enter the required information (name, surname, address, etc.)
Use any

WSOP

Ontario bonus code you might have
Confirm your email address
Log in with your new credentials to start playing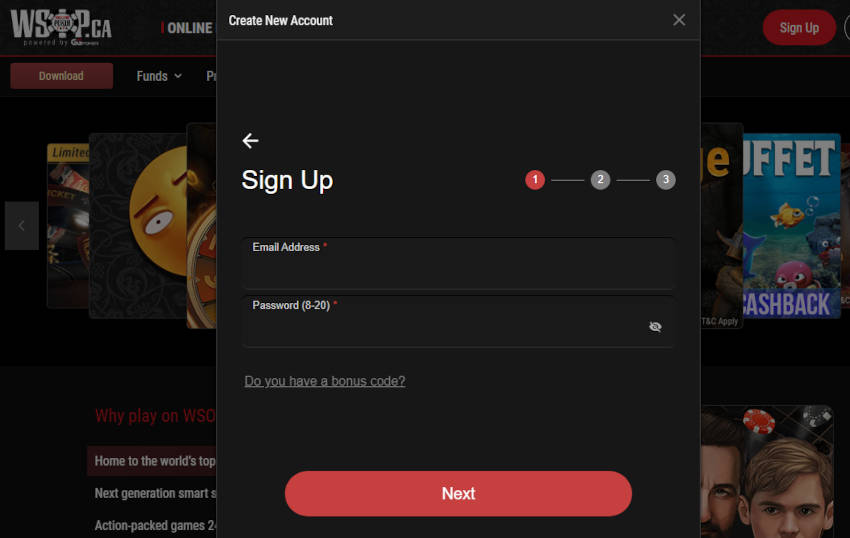 Ontario Players with GGPoker Accounts
With GGPoker receiving an Ontario license and partnering up with WSOP, the operator is leaving the province. This means that all Ontarians with a GGPoker account will be transitioned to the new GGPoker Ontario platform. Simply log into your existing account and follow simple steps to have your account moved to the new software.
WSOP

Ontario Software

The site is powered by GGPoker software, which is one of the best (if not the best) online poker platforms in existence. This means that Ontario poker players have access to a top-tier poker client from the very first day.

GGPoker Ontario has almost all the features found on international platforms, including the integrated Smart HUD feature, staking through the platform, All-In Insurance, and much more.

The same goes for the mobile app. GGPoker features top-of-the-line mobile solutions for its players, catering to everyone who likes to enjoy their poker action on the go.
Reliability
The GGPoker software is one of the most stable and reliable ones out there. It is available for Windows, Mac, Android, and iOS devices, so no matter what your choice of technology might be, the room has you covered.
Technical glitches are very rare and quickly addressed by the team working behind the scenes. Regular updates to the software ensure players get the best experience and any bugs discovered along the way are addressed quickly and efficiently.
Functionality
There is no other poker client that can compare to the GGPoker software powering WSOP Ontario when it comes to functionality. The platform offers a great range of standard and special functions, designed to provide a smooth and enjoyable experience for recreational and professional players alike:
Integrated Smart HUD – All players have access to the same Heads Up Display (

HUD

) with basic stats. Third-party trackers are not allowed, so everyone gets the same information to work with.
PokerCraft – An overview of your entire poker journey on the site, featuring all your hands, sessions, and other relevant stats. All your play is stored safely in a database that you can access at any time.
EV cashouts – cash out the percentage of the pot that belongs to you according to your Expected Value (EV) in all-in situations and avoid bad beats and suckouts.
Staking platform – buy and sell action within the client, without having to rely on any third-party websites or personal deals.
Card Squeeze – if you prefer to squeeze your cards instead of having them revealed immediately,

WSOP

Ontario gives you this option.
These are just some of the outstanding features of the software. The other ones, like multi-color decks and the ability to configure your action buttons to your preference, are, of course, available, alongside many other cool features that you will not find at any other sites in Ontario.
Appearance
The client is also very polished when it comes to the overall appearance. The lobby gives you an easy way to navigate between different sections (cash games, tournaments, sit & go, Spin & Gold, etc.), and you can access the cashier and other options with just a couple of clicks.
The GGPoker Ontario software also hosts a variety of funny emotes you can use in the game to express your emotions and have fun while playing. You can also choose from different table backgrounds to find the one that you enjoy the most and that puts the least strain on your eyes, which is very useful for those used to long sessions.
Mobile App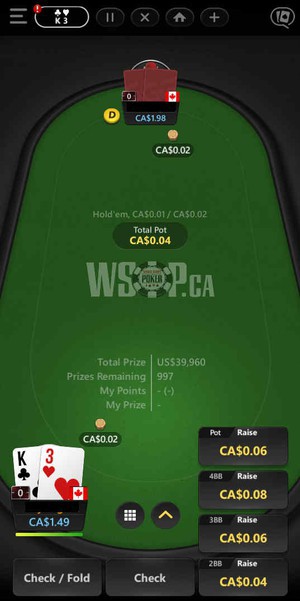 WSOP Ontario is powered by the GGPoker software, which means the operator also gets to offer a top-tier mobile app for the players looking to take their action on the go. The mobile app is available for Android, Windows, and iOS devices, and offers a host of great features, such as:
Player-friendly portrait mode – play the games without having to rotate your phone.
Clean interface – easy access to all the action buttons and other options
Multi-table support – play up to four tables at the same time & easily switch between games.
All formats available – play cash games, MTTs, Spin & Gold, and more.
Deposits & withdrawals – fund your account & cash out your winnings straight from your phone.
The GGPoker Ontario mobile app is one of the best in the province, catering to all players' needs. With the ability to play up to four games and a great interface, it is suitable for recreational and more serious players alike.
Banking at GGPoker Ontario
Making deposits into your GGPoker Ontario account is easy enough, as a wide variety of credit and debit cards are accepted, and players can use their PayPal accounts to load up their accounts with cash as well.
Things get a bit trickier when it comes to cashouts, as credit cards are not an accepted withdrawal method, which means other payment options must be used.
WSOP Ontario real money cashouts can be processed via PayPal, e-checks, or direct banking transfers, which should be enough for most Canadian players to find the right way of withdrawing their winnings.
All cashouts from GGPoker.ca are processed in a reasonable timeframe, and although the list of cashout methods is relatively slim, few problems should arise with the process in general.
As mentioned, all balances are maintained in Canadian Dollars (CAD) and all play on the site (cash games and tournaments) happens in CAD, so there are no conversion fees or anything of sorts to worry about.
GGPoker Ontario Safety & Fairness

WSOP is one of the biggest and best-known brands in poker. That fact alone gives players plenty of reason to trust the operator and have confidence that GGPoker Ontario provides a fair and safe online poker environment.

Like all other regulated rooms in the province, GGPoker and WSOP Ontario are licensed by the iGO, meaning their business practices are under a lot of scrutiny. The regulator requires all the licensees to provide a completely safe platform that offers not only fair games but also focuses on responsible gambling.
Thus, players at WSOP Ontario have access to the games governed by a top-tier Random Number Generator that ensures every hand is truly random and impossible to predict. The platform also provides a range of RG tools designed to help players keep their gaming habits under control, from deposit limits to self-exclusion options.
FAQ
Is GGPoker legal in Ontario?
Yes! GGPoker Ontario was one of the first online gaming brands licensed by the Alcohol and Gaming Commission of Ontario (ACGO) in 2022, allowing it to legally operate within the province. The room officially went live on September 30, 2022, opening its virtual doors to players in Ontario.
You can rest assured that when you're playing at WSOP Ontario that you are playing at a 100% legal, regulated, and licensed site.
Is
WSOP

Ontario safe?

Absolutely! WSOP is a highly reputable and trustworthy online poker room. It is considered one of the safest places to play real money poker.

At WSOP, the safety and security of its players is a top priority. The site uses advanced data encryption technology to protect your personal and financial information. You can trust that your money is safe and your information will remain private when you play at WSOP.

GGPoker Ontario also keeps players safe by offering a suite of responsible gaming tools, which allow players to keep their gambling under control by setting time and deposit limits, as well as setting up enforced time away from the tables.
Is GGPoker Ontario rigged?
No! GGPoker Ontario — and every other online gambling operator in the province — must follow stringent guidelines to ensure that all games are fair. It is subject to regular audits to ensure that its gambling platforms are fully random and completely fair.
Who can play at GGPoker Ontario?
GGPoker Ontario operates for players in Ontario specifically. This means players must be physically present in the province to play real money poker in this room and players from other parts of the world cannot play on it. Geolocation will be activated when you run the software, only allowing access to those within the province.
Does
WSOP

Ontario share its liquidity?

No! While WSOP does offer its services in several states in the US and does share liquidity between some of those sites, WSOP Ontario is completely segregated. This means you will only be able to play with other players in Ontario and the player pool will be restricted. On the bright side, that means less competition for bracelet and gold ring events!
What tournaments does
WSOP

Ontario offer?

The platform offers many different types and formats of online poker tournaments, with buy-ins starting at just $1 and freeroll tournaments running as well. Special weekly tournaments with bigger guarantees are also available, along with yearly series and WSOP bracelet and ring events several times a year. Some of the formats available to tournament players include:
Regular MTTs

WSOP

bracelet events
Sit & Go's
Spin & Gold (the jackpot sit & go format)
All-in or Fold (

AOF

) games
Is there a WSOP/GGPoker Ontario app?
Yes! GGPoker, which provides the software platform for WSOP Ontario, offers one of the best mobile apps in the online poker realm, so you can enjoy your favorite games on the go without any restrictions. Simply follow this link to download, install, and get started playing from your phone or tablet within minutes.
Is
WSOP

no longer in Ontario?

WSOP is still present in Ontario via the GGPoker platform. Recently, there have been some branding changes, with more emphasis put on GGPoker Ontario, which may be somewhat confusing.

To clear the air, GGPoker Ontario still operates in partnership with WSOP, which means you can still play bracelet and ring events on the platform and continue to enjoy the perks provided by the two leading brands in the poker space.
Is GGPoker available in Ontario?
Yes, GGPoker Ontario is a fully licensed and regulated room that operates in partnership with the WSOP brand. The operator has introduce some branding and marketing changes as of late, focusing on the GGPoker name instead of WSOP Ontario, but it is still one platform powered by both brands bringing their best features to the table.