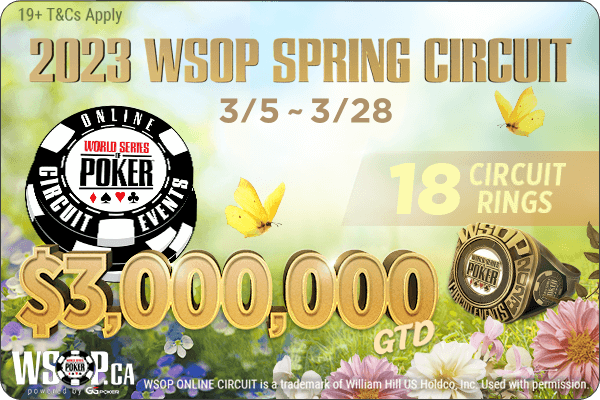 While the main World Series of Poker (WSOP) comes around just once a year — well, ok, three or four times a year with Europe and online bracelet events — the WSOP Circuit (WSOPC) is the poker gift that keeps on giving, with series around the world, live and online, throughout the year. In March, real money Ontario online poker players will get their shot at those coveted Gold Rings on the GGPoker Ontario app, the only place for WSOP gold jewelry in Canada's most populous province.
There are 18 events spread across 23 days of action, but there are ring games on just 18 of those days, with Fridays as a quiet day on the schedule. Most of the games are priced at $210 or higher, but there are a couple of low-cost, high-value games on the docket as well.
While Canadians outside of Ontario are still competing for Gold Rings and Bracelets on the global GGPoker platform, when the Ontario segregated market launched one year ago, WSOP joined its international partner in the new Canadian market of ~15 million people. GGPoker Ontario, in partnership with WSOP, emerged as the only place where Ontarians can compete for the most coveted jewelry in poker.
The GGPoker Ontario WSOP Spring Circuit Series got kicked off on March 5 with two chances at WSOPC Rings and $200k guaranteed. Over $2 million is guaranteed across all events, with $1.85 million in the ring events alone. Prices to compete for a ring range from $25 to $1500, with the median buy-in at $500 for this series.
WSOPC

Spring Circuit Series Summary
| | |
| --- | --- |
| Total Gtd | $1,850,000 |
| Days | 23 |
| Ring Events | 18 |
| Avg Buy-In | $542.11 |
| Med Buy-In | $500.00 |
| Min Buy-In | $25.00 |
| Max Buy-In | $1,500.00 |
| Avg Value | $189.59 |
18 Rings in 23 Days on GGPoker.ca
There are 18 WSOPC Gold Rings on offer in March at GGPoker Ontario. The first chance to win came on March 5, but tournaments run until March 28 with plenty of shots at a good value. The opening day saw action in two events, though only one ring was awarded. Event #2: $210 Secret Bounty finished on the opening Sunday, but Event #1 plays its second day on March 6.
Fridays will be off days for the series, with Ring events running every other day. A single-day ring event runs on most active series days, with opening flights of multi-day games running alongside.
Multiple side events run every day through the series with juicy guarantees, so players should check the full schedule on GGPoker Ontario for daily details.
Big Value in Smaller Games
One or two games stand out at the top of the list for value in any series, measured in dollars guaranteed per dollar of buy-in (including fees). Rarely does a single game stand out as much as Event #7 in this WSOPC Spring Circuit.
The $25 buy-in is a phased event with shots as the final phase running until the last day on March 13. With $100k guaranteed, it is not the most extensive guarantee of the series, but the low price tag gives it pretty serious value. While the best game in the series outside of #7 tops out at $952 $Gtd/$Buy-In, the $25 phased game has an astonishing $4000 in value.
2023

WSOPC

Spring Circuit Series High-Value Games
Date
Event
Buy-In

GTD

$Gtd/$Buy-In
March 13, 18:00
#7:

BIG

25 Mystery Bounty, $100K

GTD

[Final Stage]
$25
$100,000
$4,000.00
Mar 20, 18:00
#12: $210 Mystery MILLION$, $200K

GTD

[Final Stage]
$210
$200,000
$952.38
March 27, 18:00
#17:

WSOP

Spring Circuit

MAIN

EVENT

, $300K

GTD

[Day 2]
$525
$300,000
$571.43
Mar 05, 18:00
#2: $210 Secret Bounty No Limit Hold'em
$210
$100,000
$476.19
Mar 25, 18:00
#15: $108

DOUBLE

STACK

Bounty

NLH

$108
$50,000
$462.96
The three top-value games are all multi-day events, including another Mystery Bounty game and the $525 Main Event with $300k guaranteed, the highest guarantee of the series. There are four multi-day events in total, with the opening Event #1 also running over two days, but it falls farther down the value list at $200.
March will be a big month for GGPoker Ontario, with more than $2 million guaranteed between ring and side events. While it is optimistic to consider March "spring" in Canada, the 2023 WSOP Spring Circuit Series' value may be hot enough to kick-start Canadian spring a month or two early.
Click here to sign up for GGPoker Ontario and begin your quest for the most coveted jewelry in poker.
2023

WSOPC

Spring Circuit Series Full Schedule
Date
Event
Buy-In

GTD

$Gtd/$Buy-In
Mar 05, 18:00
#2: $210 Secret Bounty No Limit Hold'em
$210
$100,000
$476.19
March 6, 18:00
#1:

BIG

500

NLH

Spring Kick-Off [Final Day]
$500
$100,000
$200.00
Mar 07, 18:00
#3: $800 Pot-Limit Omaha Spring Championship
$800
$50,000
$62.50
Mar 09, 18:00
#4: $800 Bounty Hunters

NLH

Spring Championship
$800
$100,000
$125.00
Mar 11, 18:00
#5: $320 Bounty

GIANT

No Limit Hold'em
$320
$50,000
$156.25
Mar 12, 18:00
#6: $365

GIANT

No Limit Hold'em
$365
$80,000
$219.18
March 13, 18:00
#7:

BIG

25 Mystery Bounty, $100K

GTD

[Final Stage]
$25
$100,000
$4,000.00
Mar 14, 18:00
#8: $800 Deepstack

NLH

Spring Championship
$800
$100,000
$125.00
Mar 16, 18:00
#9: $320 March Mayhem Bounty 6-Max

NLH

$320
$60,000
$187.50
Mar 18, 18:00
#10: $525

MONSTER

STACK

Bounty

NLH

$525
$75,000
$142.86
Mar 19, 17:00
#11: $1,050 GGMasters

NLH

Circuit Championship
$1,050
$100,000
$95.24
Mar 20, 18:00
#12: $210 Mystery MILLION$, $200K

GTD

[Final Stage]
$210
$200,000
$952.38
Mar 21, 18:00
#13: $800 6-Max

NLH

Championship
$800
$100,000
$125.00
Mar 23, 18:00
#14:

BIG

500

PLO

Bounty
$500
$60,000
$120.00
Mar 25, 18:00
#15: $108

DOUBLE

STACK

Bounty

NLH

$108
$50,000
$462.96
Mar 26, 18:00
#16: $1,500 The Closer Bounty

NLH

$1,500
$150,000
$100.00
March 27, 18:00
#17:

WSOP

Spring Circuit

MAIN

EVENT

, $300K

GTD

[Day 2]
$525
$300,000
$571.43
March 28, 18:00
#18: $400 Ultra Deepstack Turbo

NLH

[Series Saver]
$400
$75,000
$187.50