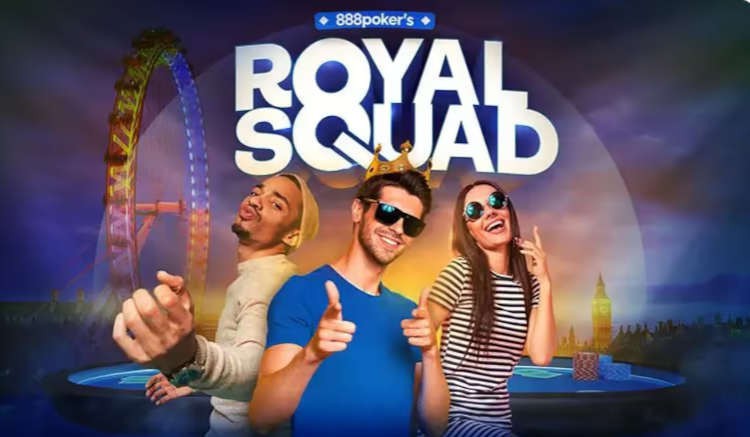 Poker and football fans across the UK have much to look forward to at 888poker this Sunday (April 9), as an exclusive UK-only $5 tournament will be taking one lucky squad to London for the upcoming 888poker LIVE festival.
The champion of this exclusive event will create their three-person Royal Squad, who will get to play in the Main Event, attend a top-level football match, and play poker against 888poker ambassadors on live streams.
The royal treatment is reserved for just one crew, but all members of a would-be Royal Squad can play the $5 satellite and look to book that top spot and bring the entire crew along to London.
Of course, 888poker will also pay for the travel expenses of all the Royal Squad members and their accommodations at the Wilde Aparthotel B&B or another nearby hotel in London.
With a micro buy-in and a prize package worth £10,000 in total, this is one of the best-value events you can look to play in this weekend, and you can head on over to 888poker to sign up and check out the event in the poker lobby.
Royal Treatment for You and Your Friends
888poker is awarding the champion of their UK-only exclusive tournament this Sunday with a package worth £10,000, which will include:
Three £1100 seats in the 888poker

LIVE

Main Event
Three tickets to a top-tier football game
One seat in a live-streamed poker game with 888poker ambassadors
Travel and accommodation costs for three people
The three members of the champion's selected Royal Squad will fly out to London for the 888poker LIVE Main Event, which will go down at the famous "Vic" casino between April 20 and 23, with a buy-in of £1100.
Each player will get a seat in the Main Event after being situated in their hotel rooms and afforded a royal welcome by the 888poker staff.
The Royal Squad will also attend a top-level Premier League football match. Free entry to the game and VIP treatment is guaranteed at one of London's famous football stadiums.
Finally, the winner will also get a chance to try their luck against the pros in an exclusive live-streamed game where 888poker ambassadors will occupy the other seats, making for a fun game and some tough competition.
Become the Royal Squad
The value to be won through this package is massive, and for an affordable buy-in of just $5, all UK poker players should look to join this fantastic satellite opportunity at 888poker.
The satellite event kicks off on Sunday, April 9, at 7 PM GMT. All players registered with 888poker from the UK will be eligible to play in the event, with the $5 buy-in fee being the only obstacle.
Head over to 888poker to register your free account and jump into this exclusive satellite while there is still time, and check out the detailed terms and conditions of the promotions before you do to ensure you understand all the rules and details.