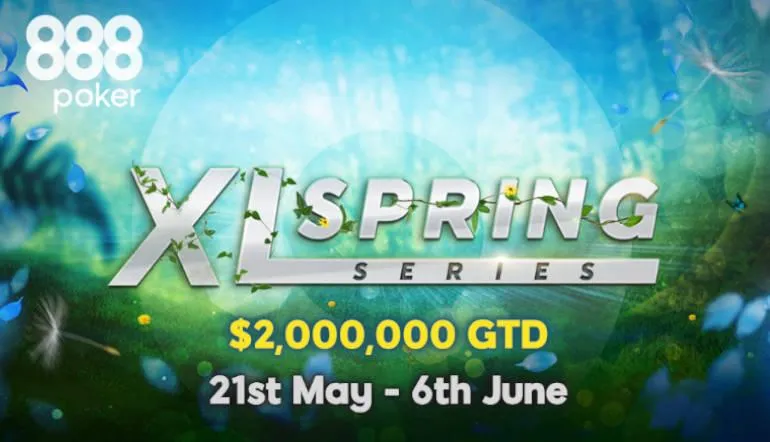 April showers bring might May flowers, but at 888poker, the end of May is all about showering prizes on players. The 2023 XL Spring Series gets going on May 21, and there is a lot on the schedule before it all comes to an end on June 6.
There are over 100 games on the schedule in the 2023 XL Spring Series between the featured tournaments and side events, and $500k extra in prizes this year compared to last. There will be 32 featured events, with an additional 72 side events branded with the series, and when the dust settles on June 6, online poker players on 888poker will have split at least $2 million in guaranteed prizes.
Two huge multi-flight events in this series will kick off spring. Day 1 flights for the $200k guaranteed Mystery Bounty 8-Max get going on May 24, while the half-million dollar guaranteed Main Event flights start on May 31.
Those are the two major events, but they make up less than half the total series guarantees, so there is a lot of value to be found in the one-day tournaments as well. Players on 888poker have three shots to win as much as $20k or more for just $22 in the XL Spring-branded Sunday Mystery Bounty 22 on May 21, 28, and Jun 4. Side event guarantees range from $20k to $5k, but some lower guarantees place highly on the value list.
$500k Guaranteed in XL Spring Main Event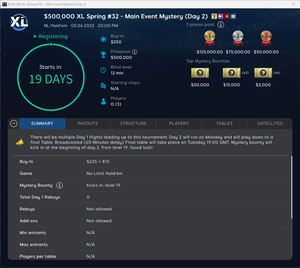 Mystery bounties are the big craze in the poker world right now, and the XL Spring Main Event is not bucking the trend. There is $500,000 guaranteed for the whole event, and one lucky player will open an envelope worth $50k.
Day 1 flights for the Main Event Mystery begin on May 31, and players will have multiple chances per day to bag a Day 1 stack. Day 2 is when the mystery bounties kick in, which runs on June 5, starting at 4 pm ET.
Of course, the appeal of the mystery bounty format is that a few lucky people will open bounty envelopes containing huge wads of cash, distributed at random. The thickest envelope will be stuffed with $50k, but in the top three bounty values alone, there is $110k to be won.
The Thickest Envelopes on Day 2 of XL Spring Main Event Mystery
| | Bounty | Number | Total |
| --- | --- | --- | --- |
| 1 | $50,000 | 1 | $50k |
| 2 | $15,000 | 2 | $30k |
| 3 | $5,000 | 6 | $30k |
| | Total | 9 | $110k |
The other multi-day event in the XL Spring mix, the $200k guaranteed Event #19: Mystery Bounty 8-Max, comes earlier in the series, with Day 1 flights starting on May 24. The $160 buy-in game will have a big bounty of $20k plus $24k divided between the next eight bounties.
More than $1.3 Million Guaranteed in Single-Day Games
Outside of the two big multi-flight games, there is still a lot of value to be found. Of the feature games, XL Spring #02: Bounty Opening has $120k guaranteed and is among the highest-value games in the series as well.
There are seven other tournaments with more than $25k guarantees in the numbered games and more than $600k in the side events.
In fact, one of the lowest buy-in games in the entire series is a part of the side event schedule and also one of the best values on offer. While most of the highest-value games on the list come from the featured events, the $5.50 Sunday Mystery Bounty slides into second place on the value list, with $1273 guaranteed for every dollar spent to buy in.
Highest Value Games in 2023 XL Spring Series
| Game | Buy-In | Guarantee | Value ($Gtd/$BI) |
| --- | --- | --- | --- |
| $500,000 XL Spring #32 — Main Event | $250 | $500k | $2,000 |
| $7,000 XL Spring — Sunday Mystery Bounty 5.50 | $5.50 | $7k | $1,273 |
| $200,000 XL Spring #19 — Mystery Bounty 8-Max | $160 | $120k | $1,250 |
| $25,000 XL Spring #29 — Mystery Bounty 8-Max Mini | $22 | $25k | $1,136 |
| $120,000 XL Spring #02 — Bounty Opening | $109 | $120k | $1,101 |
Spring has sprung, and what is sprouting in the 888poker garden is a lot of great value. See the full schedule on 888poker eMagazine and take advantage of the sprouting value before it withers on the vine.