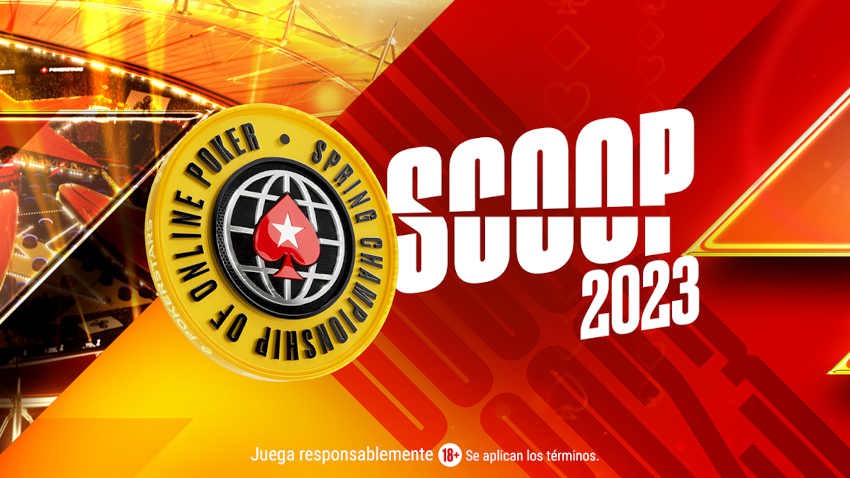 There is still a full week to play in the 2023 Spring Championship of Online Poker (SCOOP), and PokerStars has already awarded more than $45 million in prizes. There is $75 million guaranteed in total, with the massive $11 million guaranteed Main Events still to come.
The 2023 edition of SCOOP from PokerStars is well underway, with a total of 73 events completed and recorded. With three buy-in versions of each event, that makes a total of 219 games in the books so far, with total prizes of more than $46.5 million.
There is never really an entries issue for the Championship series on PokerStars, and this SCOOP is no different. So far, almost 750,000 entries have been recorded across all the games, with the biggest event of the series, SCOOP 33-L: $11 NLHE [8-Max Progressive KO Saturday KO], recording just shy of 19,000 entries. That turned into a prize pool of nearly $190k, more than 26% above the guarantee.
While that was the biggest field so far, three games have cracked seven-figure prize pools. The biggest was one of the first, SCOOP 04-M: $215 NLHE [Progressive KO Sunday Million]. The series' first Sunday Million had the typical $1,000,000 guarantee, but it went more than 40% above that with 7,000+ entries and a prize pool of $1,418,600.
2023

SCOOP

Summary With a Week to Go
| | |
| --- | --- |
| Guaranteed: | $75,000,000 |
| Total Entries: | 739,784 |
| Total Prizes: | $46,568,224 |
| % of Gtd: | 62.09% |
| Total Games: | 363 |
| Total Events: | 121 |
| Games so Far: | 219 |
| Events so Far: | 73 |

Last verified: August 2023
Special Signup Offer
100% deposit bonus up to $600!
Deposit $20 and get $30 worth of free play
One of the best mobile apps
Biggest

MTT

guarantees
$46.5 Million in Prizes so Far
With 73 events in the books (and three versions of each for a total of 219 tournaments), the total prizes awarded so far are $46,568,224. There was $75 million guaranteed at the start of the series, and to date, the events have handed out just over 62% of that guaranteed value without even considering the huge Main Event games still to come.
There is $11 million guaranteed in those three tournaments alone, so with those guarantees included, the rest of the series only needs to collect another $17.5 million to break the guarantee.
To put that into perspective, they have played just over 60% of the games on the schedule, but they have handed out 62% of the promised money.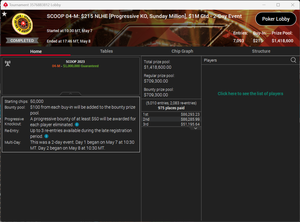 When the promised Main Event prizes are included, that leaves almost 40% of the games yet to be played, with only about 23% of the guarantees left to collect, putting the series well above expectations at this point.
With just the events in the books so far, the series looks like it will break the total guarantees by about $2,000,000, but that does not account for the $11 million promised in the Main Events.
Assuming those games just play for the guarantees while all other events proceed "on-pace," the projected final prize pool is over $95 million, and with those Main Events following the same patterns, it could easily top $100 million by the time the dust settles.
Three games have cracked one million in prizes so far in this series, with the best of them collecting more than $1.4 million. There were 18 events with at least 10,000 entries.
2023

SCOOP

Biggest Prize Pools & Fields
Tournament
Entries
Collected
Biggest Prize Pools

SCOOP

04-M: $215

NLHE

[Progressive KO Sunday Million]
7093
$1,418,600.00

SCOOP

75-M: $530 Sunday Million
2723
$1,361,500.00

SCOOP

39-M: $530

NLHE

[8-Max Sunday Million]
2580
$1,290,000.00
Biggest Fields

SCOOP

33-L: $11

NLHE

[8-Max Progressive KO Saturday KO]
18,996
$189,960.00

SCOOP

75-L: $55 Mini Sunday Million
15,342
$767,100.00

SCOOP

69-L: $5.50

PKO

14,883
$74,415.00
$11 Million Main Events Still to Come
There is a lot more action on the 2023 SCOOP schedule, with more than a third of the games still registering. The highlight of the final weekend of play will be the endgame of the Main Events. As with all the SCOOP games, there are three buy-in levels to play, starting at $109 for the Low version with $2 million guaranteed and $9 million more guaranteed at the higher buy-ins.
Game
Buy-In
Guarantee

SCOOP

108 L: $109

NLHE

[Main Event], $2M Gtd
$109
$2M

SCOOP

108 M: $1050

NLHE

[Main Event], $4M Gtd
$1,050
$4M

SCOOP

108 H: $10,300

NLHE

[Main Event], $5M Gtd
$10,300
$5M