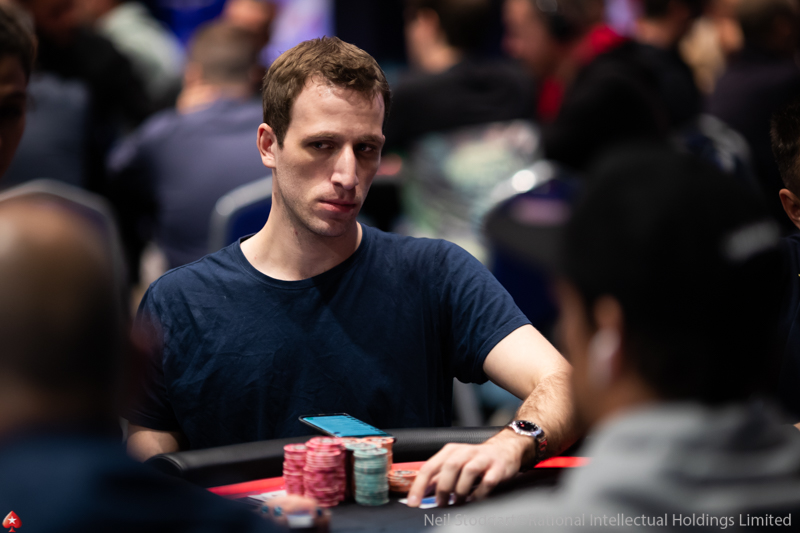 Whether the venue is live or online, Benny Glaser is no stranger to the winner's podium in tournament poker. He has just solidified his spot in the pantheon of online poker royalty with his 10th win in the Spring Championship of Online Poker (SCOOP) from PokerStars.
Across both PokerStars' spring and fall World Championship series, Glaser has an astonishing 18 titles, the most for any player. Ten of those came in the spring version of the series, with the other eight coming in the fall World Championship of Online Poker (WCOOP).
His ten SCOOP titles tie him for the lead with Calvin "cal42688" Anderson. However, Glaser came into this series with just seven Spring wins.
His recent win in SCOOP 100-M $109 NLHE 7-Max PKO for more than $33k was his third win of the 2023 SCOOP, following earlier victories in 87-M and 22-H. He has won around $80k from titles alone so far and has undoubtedly picked up some cash from other events as well.
Other SCOOP news from this year includes a big Tuesday for Mike "SirWatts" Watson and Samuel "€urop€an" Vousden and a couple of titles for Bruno "great dant" Volkmann on the same day.

Last verified: August 2023
Special Signup Offer
100% deposit bonus up to $600!
Deposit $20 and get $30 worth of free play
One of the best mobile apps
Biggest

MTT

guarantees
Glaser: All Around Beast
Glaser's latest win may be most interesting because it is his first win in a No-Limit Hold'em tournament. His skill with two cards is hardly a secret in the poker world, but in a tribute to his all-around poker game, only one other of his 18 COOP titles was in an exclusively two-card event — a $22 Fixed-Limit Hold'em game from 2018.
The rest of his titles before this latest one came in various mixed games and variants of poker, like Triple Draw, Razz, and Stud8. Glaser has now won almost $500k from his 18 titles alone, never mind the COOP money he has made from cashes other than wins.
It is also worth noting that three titles in a single series are not even a personal best for Glaser. In 2022, he powered through to four trophies in the Fall Series after winning one in the Spring edition.
It remains to be seen how he does in the WCOOP coming up later this year, but with three titles this spring, he is well on his way to setting a new personal best for COOP titles in a single year.
Benny Glaser's

COOP

Titles
Series
Year
Event
Prize

SCOOP

2023
100-M: $109

NLHE

7-Max

PKO

$33,669

SCOOP

2023
87-M: $215 PLO8 6-Max
$12,578

SCOOP

2023
22-H: $1,050 NLO8 6-Max

PKO

$35,555

WCOOP

2022
14-H: $1,050

HORSE

$19,107

WCOOP

2022
4-L: $11 NLO8 6-Max
$2,334

WCOOP

2022
18-H: $1,050

PLO

6-Max
$39,638

WCOOP

2022
09-H: $2,100

HORSE

$33,300

SCOOP

2022
09-H: $2,100

HORSE

–
$31,080

WCOOP

2021
50-M: $55 NLO8 6-Max
$9,293

SCOOP

2021
73-M: $215

PLO

6-Max,

PKO

$29,549

WCOOP

2020
55-H: $2,100

HORSE

$43,055

SCOOP

2020
06-H: $2,100 8-Game
$54,853

WCOOP

2019
23-M: $109 Razz
$10,924

SCOOP

2019
13-M: $215 2 – 7 Triple Draw
$14,667

SCOOP

2019
41-H: $1,050 8-Game
$45,840

WCOOP

2018
27-L: $55

PLO

6-Max
$23,807

SCOOP

2018
17L: $22

FLHE

–
$6,201

SCOOP

2016
33H: $2,100 Stud Hi/Lo
$54,390
Total Wins
$499,840
Volkmann, Watson, and Vousden With Big Results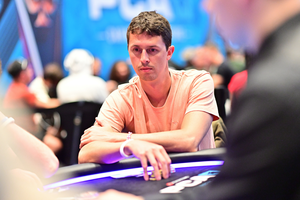 Glaser is not the only player making big waves at the SCOOP this year — Bruno "great dant" Volkmann won two events on the same day, and it was the same event!
In addition to Volkmann, Mike "SirWatts" Watson, and Samuel "€urop€an" Vousden also had strong results in the closing days of the SCOOP series.
On May 30, Watson, Wolkmann, and Vousden were three-handed at the final table of SCOOP 113-H: Super High Roller. All three players were multi-tabling deep in a couple of big games, with Watson and Vousden doing double duty on Day 3 of SCOOP 108-H Main Event and Volkmann crushing the Low version of SCOOP 113.
When the dust settled Tuesday, Volkmann was holding two trophies from two versions of Event #113. He bested 2237 entries in the Low version to pocket $66.5k and 42 entries in the High for a prize of $362k.
Watson and Vousden did all right on Tuesday as well. Watson, who started the month by binking his second EPT Main Event title in Monte Carlo, took third place in SCOOP 113-H as well as 16th place in SCOOP 108-H, for a total take of more than $210k.
Vousden did one better than Watson on both accounts, taking second in the Super High Roller to Volkmann ($248k) and 15th in the Main Event High ($61.3k) for a bit more than $310k total.
Missed out on SCOOP 2023? Sign up for PokerStars and get in on the next big tournament!