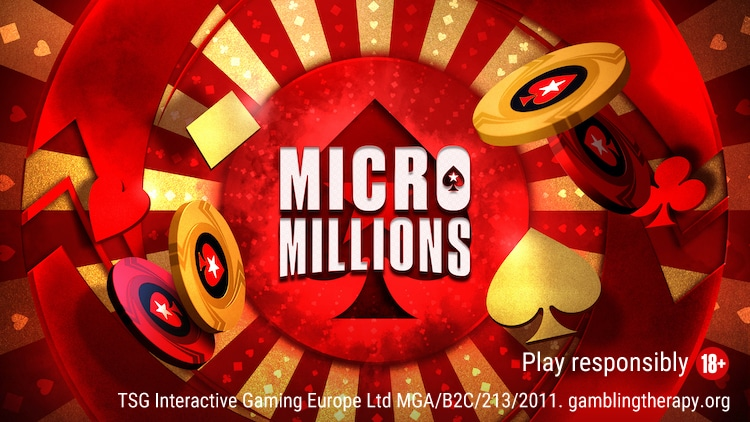 Key Takeaways
PokerStars' MicroMillions series offers low-stakes players the chance to win big with buy-ins starting at $1.10.
The 14-day series features over 200 events and guarantees more than $4 million in prizes.
MicroMillions caters to all bankrolls, with games ranging from $1.10 to $55 buy-ins.
Players can enjoy a wide variety of poker formats, including popular variants and mix rotations.
This annual series provides an affordable opportunity for low-stakes players to compete for significant cash prizes.
July 2 marks the beginning of another massive MicroMillions series on PokerStars. While the Red Spade is known for some of the biggest online series in history with its marquee events like SCOOP and WCOOP, the operator also has a vibrant micro-stakes ecosystem, and MicroMillions helps showcase the thrilling low-end of the poker world.
Running for two weeks from July 2 through July 16, PokerStars' MicroMillions is the annual showcase for low-stakes players on the online poker site. With buy-ins starting as low as $1.10 and the chance to satellite into games, it is a series that all bankrolls can afford to participate in.
The 14-day series has over $4 million guaranteed across more than 200 events, and the Red Spade features more than just two-card poker. One of the unique features of PokerStars is the wide range of game types on offer, with nearly every form of poker available during the series and on the regular daily schedules. Last year, MicroMillions smashed its guarantees with nearly 24% more than promised in total prizes.
Key MicroMillions 2023 Details
Dates: July 2 — 16, 2023
Events: 208
Prizes: $4M+ guaranteed
Buy-ins: $1.10 — $55
MicroMillions — A Series for All Bankrolls
Players with smaller bankrolls can sometimes feel left out of the bigger games on the online poker calendar. When series like WCOOP and SCOOP roll around, smaller bankroll players can sometimes feel on the outside looking in, with their only hope of entry coming through the satellite trees.
MicroMillions changes all that with a series focussed entirely on micro-stakes players. While there are games as high as $55, that one event is literally billed as the High Roller of the series. The Main Event and some other High Roller-branded games come in at $22, but most of the series can be played for $11 or less.
More than 25 events are priced in the bargain basement at $1.10, with a few $2.20 games to go along with them. The bulk of the series comes in at $3.30 or $5.50, but nearly half the games are $3.30 or less to buy into.
Big Money in Little Buy-Ins
At the other end of the MicroMillions scale, the prizes are anything but "micro." The Main Event guarantees $500k for a $22 buy-in, and the guarantees for the series as a whole range from that maximum to a minimum of $1,500 guaranteed in the $3.30 Stud game on Jul 5.
There are a few other mixed games with guarantees of $2.5k or less, with Hold'em action guaranteeing a minimum of $2,500 in MicroMillions 130 for $1.10. All the other two card games guarantee more than that, and even a few mixed games have bigger guarantees.
Most events have guarantees of $10k or more, with nearly 140 games guaranteeing at least that much, so MicroMillions will be a great way to make a big payday from a small investment.
Games Galore
One of the highlights of the PokerStars app is the variety of poker formats on offer. Nowhere else can players find as many different game variants online, and MicroMillions allows everyone to compete for titles in nearly every kind of poker imaginable.
Games as diverse as badugi, deuce to seven, and all variants of stud, as well as mix rotations like HORSE and 8-game, make up the schedule on PokerStars without even getting into the wide range of Omaha on offer.
MicroMillions marks one of the best times every year for low-stakes players to really make their mark in the game, and no matter what variant a player loves, they are sure to find it somewhere on the schedule for a very reasonable price.
Load up the PokerStars client now to check out the MicroMillions schedule over the next two weeks — millions of dollars will be won for pennies!