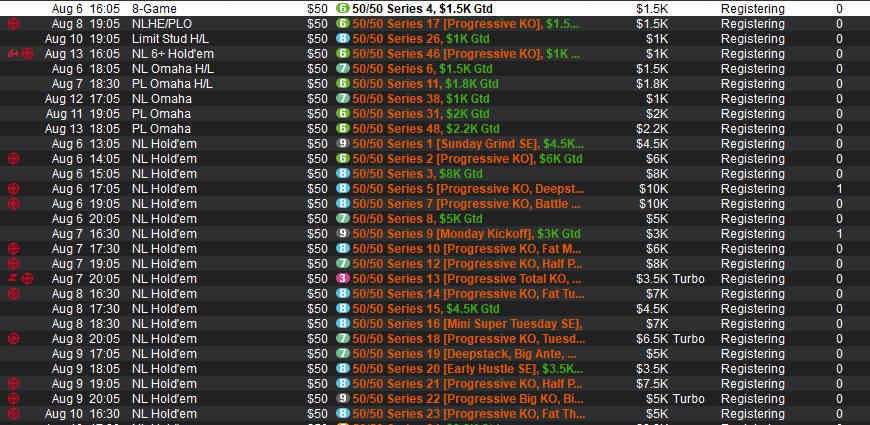 The popular 50/50 Series returning to the PokerStars Ontario real money platform, once again featuring 50 unique events, each with a buy-in of CAD $50 over the course of an action-packed week of tournament poker.
Starting on August 6, the 50/50 Series will offer NLH, PLO, PLO8, Stud H/L, 6+ Hold'em, and 8-game events with a CAD $50 buy-in and significant guaranteed prize pools.
The 50 events will feature just over $250,000 in guaranteed prizes, similar to the 50/50 Series that played out in February this year.
With this, PokerStars Ontario continues its trend of throwing exciting and lucrative tournament festivals for its players, with the likes of Chinese New Year Series, ONSCOOP, the earlier edition of the 50/50 Series, as well as the most recent Sunset Series, all breaking guarantees and crushing regional records.
50/50 Series Looking to Smash Records
PokerStars Ontario launched its inaugural 50/50 Series in February this year with the same 50-events-at-$50 theme and a similar $250k guarantee across the events.
That time around, the Series broke the overall guarantee by more than 25%, with a total of $328,233 in prizes given out across the week, making the festival a great success.
Now, PokerStars Ontario will be looking to break even more records, shatter the guarantees by an even greater margin, and make the new 50/50 Series an even greater success.
With record turnouts of Ontario online poker players at PokerStars events and constantly growing, it is looking likely that the 50/50 Series will, in fact, have little trouble reaching most guarantees and surpassing the total number by a significant margin.
Action-Packed Week for Mid-Stakes Grinders
The 50/50 Series is the perfect tournament festival for mid-stakes grinders, with every event coming with the exact same buy-in price, set at CAD $50.
While entry into each event will cost you the same, the guaranteed prize pools are set at different levels depending on the particular game, the day of the week, and the tournament format.
A solid number of overall events will use the popular progressive knockout format, including the $20k Guaranteed Main Event, which is scheduled for August 13 at 5 pm local time.
Apart from the Main Event, four other tournaments will feature a guarantee of at least $10k, including two on the opening day of the Series, one on August 10, and one on August 12.
Each day of the Series will feature between four and ten events, with the opening and closing Sundays offering the most action. A number of single-entry (SE) tournaments will also be featured, which is something we don't see every day in modern-day poker tournament series.
50/50 Series Highlight Events:
August 6: 50/50 Series 5 (

PKO

, Series Opener) – $10k Guaranteed
August 6: 50/50 Series 7 (

PKO

, Battle Royale) – $10k Guaranteed
August 7: 50/50 Series 8 (

PKO

, Half-Price Brawl SE) – $8k Guaranteed
August 8: 50/50 Series 16 (Mini Super Tuesday SE) – $7k Guaranteed
August 9: 50/50 Series 21 (

PKO

, Half-Price Brawl SE) – $7.5k Guaranteed
August 10: 50/50 Series 25 (

PKO

, Mini Thursday Thrill SE) – $10k Guaranteed
August 11: 50/50 Series 30 (Friday Kickoff) – $6.5k Guaranteed
August 12: 50/50 Series 39 (

PKO

, Weekends Starter) – $10k Guaranteed
August 13: 50/50 Series 47 (

PKO

, Main Event) – $20k Guaranteed
August 13: 50/50 Series 50 (

PKO

, Second Chance) – $5k Guaranteed
Become a Part of Ontario Poker History
PokerStars Ontario is one of Ontario's biggest online poker operators and has been creating history ever since its launch on June 28, 2022.
The 50/50 Series is now looming and looking to break some records, and players who join the action will have a chance to battle for generous prize pools along the way.
Each event of the 50/50 Series will cost you just $50 to enter, and you could make that even more affordable if you win your seat for some events via satellites on on.PokerStars.ca.
Head to PokerStars Ontario, check out the dedicated 50/50 Series tab in the lobby for the full list of events, and get ready to make some history during a full week of heated mid-stakes poker action.
Learn more about the Best Online Poker Sites in Ontario in our complete guide!