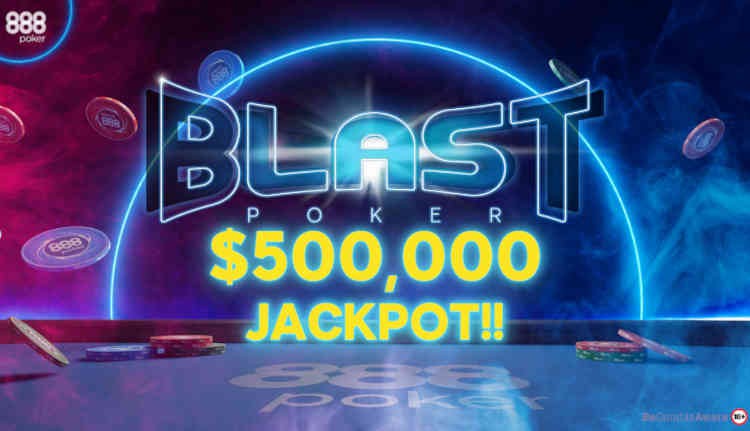 888poker's BLAST Poker games gave away one of the biggest jackpots yet, with three lucky players hitting the $500,000 jackpot in a $50 BLAST game.
According to BLAST Poker rules, all three players participated in the bounty, with the eventual champion "Pelaps" from Canada, walking away with a cool $350,000 in cash.
The massive jackpot was one of the biggest ones paid out on the platform and one of the biggest jackpot sit-and-go prizes paid to date across all operators.
888poker continues to offer BLAST Poker games across all stakes, with top prize pools going from $1,000 in the $0.10 games all the way up to $1,000,000 in the $100 games, and another cool million dollars in the special $1 BLAST games.
Join 888poker today for your shot at winning a massive jackpot playing BLAST Poker, and claim one of the most valuable welcome packages available in all of online poker.
Lucky BLAST Players Chop Up $500k in Cash
BLAST Poker games at 888poker are fast, exciting, and often very soft, but their biggest allure is the small chance to get lucky and be drawn to a jackpot game.
The dream that most BLAST players share came true for three players on Tuesday, August 8, as they entered a $50 BLAST tournament and were informed they were playing for the incredibly rare $500,000 prize pool.
For the three players, this meant that they were each guaranteed $50,000 in cash, a 1000x multiplier on their initial investment, with plenty more cash up for grabs for the two of them.
The entire affair lasted no more than a few minutes, with Canadian player "Pelaps" claiming the victory and taking home $350,000 for his win.
The second-place finisher was "valyspk04" from Romania, who took home a hefty $100,000 despite falling short of the top prize.
Hungarian player "vicuska12344" had to settle for the consolation prize worth $50,000 but was surely quite content to be given a chance to play the jackpot game and win a massive prize for a very modest investment in just a few minutes.
Tuesday provided three poker players with a night of their lives, and thousands of others are in with the same chance, including you, if you head over to 888poker, sign up for an account, and jump into some BLAST Poker games in the coming days.
How

BLAST

Poker Works
BLAST games are some of the most exciting in online poker, and the kind of jackpot that was won by these three players on Tuesday is available to anyone participating in BLAST Poker.
BLAST SNGs run across all stakes, with buy-ins ranging from just $0.10 all the way up to $100 and prize pools going up in value along with the buy-in.
Each BLAST SNG requires three players to register before it can start. Instead of simply playing for three buy-ins, players in each BLAST game are assigned a random prize pool, anywhere between 2x and 10,000x the buy-in.
Landing an opportunity to play in a big jackpot BLAST game is rare, but you only need to get there once in order to play for life-changing money, with only two players between you and the top prize.
What's even more, BLAST Poker offers a range of other rewards while you wait for the jackpot, and many players are managing to make a profit playing these games even without ever getting into a massive game.
With so many recreational and fun players joining BLAST tables for some quick and exciting action, these are easily some of the world's softest and best-value poker games.
Join the Jackpot Pursuit at 888poker
888poker offers BLAST jackpot SNGs every single day across all stakes, and these games run literally all the time, as only three players need to sign up to start the game.
If you are looking for some quick action and a chance to land a life-changing jackpot, BLAST Poker at 888poker is one of your best opportunities at this.
Join 888poker today, claim up to $1000 in welcome bonus money, and play BLAST Poker games on demand at any buy-in level you feel most comfortable with if you want to have a chance to join this month's lucky winners in their good fortune.