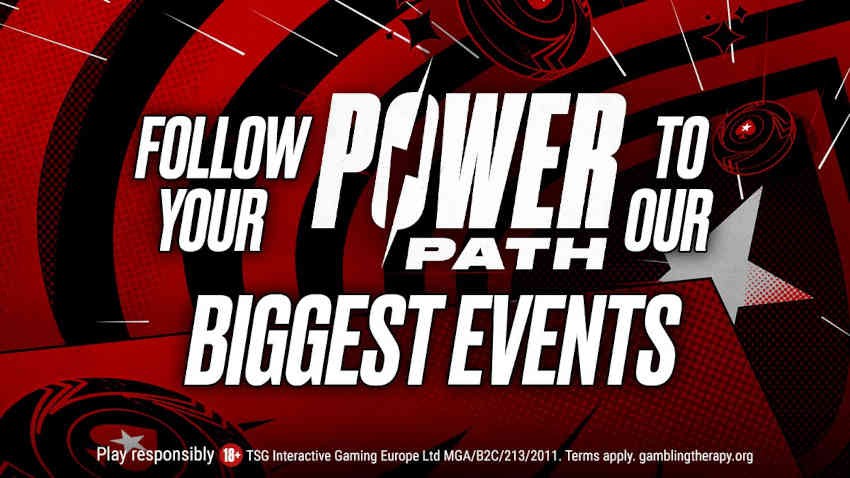 Key Takeaways
PokerStars introduces Power Path qualification system for exclusive tournaments.
Win Power Passes valued at $109, $2500, and $10,300 through qualifiers.
Different buy-in levels for Step 2 and 3 qualifiers; Step 4 has no buy-in.
Redeem Power Passes for tournament entries based on the Pass level.
Power Pass holders can participate in the 2023

WCOOP

with exclusive tickets.
PokerStars introduced its brand new Power Path qualification system earlier this summer, offering players a chance to win one of three Power Passes, valued at $109, $2500, and $10,300, respectively, which can be redeemed for seats in major PokerStars LIVE and online events.
Power Passes can be won through a four-step series of qualification tournaments, with players offered free daily opportunities to play Step 1 tournaments and Step 2 and 3 qualifiers offered at varying buy-in levels. Step 4 qualifiers, however, have no direct buy-in option.
The new qualification system immediately gained popularity with the players, and the fact PokerStars offers every player on the platform a free $0.50 Power Path ticket every day they play a single hand of real money poker has gotten the entire player pool involved.
Plenty of Power Passes have already been given out, but the one thing that many players remain unclear on is how exactly they can use their Passes and what tournaments it buys them an entry into.
If you are a part of this group, keep reading and find out everything you need to know about Power Path and the ways you can redeem your Bronze, Silver, or Gold Power Pass for entry into online or live poker tournaments.

Last verified: November 2023
Special Signup Offer
100% deposit bonus up to $600!
Deposit $20 and get $30 worth of free play
One of the best mobile apps
Biggest

MTT

guarantees
How to Win a Power Pass
The first step in playing any major tournaments with Power Pass is entering the Power Path qualifiers and giving yourself a fair chance to win a Power Pass in the first place.
Power Passes themselves are won in Step 4 tournaments of the Power Path, which cannot be entered directly and feature a freezeout structure with no re-entries allowed.
In order to qualify for a Step 4 satellite, you will need to start at the lower levels, with $11 Step 3 MTTs sending players directly into Step 4 and Step 1 & 2 tournaments available at $0.50 and $1/$1.50, respectively, to win your Step 3 seat.
Once you reach Step 4, you can choose which daily Step 4 you wish to play, with at least one Step 4 available every day.
Step 4 tournaments with guaranteed Silver Passes are on the schedule daily, while Gold Passes are given out every Sunday in prime-time Step 4 tournaments.
Redeeming Your Power Pass
Once you have won a Power Pass, you can redeem it for a $109 PokerStars tournament ticket in the case of a Bronze Pass or for a PokerStars tournament package if you win a Silver or Gold Pass.
To redeem your Pass, simply navigate to the Power Path section in the PokerStars lobby, and click the "Redeem Your Pass" button there.
This will open up a list of possible tournaments you can enter with your Power Pass, which at this moment in time include:
Bronze Pass:
$109 Sunday Million Ticket
$109

WCOOP

Tickets (Coming Soon)
Silver Pass:
$2500

ESPT

Barcelona Package
$2500

UKIPT

Brighton Package
$2500 Eureka Hamburg Package
$2500

ESPT

Malaga Package
$2500

UKIPT

London Package
$2,500

BSOP

Foz do Igaucu Package
$2500

FPS

Aix-les-Bains Package
$2500 Eureka Cyprus Package
$2500

UKIPT

Edinburgh Package
$2500

UKIPT

Nottingham Package
$2500 Online Tickets Bundle
$2500 Sunday Million Tickets Bundle
Gold Pass:
$10,300

EPT

Barcelona Full Package
$10,300

EPT

+

ESPT

Barcelona Package
$10,300 European 2023 Passport
$10,300

UKIPT

2023 Passport
$10,300

WCOOP

Tickets Bundle
$10,300

WCOOP

Main Event Entry
$10,300

EPT

Cyprus Full Package
$10,300

EPT

Cyprus Mix Package

EPT

Cyprus
October 11 – 22
Online Qualifiers now running, including Freerolls
PokerStars' first-ever

EPT

stop in Cyprus!

EPT

Main Event October 16 – 22
Includes Mystery Bounty, High & Super High Roller Events
To take part in the action,
head to the PokerStars Lobby
Tournament Packages Explained
As part of the Power Path series, PokerStars offers a variety of tournament packages, and you can see the ones available at the time of publishing on the list above.
The packages are all designed to provide players with an immersive poker experience at some of the top live poker destinations in the world, with a variety of venues and buy-in levels covered.
It is important to note that packages you can redeem your Silver Pass for include entries into Main Events of poker tours like ESPT, UKIPT, and EUREKA, which fall in the $1,100 range, along with cash for travel and accommodation costs, and entries into lower buy-in secondary "Cup" events.
The online tickets bundle and Sunday Million bundle include tickets for online poker tournaments at the value of $2500, allowing you to put the full value of your Pass into action, and split it up into numerous events to give yourself more of a chance to make a deep run.
When it comes to Gold Pass packages, they include entry and travel + accommodations to some of the most exclusive tournaments in Europe, such as EPT Barcelona and EPT Cyprus.
Players looking to spread their action can also redeem their Gold Pass for a European Passport, which includes entries into the ESPT Barcelona Main Event and Cup, EUREKA Hamburg Main Event and Cup, EUREKA Cyprus Main Event and Cup, and UKIPT Nottingham Main Event and Cup, plus extra cash for expenses.
This package is ideal for players who travel Europe in pursuit of live poker action, as it takes them to four different locations and allows entry into eight separate tournaments.
The UKIPT Package offers a similar experience, with entries into UKIPT Brighton, London, Edinburgh, and Nottingham Main Events all included, along with extra cash for travel expenses.
As you can see, Power Pass packages include a mix of event entry fees and travel expenses, which will allow you to make your way to the events and play some poker without having to pay any costs from your own pocket.
Play the 2023
WCOOP

with Your Power Pass

The 22nd edition of the popular World Championship of Online Poker (WCOOP), is nearly upon us, and PokerStars is allowing all Power Pass holders to get involved in the ultimate online poker tournament.

If you have won a Power Pass recently and have one in your account, you will be able to redeem it for WCOOP tickets, with the following ticket bundles available for various Power Pass holders:

Bronze Pass WCOOP Tickets:
$109 Ticket to Any

WCOOP

Event
Silver Pass WCOOP Ticket Bundle #1:
$530

WCOOP

Ticket — 1x
$215

WCOOP

Ticket — 3x
$109

WCOOP

Ticket — 6x
$55

WCOOP

Ticket — 8x
$22

WCOOP

Ticket — 10x
Silver Pass WCOOP Ticket Bundle #2:
$1050

WCOOP

Main Event-M Ticket — 1x
$109

WCOOP

Tickets — 2x
$22

WCOOP

Tickets — 8x
Gold Pass WCOOP Ticket Bundle:
$5200

WCOOP

Main Event Ticket — 1x
$1050

WCOOP

Ticket — 4x
$109

WCOOP

Ticket — 4x
$55

WCOOP

Ticket — 6x
This makes Power Path one of the best offers for players looking to join this year's WCOOP, as Silver and Gold Passes offer massive ticket value while allowing you to compete against many recreational and less experienced players on your path to winning the Pass.
Win Your Power Pass Today
The Power Path is in full swing and is offering insane value to tournament grinders, with PokerStars giving away tons of free Step 1 tickets daily and direct entries into Step 4 satellites not possible.
This means you will see plenty of casual tournament players make their way into the $109 Step 4 tournaments, where Silver and Gold passes are given away to the players who make the final tables.
What's even more, PokerStars offers guaranteed and added tickets into Step 2 and Step 3 tournaments, making these steps an incredible value for anyone to play in.
Join PokerStars today if you don't already have an account, or log into your existing account and join the Power Path for the best possible chance at playing some of the best online or live events sponsored by PokerStars, one of the world's best online poker rooms.