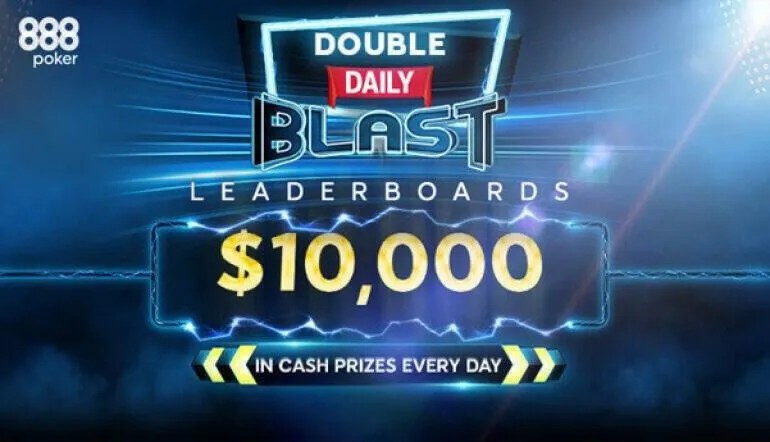 Key Takeaways
888poker enhances

BLAST

leaderboard prizes for a week.
Daily cash prizes now total $10k until September 24.

BLAST

games offer random prize pools and huge jackpots.
Players at various buy-in levels can participate.
Join the leaderboard race for extra cash rewards.
888poker is looking to give back some cash to regular players of its three-handed, jackpot sit-and-go games. While there is normally $5000 up for grabs daily in the BLAST leaderboards, for the remainder of the week, until September 24, BLAST players will be competing for double the total leaderboard prizes every day.
BLAST games are 888poker's answer to the three-handed S&G format, with prize pools randomly generated based on the buy-in amount and a random multiplier.
That leads to some truly eyewatering prizes with top jackpots set at 10,000 times the buy-in amount. With games starting as low as 10 cents, players at all levels of the game on 888poker are eligible for handsome payouts for a very small investment.
Now, with the new doubled leaderboard prizes every day, BLAST players have even more to love this week on the client. Through September 24, the BLAST leaderboards will have a total of $10k to hand out between the various levels.
While the 10c BLAST games are not eligible for the leaderboards, players can get into the leaderboard race starting at the $1 buy-in level with five different leaderboards to choose from depending on the buy-in.
BLAST

Leaderboards with Increased Prizes Through September 24
First 10

BLASTS

Count for Each Leaderboard

$1 & $2

BLAST

— $500 Leaderboard Prizes
$5

BLAST

— $1000 Leaderboard Prizes
$10

BLAST

— $2000 Leaderboard Prizes

First 30

BLASTS

Count for Each Leaderboard

$20 & $50

BLAST

— $3500 Leaderboard Prizes
$100

BLAST

— $3000 Leaderboard Prizes
BLAST

into Leaderboard Prizes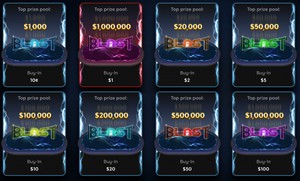 For players looking for a fast-paced game with the chance of eyewatering payouts, the 888poker BLAST lobby is the place to go. With regular prize multipliers up to 10,000, and a special $1 million top prize pool for the $1 BLAST games, there is a huge amount of money to be made in these three-handed games.
In addition to the big regular multipliers and the astonishing 1,000,000 multiplier at the $1 level, players have another way to win cash from their play. 888poker runs daily leaderboards for BLAST players that put them in contention for a total of $5k in extra leaderboard prizes during normal weeks.
But this week is extra exciting — the leaderboard prizes are twice what they usually are this week, and through September 24, players will be eligible for $10k in extra prizes if they do well in the games.
That is, of course, in addition to whatever the player may have won in the actual games, and is awarded based on buy-ins and the player's results through the 10 or 30 eligible leaderboard games.
Getting involved in the leaderboards is easy — players can access the leaderboards from the BLAST lobby and select their chosen leaderboard there, and there is no additional charge to get into the leaderboard race. See below for details on how to get yourself into the running for a piece of $10k daily with 888poker and BLAST.
How to Join a

BLAST

Leaderboard
Click on 'LEADERBOARDS' in the

BLAST

lobby in the 888poker client.

NEXT

, click the

JOIN

button on the leaderboard of your choice (10 games/ 30 games).
Click

PLAY

to start a

BLAST

game in the desired leaderboard.

WIN

ranking points after each game — 2 points for 1st place, 1 point for 2nd or 3rd place.
Points are multiplied by the

BLAST

Multiplier to determine your rank on the leaderboard.

CHECK

your position on the

LIVE

LEADERBOARDS

— Top-ranked players win a portion of the $10,000 prize pool.