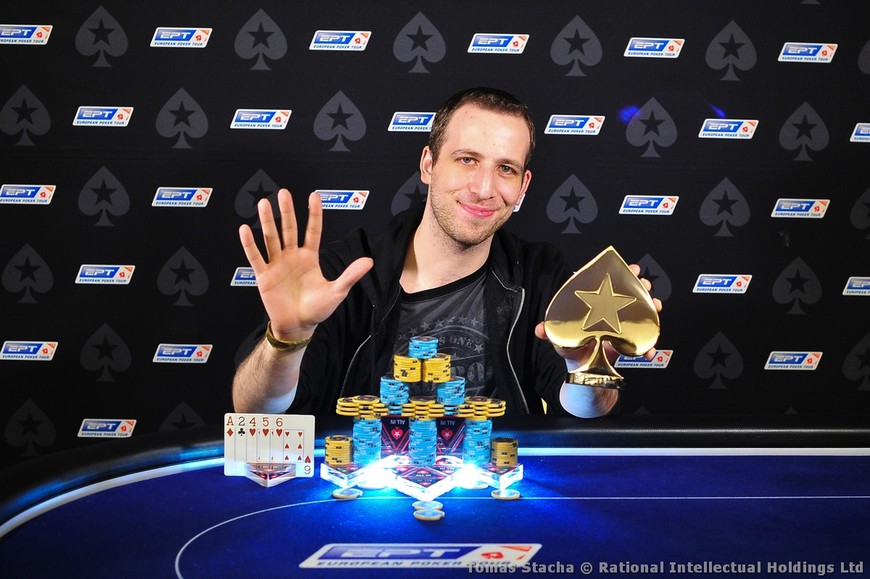 The World Championship of Online Poker (WCOOP) is well underway on PokerStars now with nearly 70 events in the books, and one player is rising above the rest — Benny "RunGodlike" Glaser. The British mixed-game specialist has been red-hot this series, booking his sixth WCOOP title of 2023.
With nearly 70 events complete now, the 2023 WCOOP is in full swing, with over a week of action to go before the final games play out on October 4. So far, more than 500,000 entries have been recorded across the series, with prize pools in excess of $46 million.
While there are a few players who are having a solid series this year, including Jerry "Perrymejsen" Odeen and Team PokerStars member Lex Veldhuis, the standout performer of the 2023 WCOOP so far is unquestionably Glaser with six titles already in this series alone. That brings his lifetime total for SCOOP and WCOOP titles to an astonishing 24, with 13 of those coming in the fall Championship series.

Last verified: December 2023
Special Signup Offer
100% deposit bonus up to $600!
Deposit $20 and get $30 worth of free play
One of the best mobile apps
Biggest

MTT

guarantees
With 69 events now complete and a bit more than a week to go in the festival, there have been 513,149 entries that generated $46,233,990 in total prizes so far. There are still more than 40 events left on the schedule, with three versions of most catering to various bankroll levels, so those numbers will certainly grow before WCOOP shuts down next week.
"RunGodlike" Is Right!
When Glaser picked his PokerStars alias, it was likely chosen as a bit of a joke or perhaps aspirationally. While he likely hoped to live up to the name, it seems unlikely he was fully prepared for how accurate the name would become, at least in terms of Championship titles.
He was on 18 titles coming into this year's WCOOP series, with 10 Spring titles and 8 Fall titles. However, the mixed-game specialist has been on a tear for this series, with his first title coming in 16-M: $109 FL Badugi [6-Max], and he followed that with four more.
Glaser's Titles this Series
16-M: $109 FL Badugi [6-Max]
$1,050 World Championship of 2-7 Triple Draw
50-H: $1,050 NL 2-7 Single Draw
$2,100 PLO8 6-Max
61-H: $1,050 NL 5-Card Draw 6-Max
68-M $320

NLHE

6-Max
That brings his total titles to 24, which gives him the lead in all categories. He was already tied for the lead in SCOOP championships with 10 after three titles earlier this year, and his 13 WCOOP now put him in the lead for WCOOP titles as well.
The six wins so far this year also bring his 2023 total to 9, including his Spring runs, which is a new personal best for him — last year, he scored five titles across the two series, with four coming in the Fall edition, so 2023 smashed his personal, as well as PokerStars records.
Odeen, Leonard, Strebkov with Multiple Wins
While Glaser is by far the top performer of this series, Jerry "Perrymejsen" Odeen from Sweden is in second place for WCOOP this year with three titles so far. He most recently took down 63-M: $215 NLHE Turbo for his third win this year and fifth WCOOP title overall and took to social media to share his excitement.
This year's other multiple winners are Patrick "pads1161" Leonard and Denis "aDrENalin710" Strebkov. Both players have scored two titles so far this year, but Strebkov had to give up his WCOOP title lead to Glaser through the course of the series, though he still has 11 titles to his name for second place.
Another player to have some solid results this WCOOP is Lex Veldhuis. While the PokerStars streamer has not managed to book a win yet, he did have a pretty solid day on September 23. He made four final tables that day, including a second-place finish, two thirds, and a fourth, for about $130k total on the day.
Veldhuis's Stellar Saturday
4th — 55-H: $10,300 8-Game 6-Max High Roller — $22,630
3rd — 56-H: $5,200

NLHE

6-Max Turbo — $58,066
3rd — 62-H: $1,050 4-Max Turbo

PKO

— $15,639 (including $6,184 in bounties)
2nd — 63-H: $1,050

NLHE

Turbo — $34,067
Glaser Leads the Leaderboard
With six titles in this series, it is little surprise to see Glaser heading the overall leaderboard for WCOOP 2023. "FAL1st" is pretty close behind, however, and is currently leading the Low leaderboard while Glaser tops the High as well as the overall standings. "deepincidurr" from the UK currently sits at the top of the Medium boards.
2023

WCOOP

Overall Leaderboard
| Place | Player | Country | Points |
| --- | --- | --- | --- |
| 1 | Benny "RunGodlike" Glaser | United Kingdom | 1495 |
| 2 | FAL1st | Thailand | 1375 |
| 3 | Patrick "pads1161" Leonard | United Kingdom | 1265 |
| 4 | Renan "Internett93o" Bruschi | Brazil | 1215 |
| 5 | Kelvin "kelvin_fp:ar" Kerber | Brazil | 1140 |
| 5 | Rui "RuiNF" Ferreira | Brazil | 1130 |
| 7 | Jerry "Perrymejsen" Odeen | Sweden | 1045 |
| 8 | Yuri "theNERDguy" Dzivielevski | Brazil | 870 |
| 9 | Dainiux | Lithuania | 855 |
| 10 | Denis "aDrENalin710" Strebkov | Thailand | 810 |
There are still some 40 events left on the schedule for this year's WCOOP, so there is lots of time for Glaser to bag a few more this year or possibly for someone else like Odeen to catch him. However, given Glaser's pace to this point, adding more to his own total seems a lot more likely than someone else catching his "Godlike" run.