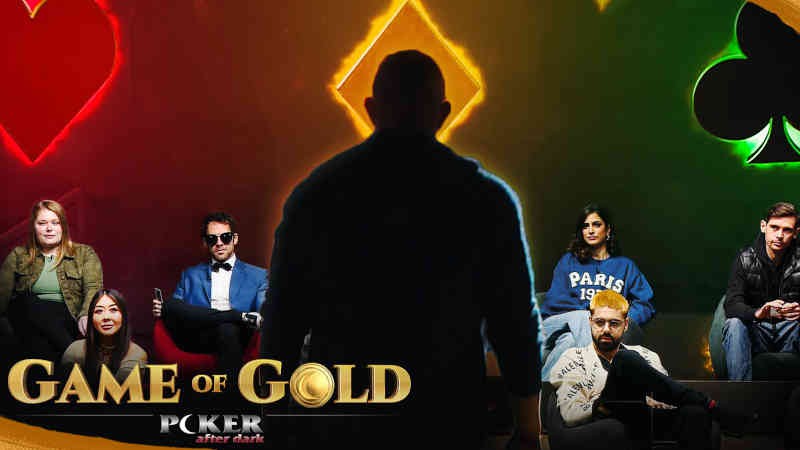 GGPoker is known for many things — it is the world's largest online poker site, has partnered up with WSOP to offer online bracelet events, and has been at the forefront of innovation in terms of software. Now, the operator has expanded its scope, launching its very own poker show, Game of Gold.
In the past, we have mostly seen poker shows that revolve around two formats: cash games or sit-and-go's. Game of Gold revolves around the latter, but it is only one show segment. GGPoker has introduced several reality show elements into the mix to make the show more interesting, adding extra layers of strategy and suspense.
The operator gathered an interesting mix of players led by big-name celebrities like Daniel Negreanu, Fedor Holz, Maria Ho, and Daniel 'Jungleman' Cates. Several episodes of the show have aired already, and so far, it has more than lived up to all our hype and expectations.

Last verified: December 2023
Special Signup Offer
100% deposit bonus up to $600!
Or get up to $100 worth of rewards
Available in many regulated markets
Great

MTT

schedule including

WSOP

events
Teamwork Paramount to Success
Poker is a solitary game by nature. Apart from rare exceptions, it is every player for themselves, whether it is a cash game or a big-field tournament. GGPoker has introduced a significant shift to this aspect, separating 16 players into four teams.
These teams will face each other in several rounds of four-handed sit-and-go matches, with one player representing each team in each match. While the decisions they make at the tables are their own, their final placement impacts the entire team, as the team with the lowest number of points (gold coins) will be eliminated.
This creates an interesting dynamic, especially since matches in every round are worth progressively more, with the first round containing the lowest number of coins and the fourth round offering the biggest prize pool. Thus, teams need to strategize and figure out who is the best fit for every round based on the players' experience and other teams' perceived tactics.
Game of Gold Teams
| Team Clubs | Team Diamonds | Team Hearts | Team Spades |
| --- | --- | --- | --- |
| Daniel Negreanu | Maria Ho | Olga Iermolcheva | Nikita Luther |
| Kevin Martin | Dan 'Jungleman' Cates | Andy 'Stacks' Tsai | Yohan 'YoH ViraL' Guilbert |
| Michael Soyza | Kyna England | David Williams | Fedor Holz |
| Jason Koon | Josh Arieh | Lukas Robinson | Charlie Carrel |
Behind the Scenes Excitement of Game of Gold
In most poker shows we have had the opportunity to watch, the fun begins and stops on the felt. This is not the case with GGPoker's Game of Gold, as happenings on the table make up about 50% of the show. The other half focuses on what happens behind the scenes.
Each team has its own "war room" where they talk strategy before the match starts. Then, once the game begins, those not playing get to watch things in real-time, with hole cards revealed. So, if their teammate pulls a big bluff, they will know before the cards are turned over, screaming and shouting for the other player to fold.
Of course, not all moments are so dramatic. Producers have done a great job switching between the action and behind-the-scenes chitchat, where those not involved will comment on certain plays, judging or praising their teammates and other team members alike.
As things develop, all teams must change and adjust their strategies based on their scores. As is always the case in reality shows, the first order of business is to not get eliminated, and when the threat of elimination becomes real, panic kicks in.
The show is already nearing its fourth episode, which means one of the teams will be eliminated shortly. However, we will not share any results or spoilers as there are probably many people out there who need to catch up, and we certainly do not want to ruin the suspense.

Last verified: December 2023
Special Signup Offer
100% deposit bonus up to $1200!
Use bonus code FUSEBONUS
Generous welcome bonus
Quality mobile app
GGPoker Strikes Gold
When GGPoker first announced its Game of Gold, there were some doubts about what it would look like and if poker was the right fit for a reality-type game show. After several episodes, it is safe to say that the operator has found just the right formula, creating a perfect mix of different elements.
What is also nice to see is that players are not going out of their way to make things more interesting. No artificial drama or unrealistic arguments would put players out of their usual characters.
All this is to say, if you have not seen any of the episodes just yet, you are certainly in for a treat, as this show will not let you down. It has a bit of everything and keeps you entertained from the first minute to the last, cutting off at just the right moment to keep you excited for the next one!
Learn More: GGPoker Launches $1M Guaranteed Paradise Dream Vacation Satellite