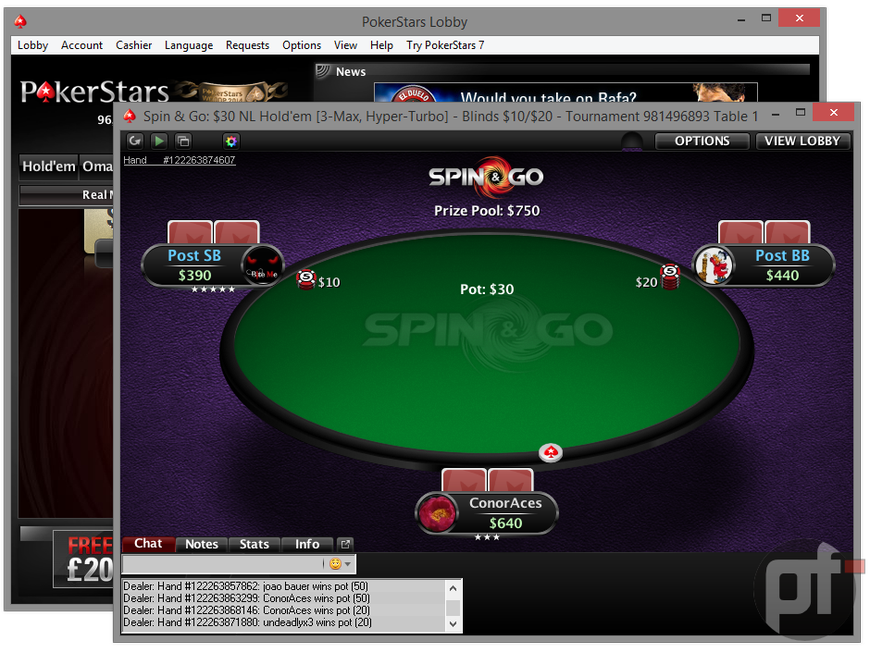 Lottery sit and gos—a new hit 3-handed tournament format with a random prize pool that is proliferating across online poker rooms—have debuted on PokerStars' global website, exposing the format to hundreds of thousands of new players for the first time.
In Lottery tournaments, three players are seated together randomly in a hyper-turbo tournament, where the winner takes the whole prize pool. The twist is that the prize is randomized—from just double the buy-in up to 1000 times.
The format was invented on Winamax under Expresso, and soon started popping up on iPoker (as Twister), Full Tilt (as Jackpot) and finally PokerStars, as Spin & Go. It launched first in Spain then was later rolled out in Italy and France. The dot-com addition (which was expected in October) completes Rational Groups' rollout of the format.
Lowest Rake
Pokerfuse has detailed before how rake is critical in the format—and the "industry standard" of 7% rake for a hyperturbo was too high. Full Tilt launched Jackpot at a lower 5% mark, and at its highest stake—the $50 game—it dropped the rake to 4%.
Big brother PokerStars has followed suit. While the microstakes $1 tournaments have 7% rake, this drops to 5% for the $3 buyin and a welcome 4% for everything higher.
Along with this rake drop, PokerStars has also innovated with new buyins. While the standard split is $1, $2, $5 and $10, PokerStars—which can afford to spread more games thanks to its huge player pool—has gone with $1, $3, $7, $15 and $30. This means a top prize of $30,000 is available for the biggest games.
Along with the rake drop, another innovation is the payouts for the top prizes. For the 1000x, 200x and 100x prizes, the tournament losers also receive a consulation prize of 10% of the prize pool. Full Tilt did something similar but changed the payouts to 70%/20%/10%. PokerStars is still giving 100% to the winner, but adding another 20% to the prize pool (this is not, however free money: It is priced in with the 4-7% rake).
Prime Time
There is no doubt that it is attractive to many casual players, and the format is ideal for mobile. PokerStars itself has stated how it sees the format as an excellent marketing tool to attract new players.
Regulars, however, have voiced concerns. Some feel the game has too much "gambling" with the lottery-like payouts; others deride the ultra-high variance. Even more concerning to some is that it will impact the traffic on more traditional games.
PokerStars has previously warned that a drop in other game formats can be expected, at least initially: A 15% "cannibalization" of other formats has been observed when rolled out in dot-country markets. A "noticeable" drop-off in heads-up SNG and single-table tournament traffic may be expected.
Whether the format will bring in a new breed of players and revitalize a stagnant market in the long term remains to be seen. But what is clear is that lottery sit and gos are officially here to stay.