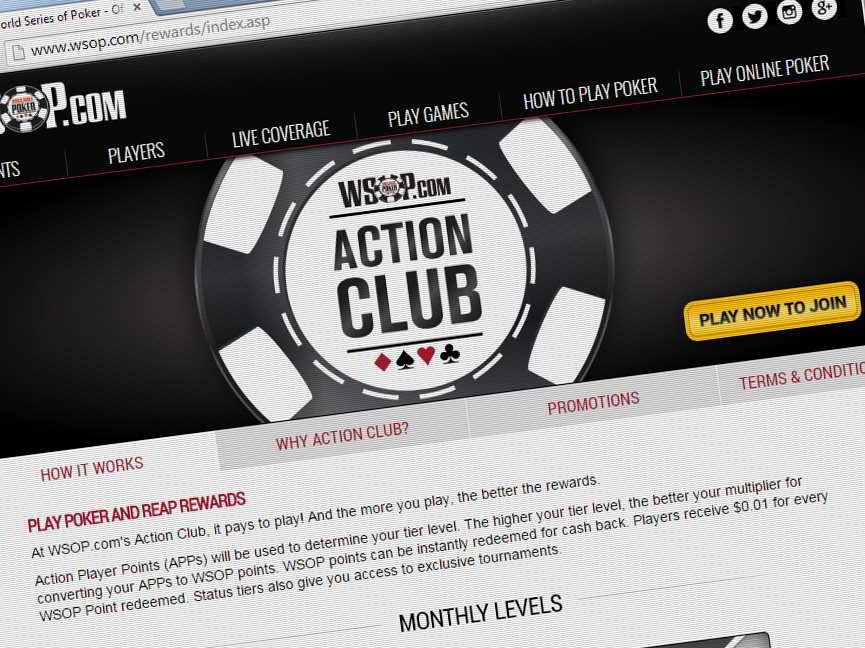 WSOP.com has rolled out changes to its Action Club reward system for online poker players in New Jersey and Nevada.
New tiers have been added that will benefit both low-volume and some high-volume players.
Previously a minimum of 10 APPs per month were required to achieve Bronze Status—the lowest level in the Action Club. Now players that accumulate as little as two APPs per month and qualify for the Action Club benefits at the new Copper Level. With two APPs awarded for every dollar paid in rake, players need only rake a total of one dollar per month to be automatically enrolled in the Action club.
A Copper + level and a Bronze+ level have also been added and the multipliers for the remaining existing levels have been adjusted. As part of the adjustment some of the higher-level tiers have been removed including the Silver + tier, the Gold + tier and the Platinum + tier.
Players still begin earning cash for their points when they reach Silver level, or 200 APPs per month, but with the new improved scheme, players will earn more rakeback at all monthly levels.
See our Comprehensive Review of Rewards Programs and VIP Schemes for additional information.
In addition, a new annual level has been added, Super Elite, to go along with Elite and Seven Stars. However the multiplier for Seven Stars, the highest level achievable in the WSOP.com rewards program, has been reduced from 17.5 to 15.
This means a reduction from 35% rakeback equivalent to 30%. While on the surface this may seem unfavorable, it is not likely that many players will be affected by this reduction, and the addition of the Super Elite level that is the equivalent of 25% rakeback will be a welcome addition to those players that struggled to get from Elite (20% rakeback equivalent) to Seven Stars.
For those players that are Total Rewards members at Caesar's land-based properties, their online play can help boost their Total Rewards status. And, for players that have achieved the highest levels of Total Rewards (Platinum, Diamond and Seven Stars), they can have their Total Rewards status transferred to their Action Club status by request.