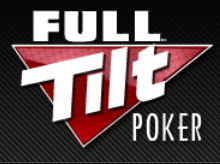 Updated with full comment from Full Tilt
Online poker players in New Jersey on Wednesday that tried to access the iOS version of Full Tilt Poker were greeted with an announcement that a new version of the software was available that offered "real-money gameplay" and was fully licensed by the New Jersey Division of Gaming Enforcement (DGE).
Upon noticing the previously unannounced launch of Full Tilt in New Jersey, Dennis Lopez took to twitter to share the news.
However, the announcement by Full Tilt poker was a bit premature. In response to inquiries on the topic, Eric Hollreiser, Head of Corporate Communications for Rational Group, announced that the message regarding a New Jersey license was indeed made in error, and that the company is currently investigating what went wrong.
Poker players in New Jersey have been patiently awaiting news regarding the entrance of PokerStars and Full Tilt into the New Jersey market. The most recent estimation—made by New Jersey State Sen. Ray Lesniak— calls for a launch PokerStars and Full Tilt in March. Previous predictions that the two big-name online poker rooms would launch in Q4 2014 went unfulfilled.
The "errant message" does indicate that the company believes it is close to receiving a license in New Jersey and the eventual launch that will return both PokerStars and Full Tilt Poker back to the US.
No further comment was made by Hollreiser, and a request for comment from the DGE was not returned.
A full comment has since been issued to pokerfuse by Eric Hollreiser:
Full Tilt has identified and corrected the cause of an inadvertent message in its play money iOS app which incorrectly stated that Full Tilt was licensed and would soon be launching in New Jersey.
We have been developing a real-money mobile poker app that has been submitted to the NJ Division of Gaming Enforcement as part of the review process of our application to offer real money gaming under a NJ DGE license.
Unfortunately, a bug in an update to the Full Tilt play-money poker app inadvertently included a pop-up window alerting players in New Jersey that a licensed real money offering is available. As a result of the bug, a very small number of people were exposed to this pop-up before we resolved the issue.
This was only a message alert – at no time was a real-money app available. No-one had the ability to play real-money games, nor register for the ability to play real money games on Full Tilt.
The bug was identified and fixed within hours of being alerted to the issue.
To be clear, we continue to be in dialogue with State officials but have not been granted permission to participate in real money gaming in New Jersey at this time.
We apologize to the NJ Division of Gaming Enforcement and to any players who were inconvenienced by this mistake.