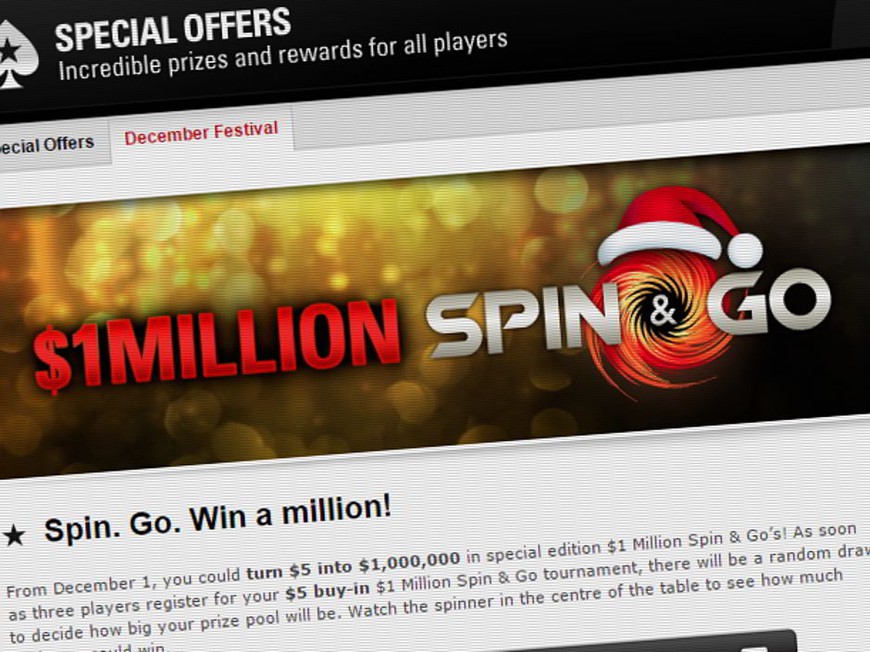 The news that there have now been three winners of the promotional $1 million PokerStars Spin & Gos makes PokerStars marketing staff happy—but their financial staff are having to recognize a new risk.
The lottery SNG format provides a very fast three player competition which lasts only minutes. Unlike normal sit and go or multi-table tournaments, the entry fee charged is not in direct correlation to the prize awarded.
The prize pool for each tournament is not comprised of the total of the player's buy-ins—it is generated in a skewed fashion, so that most of the time the three players are playing for just two buy-ins in prize money, but sometimes, the prize pool is much larger.
In the case of the promotional $1 million Spin & Gos. the prize pool is staggeringly bigger than the $5 buy-in.
The prize pool generator operates from a random number generator which will produce prize pools according to a statistically probable distribution. For the $5 promotional Spin & Gos, there should be a $1 million prize pool an average of three times in every 10 million "spins."
PokerStars is easily the most popular poker room in the world, but even so, they are not likely to have put on ten million of the promotional Spin & Gos since they were launched at the beginning of December. To do so, they would need to have spread around 200,000 a day.
That unlikelihood means that the three winners of the $1 million Spin & Gos have gotten very lucky indeed—three spins have produced $1 million prize pools well before PokerStars has put on ten million of them.
The allocation of prize pools via the "spin" produces not just the prize pool, but also the rake for the operator, and the popularity of the new format tournaments means that PokerStars is probably doing very well with them.
But, in producing three $1 million payouts earlier than expected, the $5 Spin & Gos have a put a multi-million dollar bad beat on PokerStars! Now there's a welcome change.