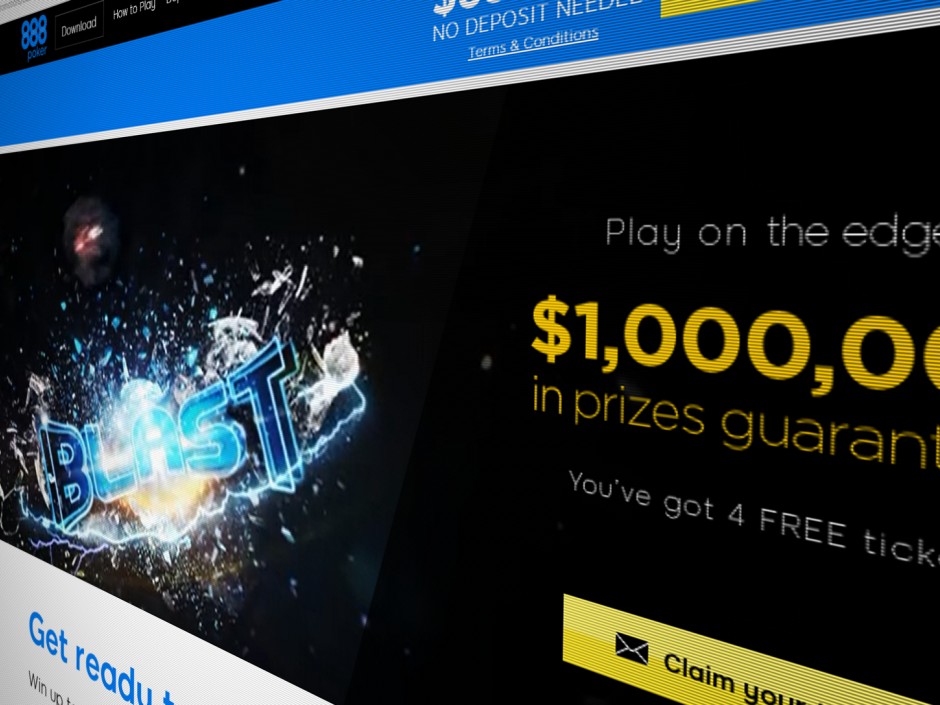 888poker has officially launched its take on the lottery sit and go game, titled BLAST, and is pulling out all the stops with a major new promotional push that will last until mid-September.
Players are invited to deposit $10 to receive 10 $1 BLAST tournament tickets using a special promotional code, and some existing users have been offered a $2 no-strings-attached BLAST poker ticket.
But the star of a show is almost two months of daily and weekly freerolls. According to 888, $1 million in prizes is guaranteed throughout the BLAST poker promotion.
The Countdown
As first revealed last week, BLAST is 888's long-awaited entry into the ever-popular lottery sit and go category of online poker games. The game was quietly rolled out to dot-com players last week, and this week it is getting a promotional push.
Like other jackpot-style tournaments, common now across most major online poker operators, BLAST games are short-handed, fast-structure winner-takes-all-games where the prize is randomly chosen at the start of each game.
BLAST introduces an interesting twist to the format—a game countdown clock. When the clock reaches zero—which for most games takes just six minutes or three blind levels—the game switches to an "all-in shootout" format where players are forced all in each hand until only one remains.
The game launched last week with three buy-in levels: 10c, $1 and $5. Following a short trial period, this has now been expanded, with a high stakes $30 now on offer.

BLAST

Off

Kicked off on Monday and running for almost two months, 888 is running daily and weekly tournaments to promote the new format.

Every day, there are two freerolls: A $3000 "Big Bang" tournament runs twice and awards straight cash prizes to the top finishers. A once-a-day $5000 "BLAST off" tournament awards tournament tickets.

Every real money player has been credited four tournament tickets, and more tickets can be unlocked each day by completing daily missions: Complete a standard 888poker Club challenge to unlock a Big Bang ticket that day; win any BLAST tournament to gain entry into the BLAST off.

There is also a weekly $10,000 Lightning Bolt tournament, which gives away cash prizes. While site details are unclear, it appears players gain entry through a Lightening Spin each day, which awards a variety of prizes, including a ticket to the Lightning Bolt. There will also apparently be individual opportunities to gain entry through personalized offers which will be sent via email.

The promotion runs until September 19, a period of eight weeks, or 56 days. That should amount to just over $600,000 given away through daily tournaments, and $80,000 in the weeklies. 888 is promoting over $1 million in giveaways, presumably made up of other prizes awarded via the daily Lightning Spins.

Also to promote the launch, 888 is unveiled a new ad, featuring its poker pros Dominik Nitsche and Sofia Lövgren, under the caption: "Win Big, Win Fast."