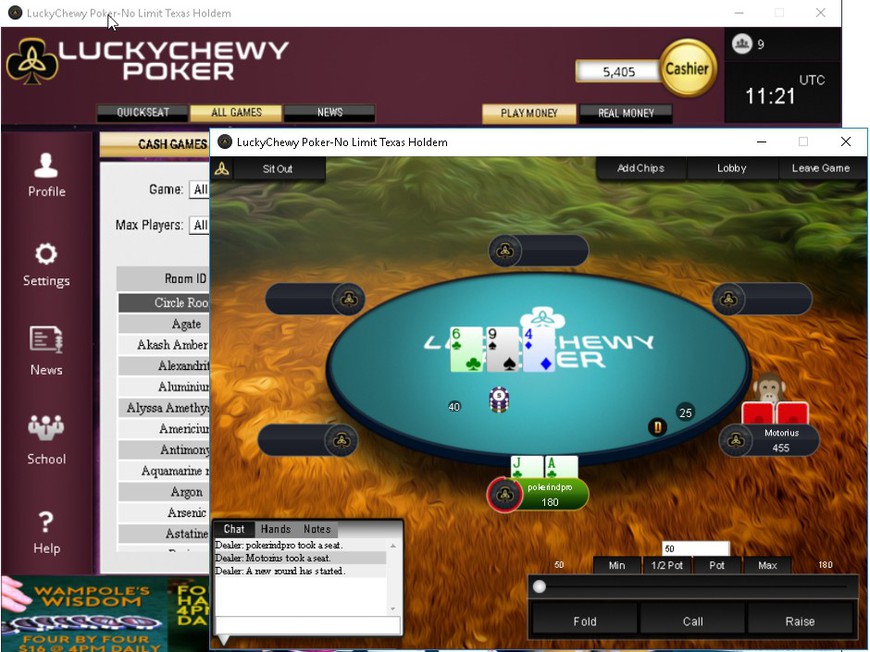 Andrew Lichtenberger, an American poker professional known online as "LuckyChewy," has launched his own online poker room, a site that promises to offer "low rake and great rewards."
Announced via Twitter on Sunday, the new site, LuckyChewyPoker.com, is currently available for free play testing. Real money will come once licensing is procured.
In a string of tweets yesterday, Lichtenberger stated that their "vision is simple"—to create a poker site "by the players for players."
"We have been sharing our platform with the international gaming community and intend to create as large a player pool as international laws allow for," he said.
Further updates regarding real money licensing will come soon, it was stated. According to the site, the random number generator has already been tested and certified by iTech Labs to the standards upheld by the UK Gambling Commission.
Lichtenberger is an accomplished live and online poker professional, finding success in both cash games and tournaments. He is a former Full Tilt Poker sponsored player, has made training videos for Ivey League, and authored the book Yoga of Poker.
Run It Twice?
The new site launch comes three months after fellow poker professional and coach Phil Galfond announced similar intentions. In September, via Twitter, the founder of the poker training site Run It Once announced that they would launch their own online poker room, Run It Once Poker, promising to be a "fair, honest, transparent poker site."
At the time, Galfond warned that the company was "several months away" from launching, and no further details have yet materialized. By comparison, Lucky Chewy Poker has brought a product to market immediately upon announcement.
A potential partnership between the two could even be on the cards. When asked on Twitter whether Lichtenberger would consider working directly with Galfond, he responded that he is "an awesome member of the community and we are certainly open minded to collaborating with him." Galfond in turn responded, back at you.
Test Run
Based on a brief play test, the software appeared to be functioning and stable, though quite rudimentary.
Hold'em and Omaha are available in cash games, sit and gos and tournaments. Full ring, six max and heads up tables are listed in the lobby. The lobby and tables are resizable, and there are simple settings for customizing the game, including a choice between three table themes.
However, the experience is reminiscent of that of first-generation online poker clients, like the aging GTECH software. The team has a long road ahead if they wish to offer an experience to which today's online poker players are accustomed.
A New Direction
Lucky Chewy Poker and Run It Once Poker are part of a fascinating community response to the recent direction of the online poker industry to shift focus and rewards away from professional online poker players. As Amaya's CEO stated recently, "restricting and reducing incentives for high volume, robotic play by a small percentage of net withdrawing players" was a key part of the plan to "improve the poker ecosystem."
By contrast, Galfond's manifesto, which laid out his vision for his upcoming online poker room, says that they would "value the professional for embodying the dream that brings so many people to poker."
Similarly, Lichtenberger's "low rake and high rewards" strategy is an obvious crowd-pleaser to the poker community that has seen an industry shift towards higher raked games and reduced incentives for high volume play.
Of course, the key hurdle for both new sites won't be one technological or high level policy; it will be customer acquisition. How either plans to attract the levels of net-depositing players required to sustain a player pool attractive for any serious player remains to be seen.
This article originally appeared on Poker Industry PRO and has been republished here as a courtesy to our readers. Please visit Poker Industry PRO for more information.