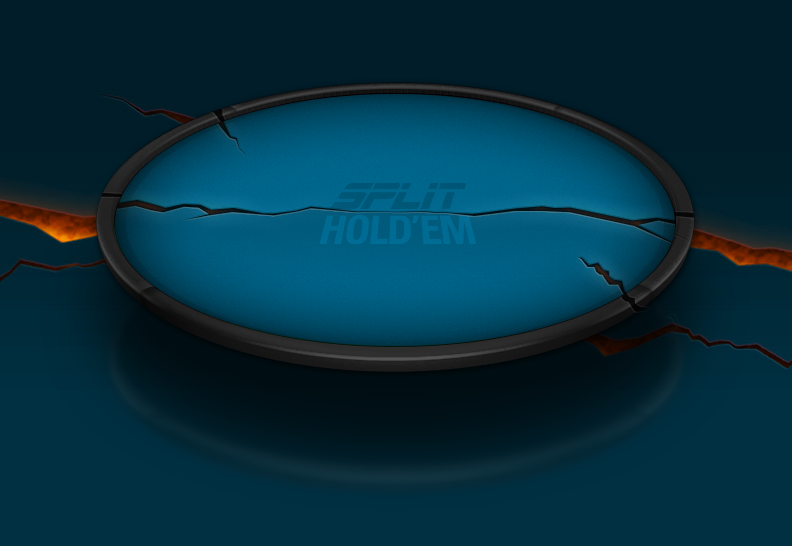 Thanks to new graphics released in the PokerStars client across dot-com, UK and EU networks, it seems that a new poker variant called Split Hold'em (presumably based on Double Flop Hold'em) is set to be released from the operator.
Looking at the files uploaded in the client (as seen above), it seems possible that Split Hold'em is inspired by, if not entirely based on, a common home game novelty known as Double Flop Hold'em. If this is the case, it will be the first time Double Flop Hold'em has been seen in the online poker arena, as it is predominantly a game only seen in home games.
For those unfamiliar with Double Flop Hold'em, it uses the same basic rules as traditional Texas Hold'em but in a twist, players can utilize two sets of community cards. The pot is then usually split between the best hand on the top board and bottom board allowing for one player to scoop the entire pot if they can win both boards.
No other information has been released around Split Hold'em, so it may never surface out of private testing, but the unannounced graphics are reminiscent of what we saw with PokerStars Zoom: Usain Bolt Edition which was initially revealed after new image assets were spotted in the client, before the game was rolled out out globally.
It is no secret that game innovation is at the forefront of poker operators' minds. In recent years, most major online poker operators have introduced new game formats for online poker as well as entirely new poker-style games.
Lottery Style Sit and Gos
Perhaps the biggest innovation in online poker has been lottery sit and gos.
First introduced as "Expresso" on Winamax, today the format that is available from all major poker operators is widely recognized to have changed the face of online poker tournaments just as fast-fold games changed cash game poker in the years prior.
The concept of lottery sit and gos has been updated surprisingly little since its inception: short-handed, hyper-turbo tournaments where the prize is randomized to offer big cash prizes on a periodic basis. There have been minor tweaks to rake, buy-ins and top prizes, but the overarching formula has remained basically unchanged since August 2013 and is still proving to be a resounding success with players.
Hybrid Poker Games
Another popular innovation has been the combining of poker with elements of popular esports games.
Currently, the most popular of these hybrid poker games is PokerStar's Power Up which takes elements from Spin & Gos, (PokerStars' version of lottery sit and gos) and blends them with features similar to those that are featured in the popular esport game Hearthstone.
With its immense popularity and strategic depth, Hearthstone has real cash prize competitions, professional players and a huge community of players and spectators. Online poker operators have been seeking to tap into this popularity for a while, aiming to introduce real money poker to a new segment of potential customers.
Like Spin & Gos, Power Up is played in a winner-takes-all, three-handed tournament with a relatively fast blind structure. Special powers adopted from esports games range from being able to look at the top cards on the deck or your opponents' cards, to changing your own hole cards or even "disintegrating" a card on the flop.
PokerStars is expanding Power Up so that a wider range of buy-in levels are on offer to players.