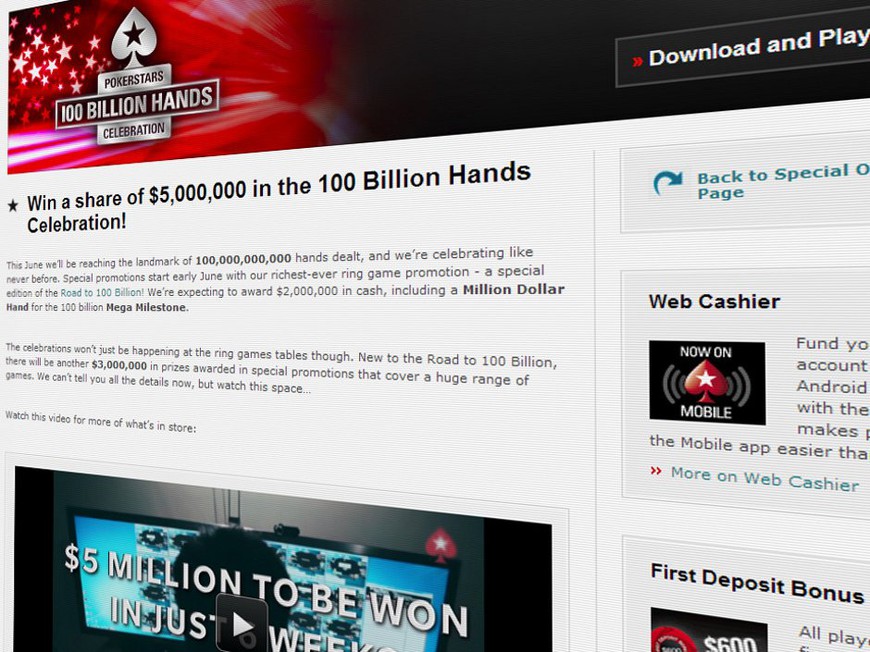 $5 million will be awarded in a variety of promotions to celebrate the 100 billion poker hand dealt on PokerStars, the online poker room announced Wednesday.
Players dealt into the key hand will receive a share of $1 million, with the winner taking at least $100k. The rest of the money will be distributed to the players in the hand, and players playing at the same stake when the hand was dealt.
Another $1 million will be given away in the key milestone hands that lead up to the "big one."
In addition, $3 million in prizes will be given in a variety of special promotions covering both ring games, SNGs and tournaments. The promotions will run over the next six weeks, though specifics have yet to be announced.
The promotion is part of PokerStars' long running "road to 100 billion," which has been awarding cash prizes at each 5 billion hand milestone. $1m was given away for the run up to the 90th billionth, and again at the penultimate stop.
PokerStars deals 5 billion hands roughly every three months. With the 95th billion hand occurring in late February, the big 100th is expected near the end of June.
The milestone promotions have proved popular with players, causing huge traffic spikes as players play a large number of tables hoping to hit the hand. With $2 million given away, there could be unprecedented traffic as the key hand approaches.