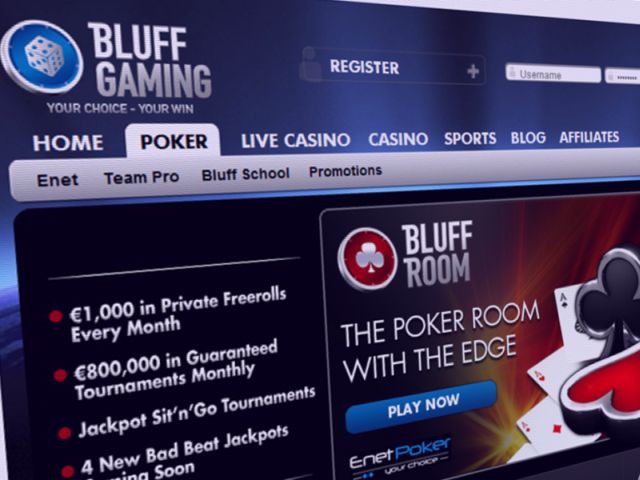 Following lengthy cashout delays and the widespread appearance of cash-flow difficulties characterized as "liquidity issues" by company execs, Bluff Gaming, which operates a poker skin on the small Enet Poker Network, has announced a cessation of operations.
Malta-licensed Bluff Gaming—unconnected to the prominent US poker publication of similar name—will close up shop on August 31, 2012, with all players and balances being transferred to Enet's own mothership Enet Poker site.
According to an e-mail sent to players, existing rakeback deals will be honored, and players will be able to make additional deposits to pursue initial deposit bonuses, even if that initial deposit bonus was generated via Bluff Gaming.
However, balances will be transferred with a play-through requirement also tied to the rakeback deals currently in place. Ultimately, this results in a 100% rakeback deal until player balances are fully withdrawn.
In the player email, Bluff did issue a stern warning to players about chip-dumping in hopes to cash out their money. The skin threatens the seizing of balances and the blocking of accounts.
Unknown, at the present time, is the future of the Bluff Room skin on the Merge Network, which has also been connected to the site's parent, IG & Partners Ltd. If the self-described "liquidity issues" stemmed from a contractual disagreement between IG & Partners and Enet, then the Merge skin, which operates on the standard Merge cashier, may face no difficulties. No statements connected to the Merge Network operation have been issued.
IG & Partners Ltd held a license under the Maltese LGA. The regulator in theory requires licensees to hold all player funds in segregated accounts. At least as recently as August 17, the network is listed as holding a "category 1 in 4" license; today, however, due to technical difficulties the website only displays a portion of the list of current category 1 in 4 licensees.
The regulator has issued no public statement and IG & Partners Ltd. is not classified as having its license cancelled, suspended or terminated. The LGA took a similar line with the demise of another one of its licensees, Purple Lounge, quietly removing its license without public statement. It marks just one in a string of failures of Maltese licensees.
Affected Enet Bluff Gaming players have been requested to contact the transfer@bluffgaming.com address with their username, Enet client nickname, and final balance information, to expedite the transition to Enet.