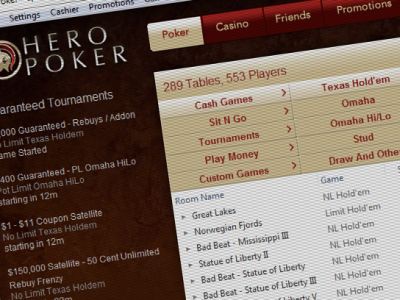 Player favorite Hero Poker is still planning to relaunch, but will not be accepting players from the US, it was revealed recently.
The new site will launch by the end of the year, under a new company in a different jurisdiction.
Hero Poker operated an online poker skin on Merge Gaming, but closed its doors in December 2012 citing differences between it and the network.
The skin built up a popular following on various poker communities, including 2+2 and Reddit, as a result of its fast customer service and the openness of David Jung, Hero CEO.
Upon closing, Jung promised that Hero would return, although there have been scant details since. Jung announced in April that they were in "the final stretch" of relaunching, and in May that things were delayed but still progressing. A June update promised big news, but when it came, it was not welcome news to the many players hoping for the return of a respectable brand to the US market.
"Apologies to many of our players for the delay as well as to those waiting for positive news about our market re-launch," Jung wrote late last week. "This update is perhaps a let down, but we had to take steps to position this business for the long term if we wanted to come back to the real home of poker in a meaningful way."
"Obviously with over a half of year of preparation there should be some massive news in terms of what we're planning to provide our players, but those announcements will have to wait until we are right about to launch."
He added that their vision was "towards the long term, meaning 3-5 years."