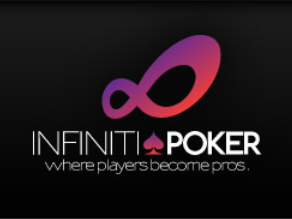 Infiniti Poker's soft launch appears to have been halted. The poker client has been inaccessible for ten days and the infinitipoker.com website is unavailable.
Infiniti Poker has experienced a series of failed soft or beta launches, but the latest attempt to get up and running in December appeared to be serious. The site offered real money poker accepting deposits in Bitcoin and $US, and offered Bitcoin withdrawals.
Since then banking difficulties halted withdrawals, and after going offline for three days and returning, the site has now been closed to players for ten days. Pokerfuse emailed CEO Michael Hajduk for comment, but has received no reply.
Twitter traffic and comments on a Reddit thread have virtually ceased and Edwardo "Swag" Jackson, Social Media Director, has not posted in the Infiniti Poker thread on 2+2 for over a week. His last post explained: "I have no problem delivering bad news. However, I have a problem delivering no news…. The second I hear of any concrete development that leads directly to you all getting your money, I will be more than happy to update this forum." On Twitter, his last tweet was on February 3.
Hajduk has funded the site from external investors, seeking to create a new "paradigm" for online poker where it would be a more visual experience akin to a home game played with friends. To this end his team developed the "Peripheral Resolution Interface" webcam system, which was deployed on play money tables for December's soft launch.
Gavin Smith came on board as Team Pro, but in mid January, Smith and Infiniti parted ways.