PokerStars France has appointed Gaëlle Garcia Diaz as presenter of the fourth season of its reality TV show Maison du Bluff. The first episode will air on French channel NRJ12 on March 14.
The selected group of participants will live in a luxury villa as they carry out a variety of poker and non-poker related tasks. €150k is at stake in prize money and tournament entries for the winner. The occupants of the house are currently being chosen through online qualifiers on PokerStars' French regulated site.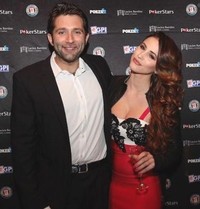 Gaëlle Garcia Diaz is known inside the poker world as a presenter for the PokerStars European Poker Tour (EPT) and was co-presenter of the GPI awards at Deauville last month. She also graced the cover of Playboy in October 2011.
La Maison du Bluff debuted in April last year. The latest season promises a stronger focus on poker, with guest poker celebrities joining the house guests for coaching and leisure activities.
Team PokerStars Sports Star Ronaldo is the "sponsor" for this series and can be expected to make regular appearances.