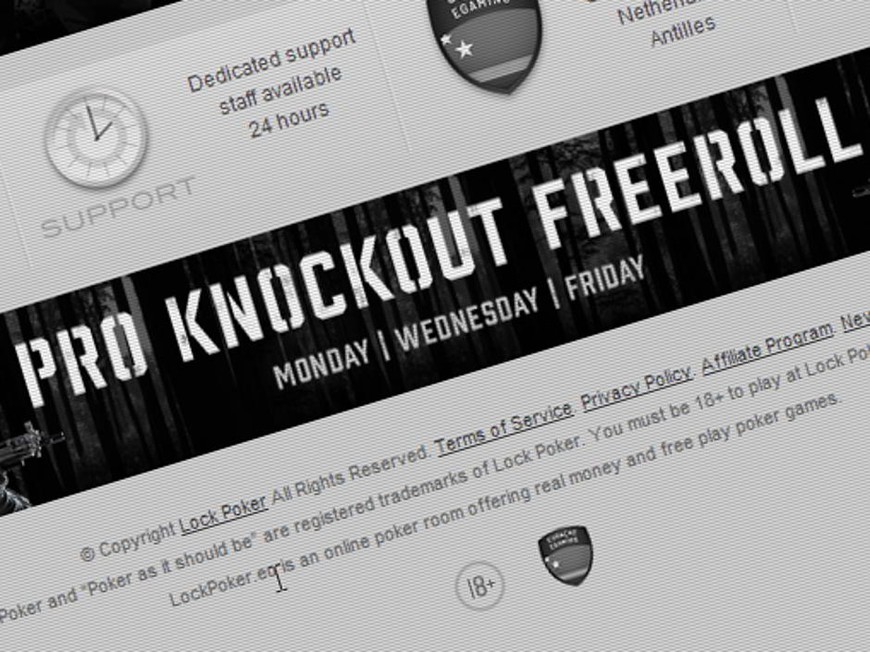 Embattled US facing online poker site Lock Poker removed all traces of sponsored pros from its website earlier this month. Supplementary homepage graphics featuring Lock Pros have disappeared, and the once prominent "Lock Pros" tab is gone as well.
It is unclear if the sudden disappearance is merely a revamping of the program or an end of the relationship between Lock and those that were still supporting the struggling online poker room. No reply was received upon requesting clarification from Lock.
Should the Lock Pro page return, one name that is not likely to be on it is that of Bryan Pellegrino, known by the screen name PrimoridialAA. The long time Lock Pro took to the Two Plus Two forums to announce that as of January 11, he has left Lock and requested to have his photo removed from the website.
While Pellegrino did not mention specifically why he had left, as he insisted that he was not fired, all signs point to the continued difficulties surrounding payment processing times at Lock Poker.
Lock Poker customer service is quoting a 6-8 week time frame for cashouts, but reports from players, thanks to meticulously accumulated self-reported data, suggests much longer timeframes. According to the latest report, there are roughly 306 players that have requested cash outs for a combined total of over $822,000. The average wait time is 230 days, with some having waited over a year with no sign of their funds.
Pellegrino is not the first Lock Pro to leave the site in recent months. Some of the most popular Lock Pros have left the site following its cash out troubles. Michael "The Grinder" Mizrachi, Chris "Moorman1" Moorman and Paul Volpe all made very public exits in 2013. In fact, poker pro Matt Stout recently confirmed via Twitter that he "left Lock Poker months ago."
Of the three players that were featured on the homepage as recently as January 10, only Portugese professional Francisco Costa still makes reference to being a Lock Pro Elite Pro on his Twitter profile, while one-time World Series of Poker Europe Champion, Annette Obrestad has no reference.
Greg Tiller, who at one point last year was unloading money on Lock at .33 on the dollar, has since changed or deleted his Lock Poker themed Twitter account.
Despite having removed the Lock Pros tab, Lock Poker is still promoting their thrice weekly Pro Knockout Freeroll.