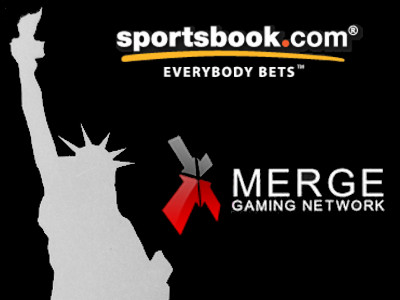 Most US residents are once again able to sign up for an account on the Merge Network. Though at least one skin has unlocked its doors, not all the skins have been given the green light to initiate the change.
Pokerfuse has confirmed that some US players are now able to create accounts on Sportsbook.com. A representative of the site told pokerfuse that players from the US are now free to create new accounts, and they will have access to play online poker through the Merge Network. However, she did indicate that Sportsbook.com "will not take new sign ups from the District of Columbia (DC), Washington, Kentucky, Louisiana, Missouri, Maryland, [or] New York."
Though it is unclear if these geographical restrictions within the US are specific to Sportsbook.com or if they are network-wide, Merge had restricted all of these locations prior to the halt on new US accounts except for Washington and Kentucky.
Other skins have not yet opened their virtual doors to Americans. Lock poker has told pokerfuse they have not yet made the move to allow new Americans, but the decision to do so is imminent.
Early in June the Merge Network stopped accepting new US customers as the network experienced a rapid pace of growth. Being the biggest US facing site post Black Friday, the Merge Network's decision to stop accepting new US accounts left Americans with a limited choice of sites to play where there was significant action.