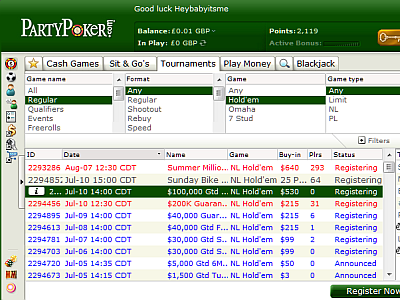 PartyPoker has chosen not to implement a planned increase in rake at NL and PLO games. The move comes after players organized a mass "sit-out" to protest the rake hike.
The poker room had scheduled a significant increase in the rake caps on the big bet games from $3/6 up to $10/20, more than doubling the maximum amount that could be raked per hand at some levels. According to some simulations, this could increase the rake per player by up to 45%.
Unsurprisingly, many customers of PartyPoker were furious at the increase that, for many, would render the games unprofitable. PartyPoker initially delayed the rake changes for 24 hours and, after a mass "sit-out" protest by players that stopped a lot of the mid-stakes action, Party backed down and announced it no longer planned to implement the increases.
"Based off of player feedback," writes a PartyPoker Representative on 2+2, "... we were able to remove the rake changes. Therefore, no changes will be made to the rake structure of those games."
The rep later confirmed that there would also be no change to the rake cap at $10/20 or PLO. "The entire proposed change [of rake cap increases] has been reversed," he added.
However, a second planned change – a switch from the so-called "dealt" method for calculating rake to a "weighted contribution" method – was green-lighted, and went in to effect from Thursday morning.
The new method – which changes how paid rake is credited to each player in a hand and thus affects how bonuses are cleared and "Party Points" are distributed – is controversial. A switch to the "contribution" method gives more credit to looser players, encouraging more action-orientated games.
However, those who earned large amounts of rewards before and who cashed in points as an effective "rakeback", will likely receive significantly less with the change. Some cite a reduction of up to 25% in rakeback due to the switch.
Covered in pokerfuse's in-depth look at the proposed changes, both rake calculation methods are common in the industry. PokerStars and Cake Poker use the dealt method while iPoker and Hero Poker on the Merge network use the weighted contribution method.
Just prior to the closure of Full Tilt Poker, it also made the switch from the dealt method to the weighted contribution method, causing much the same controversy. Players used to 27% rakeback saw up to 20% reduction in their effective rakeback in some cases; but many cited better quality in the games as a result.