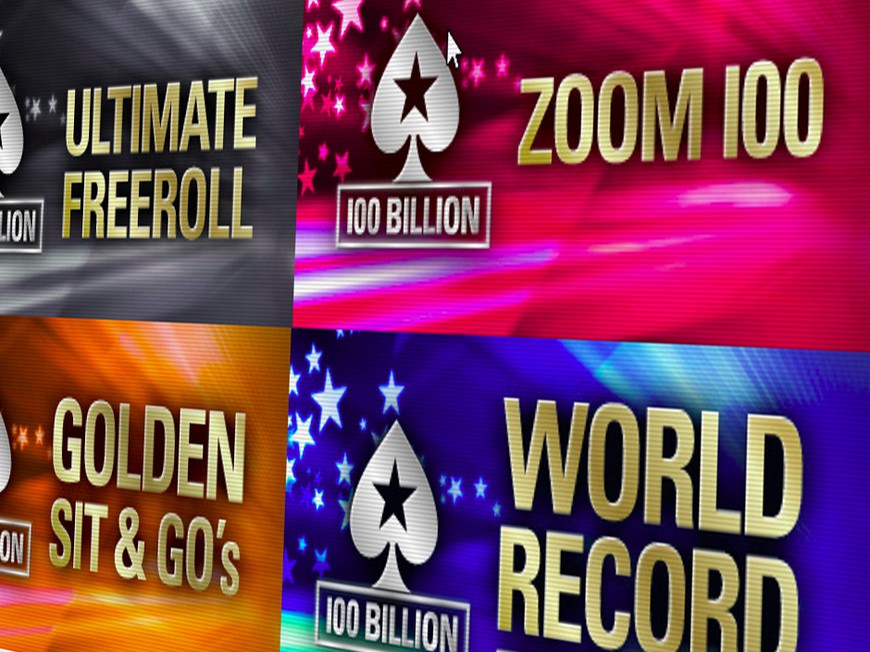 Key Takeaways
$1m freeroll in June, with trivia questions for tickets.
$1m Zoom tournament "largest ever."
Golden SNGs will randomly select SNGs after registration and increase prize pools 2x-10x.
$300k world record attempt aims to beat previous record for total number of entrants to a poker tournament.
PokerStars is due to deal its 100 billionth hand in late June, and plans to give away $5m across a string of cash and tournament promotions throughout the month to celebrate.
Along with traditional milestone hand promotions for cash games, the poker room will host a $1m freeroll tournament, a $1m zoom tournament, a $300k world record attempt, and a "Golden SNGs" promotion.
Traffic numbers on PokerStars are likely to receive a substantial boost from the promotion. Traditionally cash game traffic increases 15-20%+ on the build-up to milestones, and with the extra prize money on offer, the next 30 days could bring exceptionally high traffic.
Golden Sit & Go's
The Golden Sit & Go promotion applies to all standard real money Sit & Go's, including Heads Up, 6 Max, multitable and Hyper Turbos. Only Satellites and Steps are excluded.
The promotion will run from June 17 to June 23. As soon as all players are seated, but before cards are dealt, an on screen message will pop up if the tournament has been selected as a Golden Sit & Go. If selected, the prize pool will be increased—it can double, quadruple, or be increased by ten times.
Tournaments will be selected randomly, so no particular game or stake level will be given preference.
$1m Ultimate Freeroll
June 30 will see a $1m Ultimate Freeroll tournament with a first prize of $50k. The tournament is not a freeroll in the strictest sense—entry is by ticket only—but tickets can be obtained either by making a deposit, or by winning one of a hundred Trivia Freerolls running from June 5 to June 29.
Entry to the Trivia Freerolls is by answering a trivia question about PokerStars, and the top fifty finishers in each will be awarded tickets to the Ultimate Freeroll.
Players who make a deposit of $50 or more will also get a free ticket. Deposits between $10 and $49.99 get free entry to a 6-Max Sit & Go Ultimate Freeroll satellite— the winner will receive a ticket to the $1m Ultimate Freeroll.
World Record Tournament
On June 16, PokerStars will host a $1 entry tournament with a $300k guaranteed prize pool, in an attempt to beat its previous record of 200,000 players in a single tournament.
Last time, the tournament ran with a cap of 200k players and $250k guaranteed, so players were assured an overlay. "Organizers are looking to hit 225,000," according to the official blog, and its likely a cap-to-ensure-overlay system will again be used to all but guarantee the record is met (assuming the PokerStars servers are up to it).
Milestone Hands
The cash game promotions are well known, but for the big one the payouts have been increased: From a $1m prize fund, the winner of the final hand will receive at least $100k. Everyone dealt into the hand will receive at least $10k, and another $2,000 for each VIP Player Point they have earned in their last fifty hands at that table.
In addition, when the 100 billionth hand is dealt, every player sat at a similar table—same game type, same stakes—will share in the remaining cash from the $1m available.
As is traditional, money will be given away on the lead up to the big hand. The first key hand starts at #99,700,000,000 and each 1 millionth will receive a prize.